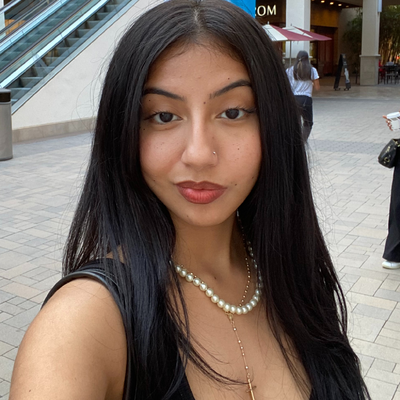 About Marlene Rodriguez Souvannarath:
My name is Marlene Rodriguez, I am 22 years old and currently looking for a stable income to fund my future careers. I found myself having a passion for art and the different ways one could express themselves. Soon after, I became extremely motivated in pursuing more than one career. Since  most of my interests are collaborative with one another, I am able to complete many personal projects simultaneously. My interests are photography, film taking, cosmetology, and fashion. Many would call me a creative, social butterfly, positive, and energetic girl. Aside from my passions I also like to cook and work out when I have free time. I love experiencing new things and I can't wait to start this new opportunity!
Experience
Work Experience and Other: 
La Oportunidad Inc (2014-present)
Starting position: Student - Ending position: Mentor
Responsibilities:
Non-profit volunteer
Assigned a group of students to mentor
Help mentees develop leadership skills by assessing their performance, recommending improvement strategies, offering advice, support, and guidance.
Give input on new ideas for upcoming events
Coordinate events
Masterson Staffing Solutions (May 2022-Present)
Position: Recruiter
Recruiting the best possible candidates for each open order, ensuring all orders are filled on a daily basis
Supporting the essential operation of the office
Communicate with temporary employees to build rapport, respond to inquiries and resolve conflicts
Attend check-ins and/or perform Got There Calls to monitor client satisfaction and quality
Administer the application process in accordance with state and federal law and Masterson Staffing Solutions standard operating procedures
Manage and update personnel records through complete and accurate data entry of application
JCPenney Portrait Studios (January 2022-April 2022)
Position: Photographer
Responsibilities:
Capture photos that are fun and creative to exceed customer expectations
Perform the sales process to achieve Sales Average expectations
Talk with potential customers and call existing customers to schedule and confirm sessions
Provide a wonderful customer experience
UPS (Winter 2020 and Winter 2021)
Position: Seasonal Delivery Helper
Responsibilities:
Load and organize trucks according to route
Deliver all packages safely to customer's door
Assist truck driver with any responsibilities
Provide excellent customer service
Dukes On 7 (May 2021-November 2021)
Starting position: Expo - Ending position: Expo, Trainer, and Server
Responsibilities:
Provide excellent customer service and care for guest
Ensure orders are being prepared with the correct priority
Ensure the efficient flow of orders from servers to the kitchen
Check dishes before delivery for accuracy, presentation, and temperature
Deliver orders to guests and handle any requests
Train new employees up to company standards
Greet customers and present menus
Arrange table settings
Up-sell and make suggestions when appropriate
Deliver checks and collect payments
Starbucks (August 2018-September 2020)
Starting position: Barista - Ending position: Supervisor
Responsibilities:
Provide excellent customer service and care for guests
Money management
Team management
Take inventory and complete store orders according to sales
Barista
Cashier
Drive thru operator
Caribou Coffee & Einstein Bros Bagels (from July 2016 - July 2018)
Starting position: Team Member - Ending position: Supervisor
Responsibilities:
Provide excellent customer service and care for guests
Cashier
Drive thru operator
Sandwich line cook
Barista 
Money management
Team management
Inventory counts
Education
Education:
-Graduated Hopkins High School (2014-2018)
-Completed spring semester at Hennepin Technical College (2018)
Professionals in the same Customer Service / Support sector as Marlene Rodriguez Souvannarath
Professionals from different sectors near Minneapolis, City of Minneapolis, Hennepin
Other users who are called Marlene
Jobs near Minneapolis, City of Minneapolis, Hennepin
---

Hilton

Coon Rapids, United States

A Guest Services Agent is responsible for greeting and registering guests and checking guests out of the hotel in the hotel's continuing effort to deliver outstanding guest service and financial profi ...

---

Ameri-Force, Inc.

Brooklyn Park, United States

$40,000 - $60,000 per year

Job Title: Maintenance Technician · Position Summary: · Seeking a Maintenance Technician to carry out routine and complex maintenance tasks with precision and adherence to safety standards. The ideal ...

Found in: Jobgoal US C2 - 5 days ago

---

Indiana University

Bloomington, United States

$100,000 - $150,000 per year

Posting Details · Position Details · Title · Assistant/Associate Professor of Clinical Radiology Neuroradiology_Pediatric · Specific Title · Appointment Type · Clinical Track Faculty · Department · ...