Your Guide to Beating the Sunday Night Blues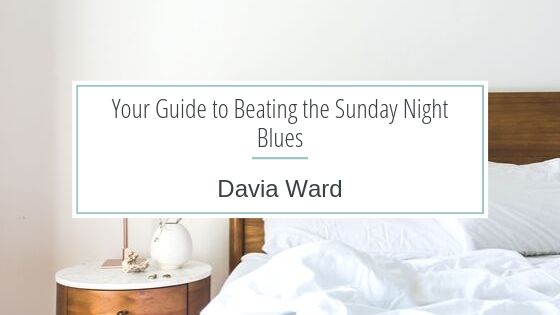 The condition has many names: the Sunday Night Blues, the Sunday Scaries. If you struggle with an increase in anxiety, sadness, and dread on a Sunday evening, you're not alone. According to a poll, 78% of people struggle on Sunday nights. 
Psychologists classify the Sunday Night Blues as a type of "situational depression," or depression that is in response to your circumstances and normally disappears once the circumstances end. You may feel overwhelmed by the week ahead, or feel that you didn't accomplish everything that you wanted to during the weekend. This anxiety can lead to stress and a lack of sleep, which means starting the week off on the wrong foot. 
The following are a few ways you can regain control of your Sunday evenings and set yourself up for success during the week ahead. 
Understand Your Situation
The Sunday Night Blues call for self-awareness. Understand that you feel stressed, and remember that you are not alone. Many people feel this way. Make a mental note that this isn't the time to pick fights or sweat the small stuff. Remember that your stress is most likely caused by the upcoming week and not the people around you. Save your energy for what really matters! 
Prepare Ahead of Time
Use your Sunday afternoon to get ready for the week ahead. This looks different for everyone, but it could include cleaning, organizing, grocery shopping, and planning meals. You could also wash and fold your clothing. All of these will make your week easier. Who wants to do these tasks after a long day at work? Even if you're busy on a Sunday afternoon, try to accomplish at least one small task, such as filling your car with gas. You'll be surprised at how large of an impact completing these small tasks has! 
Enjoy Sunday Nights
Use your Sunday nights in a way that will help you relax and embrace a positive mindset about your week. Spend time with your family or friends with a game or movie night. These activities will help take your mind off of your stress. 
Right before bed, do something relaxing, such as reading or taking a bath. Try listening to soft music or meditating. Make sure that you keep your work out of your room. Leave your laptop or any paperwork somewhere else so you can enjoy your last few hours of the weekend.
You may be interested in these jobs
Found in: Jooble US - 1 week ago

---

HealthEdge Software Inc

Madison, WI

Overview · Solution Architect Technology · SUMMARY · The Solutions Architectparticipates in the business and technical relationship with the client andmanages the creation of innovative solutions for every clients complex needs. · Support new clients as the leading Solution Archi ...

Found in: Jooble US - 3 days ago

---

Job DetailsJob Location0JC54 Austin - Austin, TXPosition Type1.0Education LevelMaster'sJob Shift8a - 5pJob CategoryNurseDescriptionPsychiatric Mental Health Nurse Practitioner - Austin, TX up to $10,000 Bonus Opportunity availableDeer Oaks Med Management Associates is a multi-sit ...

Found in: Jooble US - 3 days ago

---

Guidehouse

Honolulu, HI

Full time

Job Family : · Business Systems Analysis (Digital) · Travel Required : · None · Clearance Required : · Ability to Obtain Public Trust · What You Will Do : · Guidehouse Digital is looking for a Business Analyst to join our Software Solutions division to lead or assist in requireme ...