WORLD ON EDGE AFTER "SLAP HEARD 'ROUND THE WORLD"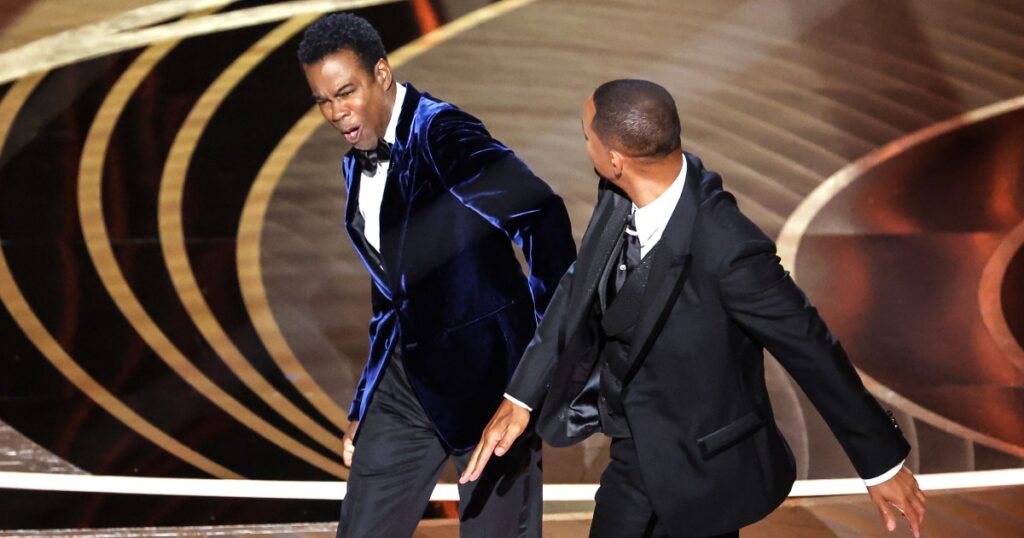 Chris Rock reacts after getting slapped by macho man Will Smith.
The Fresh Prince of Bel-Air lost his cool in Hollywood last night as Will Smith slapped Chris Rock for making a joke about his wife, Jada Pinkett Smith, who has a smooth dome due to alopecia.
The violent incident sent shivers around the world. United States Secretary of State Anthony Blinken immediately flew to Los Angeles to negotiate peace.
"Secretary Blinken dropped all his efforts in Ukraine," a spokesperson told The Lint Screen. "The mass of humanity is on edge because celebrities are fighting. This madness must stop. The Secretary is worried sick that this thing could escalate into an all-out war in Hollywood. The last thing anyone needs is a nasty Twitter battle."
Ukranian President Volodymyr Zelenskyy sides with Chris Rock in this quarrel.
"Comedy must have an edge," he said. "Chris was making a joke, and Will Smith showed he is thin-skinned and a hothead. He needs to lighten up."
Russia's President Vladimir Putin disagrees.
"Will Smith was the victim of aggressive humor," Putin said. "The only way Smith can restore honor and dispense justice is to kill Chris Rock and his relatives, friends, and associates. Will must act viciously and decisively to save the sanctity of being a Hollywood A-lister."
50,000 NATO forces are on their way to Brentwood in case World War III breaks out over this slapping incident.
Gary Busey is in his bunker ready for all hell to break loose.
"I'm putting lots of lotion on my hands," the toothy actor said. "I want my mitts to be good and smooth for slapping."
————————————————————————
Enjoy PD Scullin's debut novel "SAWDUST: Love is wilder than a circus," a humorous romp across America with a circus in the early '80s. Also available in audiobook. Click here for a helluva fun ride. Buckle up and go.
You may be interested in these jobs
---

Data Bridge Consultants

Washington DC, United States

Software Architecture System Managers (Historian) · Washington, DC, US · Req ID: 3526 · Engineering · Client Contact's Rating: · Salary: · USD $123,254 – $160,000 / yr · Job description · Provide soft ...

---

CrossMed

Cincinnati, United States

CrossMed is seeking a travel nurse RN Med Surg for a travel nursing job in Cincinnati, Ohio. · Job Description & Requirements · Specialty: Med Surg · Discipline: RN · Start Date: 01/09/2024 · Duration ...

---

Copilot Careers

Egg Harbor City, United States

Job Description · Make an impact - Develop career skills - Flexible schedule · We're hiring substitute paraprofessionals for a top education client to fill immediate openings across New Jersey. · Acce ...