When Advice to Small-Business Ain't So Great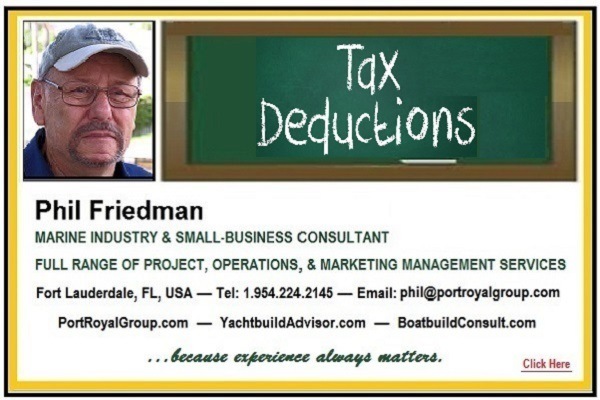 SMALL-BUSINESS OWNERS NEED TO BE CAREFUL OF BAD ADVICE...
In fact, all owners and operators of businesses, large and small, need to be careful of following weak or outrightly bad advice. It's just that small-business usually can't tolerate mistakes as well as big business.
"Pay for growth, not more taxes ... Why not use funds you'd normally give to the IRS for 2017 to start off 2018 with some great lead generation and marketing strategies?"

Advice seen recently on Social Media
I recently read an article on Social Media that implied if not said outright that you could pay for expanded marketing efforts in 2018 with dollars you'd otherwise just pay in taxes for 2017.
Well, that is, at best, a half-baked claim.
I don't pretend to be a tax accountant or to give tax advice. However, common business sense tells you that just isn't so.
Not that marketing expenses aren't legitimate business tax deductions. They are.
But a tax deduction saves you tax outlay on the money spent only in the percentage of your effective tax rate.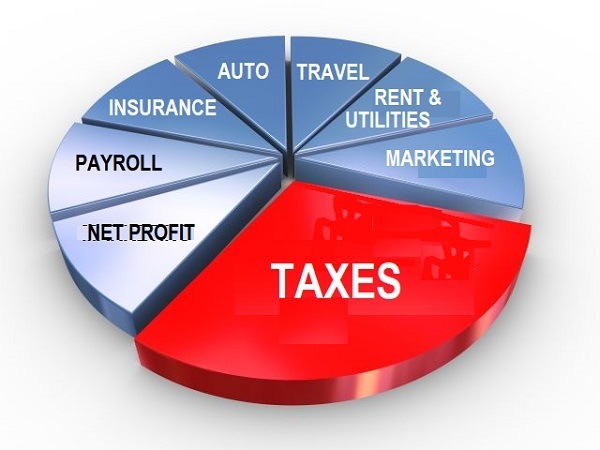 In other words, if your effective income tax rate is 25%, then every dollar you spend on marketing actually costs you only $0.75 ― with the Feds absorbing the remaining $0.25 in cost.
However, there truly is no free lunch. Even if an additional $10,000 spent on marketing actually costs you only $7,500, that is $7,500 less Net Profit you will bring to the bottom line.

And you have to ask yourself whether you can absorb that bottom-line reduction and whether that expenditure will generate more profit than the amount you want to spend on additional marketing.
Additional sales volume unaccompanied by increased Net Profit is useless...


Phil Friedman in Small-Business Primer

I've heard it said and read it written that often there is no point in making more money because it will just be eaten up by additional taxes. But unless your effective tax rate is 100%, there is always a monetary benefit to making more profit. Which is why I've always considered that to be just about the dumbest claim around.
Now that I've found the claim you can pay for additional marketing with tax dollars you'd otherwise give to the IRS, I have to admit it is only the second dumbest claim.

― Phil Friedman
Postscript: This is an excerpt from my upcoming eBook, Small-Business Primer: Real -World  Tips for Starting and Running Your Own Small Business. For information on securing a copy, email  phil@portroyalgroup.com and put "small-business book" in the subject line.
Author's notes:   If you found this article of value, you  might also want to look at some of my other writing about small business operations, management, and marketing:
"Common Myths About Starting Your Own Small-Business"
"Tips for Successful Consulting"
To receive notifications of my writings on a regular basis, click the [FOLLOW] button on my beBee profile. Better yet, click [Subscribe To This Blog by Email].  As a writer-friend of mine says, you can always change your mind later.
And if you enjoyed this post, please "like" and "share" it around to others ― whether on LinkedIn, beBee, Twitter, Facebook, or Google+. I ask only that you credit me properly as the author, and include a live link to the original work.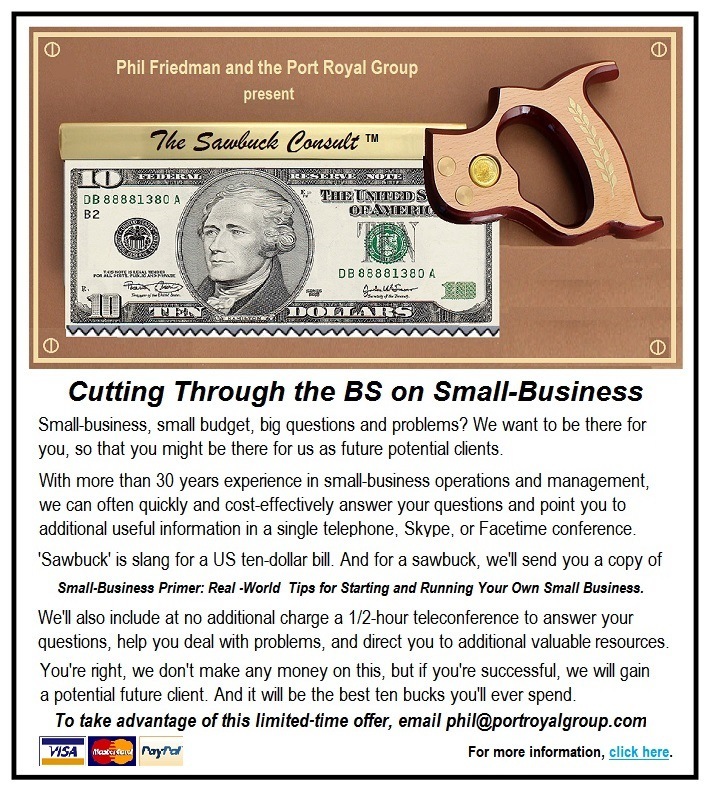 About me, Phil Friedman:  With 30 some years background in small business and the marine industry, I've worn numerous hats — as a yacht designer, boat builder, marine operations and business manager, marine industry consultant, marine marketing and communications specialist, yachting magazine writer and editor, yacht surveyor, and marine industry educator. I am also trained and experienced in interest-based negotiation and mediation. In a previous life, I taught logic and philosophy at university.


#SMALLBUSINESS #BUSINESSMANAGEMENT #BOOSTPROFIT #BETTERBUSINESS  #BUSINESSCONSULTING  #ENTREPRENEURSHIP  #STARTYOUROWNBUSINESS #ENTREPRENEUR #BUSINESSSTARTUP #RUNNINGYOUROWNBUSINESS #SMALL-BUSINESSTAXES

You may be interested in these jobs
---

BluePipes

Molalla, OR, United States

TotalMed Staffing is seeking an experienced Physical Therapist for an exciting Travel Allied job in Sheridan, OR. Shift: 5x8 hr days Start Date: 10/30/2023 Duration: 13 weeks Pay: $1752.95 / Week Phys ...

---

BluePipes

Friendship, MD, United States

GetMed Staffing is seeking an experienced Occupational Therapist for an exciting Travel Allied job in Crofton, MD · Shift: · 3x12 hr days · Start Date: · ASAP Duration: 13 weeks Pay: $1597.22 / Week ...

---

Planet Fitness

London, KY, United States

Part time

Job Summary · The Member Services Representative will be responsible for creating a positive member experience by providing a superior level of customer service to Planet Fitness members, prospecti ...