Blogging
>
Tineke blog
>
What makes a good testimonial and how can female entrepreneurs get one?
What makes a good testimonial and how can female entrepreneurs get one?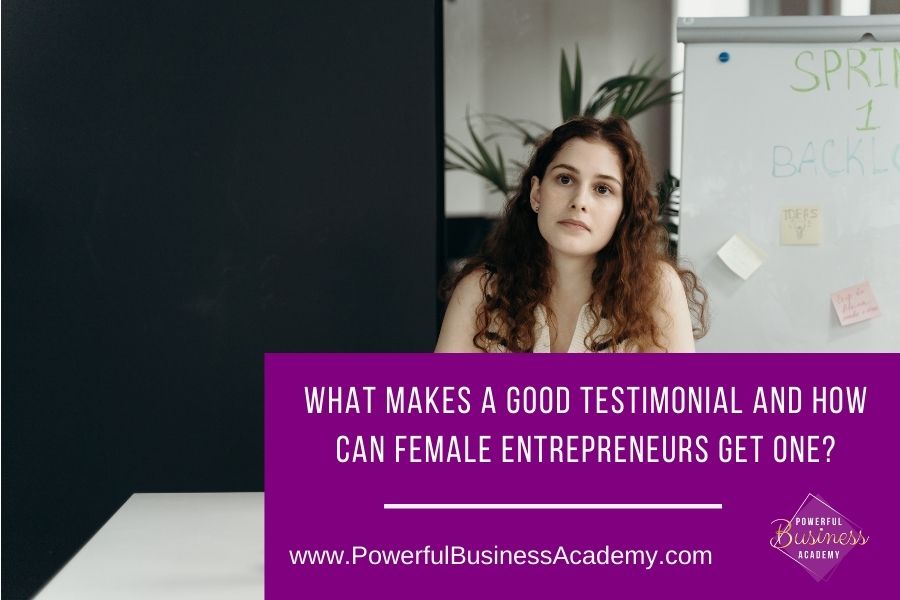 A good testimonial can be extremely powerful for your business, especially if you are a female entrepreneur. Not only do testimonials build your credibility and make you trustworthy, but they are also a good way to drive sales into your business. Now, if you've only just started out as a businesswoman, testimonials also help to reach your ideal clients and build your reputation.
This is why it's very important not just to get testimonials, but to get good ones. A testimonial is a sales pitch after all. And as in any sales pitch, you want your best features in the spotlight.
Before we continue with this topic, I want to inform you that; when you are serious about scaling and growing your business, working on just this one little area is not going to make a big difference. Scaling and Growing your business is always about a complex factor of working on many different areas which are all connected with one another. It is different for every business and even for every business owner.
What makes a testimonial good?
 For a testimonial to be effective:
It has to be authentic and relatable. Testimonials that are sincere will make the most impact to your ideal audience. Clients want to hear from real people and be able to relate to their struggles. And they are smart. They will be able to tell the difference between a genuine testimonial and a manufactured review. If you want a good testimonial, let your clients share their unique experiences and say these in their own words.
It has to be concise but detailed. Research shows that the average attention span of a person in this digital age is 8 seconds. So holding your audience's attention for more than this duration requires that you engage their interest. Don't bore them with generic information about your services. Don't ask them to read a whole page of text or watch minutes of footage before they get to the good parts they need to hear. In other words, keep it short and to the point. 
To show you what I mean, here are some testimonials that I received from my clients as a business coach for female entrepreneurs:
"I met Tineke during a lecture she gave for our business club. I felt attracted to her knowledge. I also felt a click, I felt understood and it was time for me to grow, time for the boost I wanted, time to show up in a much bigger way My company is called C-vents. It surprises its client and target group in a creative way and creates opportunities and thereby realizes growth with organizing events. "
Claudia Alberda
C-Vents
You may be interested in these jobs
Found in: Jooble US - 5 days ago

---

Great Clips

Shelbyville, IN

Full time

Got shears and a winning attitude? Want to support other stylists? Then let's talk Maybe you're a stylist who wants more responsibility or you're looking for a new opportunity? If this sounds like you, you may have what it takes to be a salon manager at a Great Clips salon. Great ...

Found in: Jooble US - 13 hours ago

---

WILLIAMSON STREET CAMPUS

Elizabeth, NJ

Full time

JOB SUMMARY Our Certified Nurse Midwives, provide care to a culturally diverse population. Births take place at Trinitas Regional Medical Center, where obstetricians and neonatologists are in attendance at all times. Certified Midwives are an integral part of the Trinitas Region ...

Found in: Jooble US - 1 day ago

---

Mario Sinacola Companies

Sherman, TX

Sinacola is a 100% employee-owned company. As a result, our employees experience a strong team atmosphere and share in the success of the company through the Employee Stock Ownership Plan. At Sinacola, we value safety, integrity, passion for what we do, and take pride in a job we ...