1 year ago · 1 min. reading time · 0 ·
"WE'LL CRUSH THE INSURRECTION IN OUR PARTY" MCCARTHY VOWS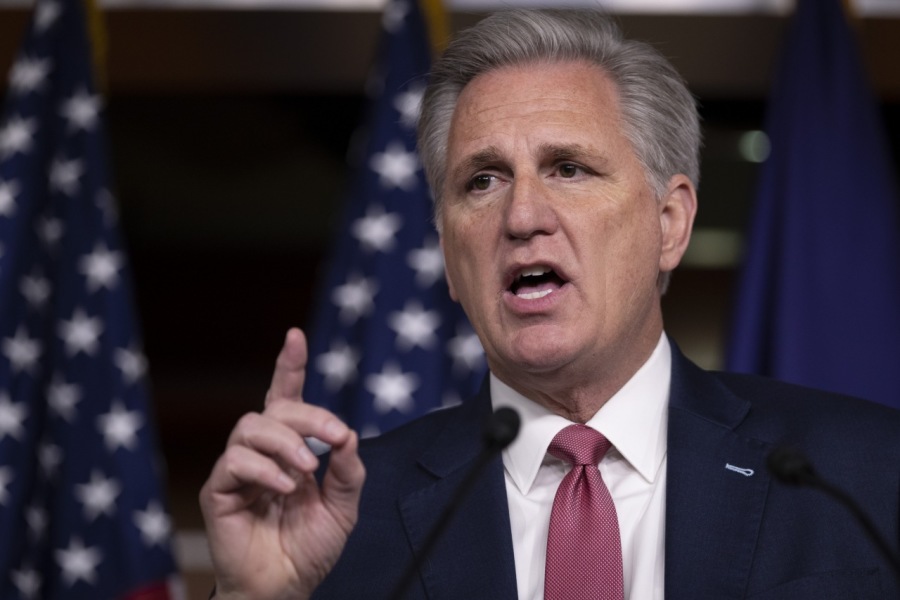 Two leaders of the Republican Party are outraged at the dangers looming within their own ranks.
House Minority Leader Kevin McCarthy and South Carolina Senator Lindsey Graham are committed to crushing fellow party members who don't support disgraced former President Donald Trump. The leaders are angry at GOP representatives and senators who voted for the impeachment of Trump.
"We will destroy those weak GOP politicians who didn't fall in line," McCarthy told The Lint Screen.
"These Trump traitors better get behind the big guy fast, or there will be hell to pay," Graham promised. "He is our Chosen One and everything he says is gospel. He told us himself that God put him here to save our nation."
"Trump's like Jesus, only better," McCarthy added. "I mean, Jesus looked like a dirty, unemployed hippie, and Donald Trump looks like a successful businessman. He sacrificed billions to save his people, and had a hit TV show, for crying out loud. Jesus never had a show, not even on cable access." McCarthy shakes his head, then, sighs. "Look, the bottom line is all Jesus did was die for our sins to save us from eternal damnation. Trump came here to make America great again and save us from the evil Democrats and Satan. Americans need to praise Trump! If they don't, they'll suffer the consequences. The Proud Boys are standing by!"
"Mitch McConnell better watch his back," Graham said, his baby blues twinkling. "He may accidentally trip down some stairs, or choke on some Arsenic soup. And ol' Mitt better stop going off the reservation if he knows what's good for him. All those Senators who voted for impeachment are going to get a licking," Graham said, licking his lips, purring like a cat.
"I talked to my people," McCarthy said. "I said I want all Republican representatives to be like Jimmie Boy Jordan, Matt Gaetz, and Marjorie Taylor Greene. Those patriots are the future of our party–– they live to serve their master."
"That's what we all have to do," Graham said, his lips trembling. "I love Donald Trump so much, I really do. I just want to be with him all the days of my life."
The Southern senator broke down sobbing, McCarthy consoled him by rubbing his back and humming The Village People's "YMCA."
"It'll be okay, Lindsey," McCarthy said. "We all just want to be with him. He is our savior."
———————————————————————————————-
Enjoy PD Scullin's debut novel "SAWDUST: Love is wilder than a circus," a humorous romp across America with a circus in the early '80s. You're a click away from a helluva fun ride. Buckle up and go.
You may be interested in these jobs
Found in: Jooble US - 6 days ago

---

Memorial Hermann Health System

Houston, TX

Every employee, at every level, begins their journey at Memorial Hermann learning about the history of the organization and its established culture built on trust and integrity. · Our employees drive this culture, and we want you to be a part of it. Job Summary · Job Descriptio ...

Found in: Talent US± - 6 days ago

---

Year Up is a one-year or less, intensive job training program that provides young adults with hands-on skill development, corporate internships, and coursework eligible for college credit. · Year Up participants also receive an educational stipend. · The program consists of class ...

Found in: Jooble US - 1 week ago

---

Kindred Hospitals

Hot Springs National Park, AR

Description · Kindred RehabilitationServices is the largest diversified provider of rehabilitation therapy in the country. Through RehabCare and Kindred Hospital Rehabilitation Services , we provide leading therapy to more than 2,000 sites of service across different settin ...