1 year ago · 1 min. reading time · ~10 ·
Want to Get Back Into Writing? 5 Exercises to Jolt Your Creativity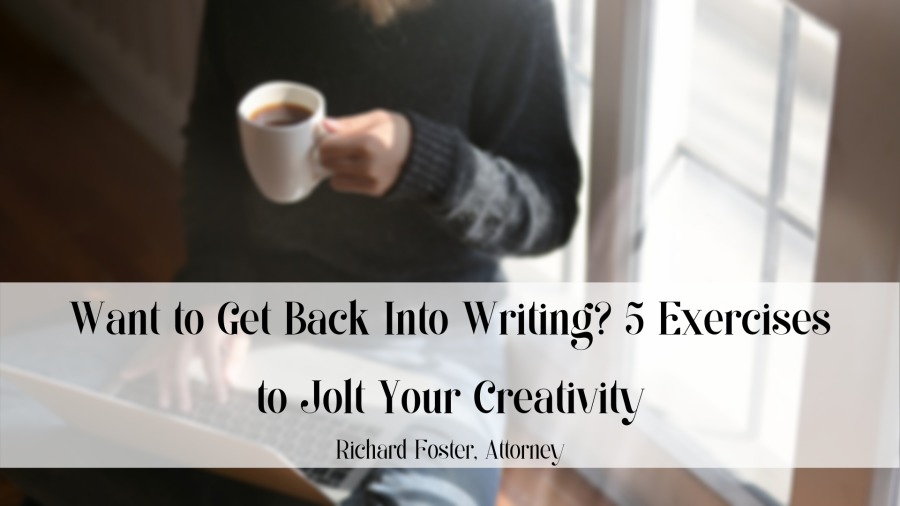 Whether you've hit a sudden bout of writer's block or you're in the middle of a writing hiatus, feeling like you don't have motivation or inspiration can weigh you down. For struggling writers, sometimes the best thing to do to jolt your creativity and get back into the writing spirit is commit to some writing exercises and write through the blockage. Here are five exercises you can try today.
Write Down Your Dreams
Even if you don't always remember what your dreams entail or you feel your dreams aren't exciting, writing down your dreams can actually help boost your creativity. As an exercise, you can return to your notes later in the day and make an effort to translate your dream into something that makes narrative sense. Even if you don't tackle this challenge, recording your dreams can give you inspiration for literary motifs and themes you can incorporate into your writing projects.
Revisit Past Projects
If you are trying to get back into writing, one of the first steps to get yourself moving is to revisit your previous projects. Doing so can remind you what you enjoyed about the practice and also give you a confidence boost when you read something that makes you proud. For writers who don't have any pressing ideas or narrative threads they want to pursue, revisiting the older pieces, rewriting scenes, or simply writing within the world they created can help revitalize those old creative sensibilities.
Give Flash Fiction A Try
Even if you previously wrote longer works, nonfiction pieces, or poetry, writing flash fiction can be a great way to get your creativity flowing. There are very few rules for flash fiction, but the premise is simple: the pieces are short but complete. The challenge is both fun and time-efficient.
Reflect On Your Past
Drawing from your own experiences is a common practice for writers. You may choose to depict an event from your childhood in writing, or you may opt to take up journaling to get yourself writing again. Creative nonfiction may not be your preferred genre, but this is still a beneficial practice.
Draw on Writing Prompts
Nothing can help writers get started quite like a prompt can. The variety of prompts available is practically limitless, so you can search for visual, written, or even audio prompts to inspire you.
Originally published to richardfosterattorney.org
You may be interested in these jobs
Found in: Indeed US - 2 days ago

---

Eden Senior Care

Rhinelander

Full Time

Friendly Village is a skilled nursing facility located in Rhinelander, Wisconsin, as a part of the Eden Senior Care network. · We are recruiting positive, happy and reliable Full-time and Part-time Certified Nursing Assistants to join our team · Eden Senior Care founded in 2016 i ...

Found in: Indeed US - 9 hours ago

---

Panera Bread

Fredericksburg

Baker · PANERA CAFE ASSOCIATE: · BAKERWant to work in a place where you can learn, laugh, be supported, be yourself and reach your goals? If so, then Panera is for you. · We do everything possible to earn your trust and help you succeed—every day, in every way. Come join the fun ...

Found in: beBee S2 US - 6 days ago

---

McMillen Jacobs Associates

San Diego

Full time

ABOUT MCMILLEN JACOBS ASSOCIATES · McMillen Jacobs Associates is a multi-disciplined firm, with self-performing design-build capability. We are experts in underground/tunneling and water resources projects and deploy this expertise to serve water, dams, energy, wastewater, transp ...