Vending Machines Are People Too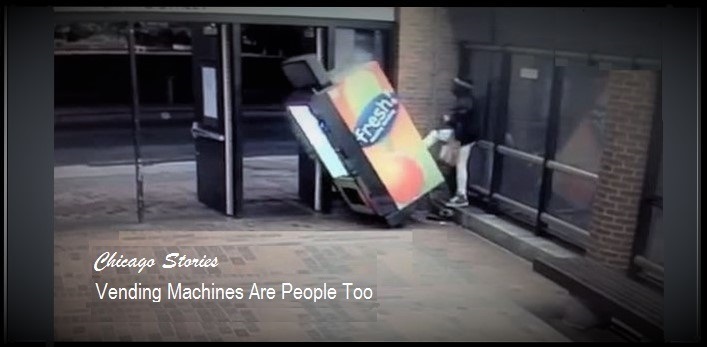 AND THEY DO RESPOND TO HUMAN INTERACTION...
Preface: This started out as a comment for Jesse Kaellis's "Vending Machines" , which triggered this memory from another life. Which must be some sort of recommendation --- for Jesse's writing, that is. Anyway, it got too long, and I didn't really want to shorten or over-edit my comment. So I am publishing it as its own post.
(Author's additional note: This piece is now specifically dedicated to Jesse Kaellis, who died a few years ago at far too young an age. He was a writer in the raw, a rare gem of tough, honest emotion and pent-up creativity. We first met online whilst engaging in some knock-down, drag-out verbal fisticuffs … later to become friends. He was one of the people whom I've met online over the years for whose writing I developed genuine respect. And the online world is less for his passing. – PLF 2022)
I believe it wrong to portray vending machines as unthinking, uncaring creatures. For they do respond to appropriate human stimuli. This is how I know.
Years ago, I was working the graveyard shift at the Chicago U.S. Parcel Post routing depot --- where we handled, among other things, the bronze gravestone plaques being mailed by the government to families in exchange for their sons, brothers, fathers, and husbands whom the nation had left in the dirt in Southeast Asia, during a reckless and futile military adventure.
Twice each night, between 11:00 pm and 7:00 am, we were allowed a 15-minute break to grab a vending-machine-dispensed cup of coffee or soup, or some chips or other pretty disgusting snack. But disgusting or not, all of us on that mind-numbing shift looked forward to those breaks and to being able to grab something small to eat.
Unfortunately, about 75% of the time, the machines took our money and refused to dispense the paid for food stuffs. We pleaded with the machines. We talked nicely to them. We stroked them. We even punched and kicked them. All to no avail. They were stony-willed, silent jerks.
We complained to post office management, but were told the machines worked for private contractors, and that the only recourse available to us was to report the problem, using the 800-number printed on a label near the bottom of the machines. Which we did tens, if not hundreds of times.
Again, all to no avail. No refunds. No improved performance. The machines continued to take our money. And laugh at us. Like the gods of the war in Southeast Asia did when some of us silently cried as we handled the specially shaped and marked corrugated cartons that held the bronze gravestone plaques, each of which represented a needlessly lost life.
One night --- or rather, early one morning --- while management was either in a meeting or sleeping in the back of a 14-wheeler waiting to be loaded with canvas bags full of parcels --- a few of us, who shall remain unnamed, put the forks of a lift truck right through three of the offending vending machines. 
 
We wanted in our hearts to smash every one of those smarmy machines into smithereens. However, caution overtook our anger; and we withdrew anonymously and quietly. Even though it left us feeling unfulfilled, being kind of like destructus interruptus. 
 
But lo and behold, the very next day when we showed up to work, the three skewered machines had been replaced by new ones. And apparently all the machines had all been retrained. For from that day forward, until I stopped working at the Post Office several months later, they dispensed exactly what was paid for, without hesitation or reluctance. 
 
Proving that you can reason with a machine. Just not with a war machine.  --- Phil Friedman
Author's Notes:   If you found this post interesting and worthwhile, and would like to receive notifications of my writings on a regular basis, click the [FOLLOW] button on my beBee profile. Better yet, elect there to follow my blog by email. As a writer-friend of mine says, you can always change your mind later.
Should you be curious about some of my previous postings about on and about social media, you're invited to take a look at some of the following Chicago Stories:
As well, feel free to "like" and "share" this post and my other articles — whether on beBee, LinkedIn, Twitter, Facebook, or Google+, provided only that you credit me properly as the author, and include a live link to my original post. 
 
About me, Phil Friedman:  With 30 some years background in the marine industry, I've worn numerous hats — as a yacht designer, boat builder, marine operations and business manager, marine industry consultant, marine marketing and communications specialist, yachting magazine writer and editor, yacht surveyor, and marine industry educator. I am also trained and experienced in interest-based negotiation and mediation. In a previous life, I was formally trained as an academic philosopher and taught logic and philosophy at university.
                          

Image Credits:  Phil Friedman, Google Images

""""
Life Lessons
You may be interested in these jobs
Found in: beBee S2 US - 19 hours ago

---

Hartford HealthCare

Beacon Falls

Full time

Description · Job Schedule: Full Time · Standard Hours: 40 · Job Shift: Shift 1 · Shift Details: · Work where every moment matters. · Every day, over 30,000 Hartford HealthCare colleagues come to work with one thing in common: Pride in what we do, knowing every moment matters h ...

Found in: Jooble US - 12 hours ago

---

DescriptionPosition at Pilgrim's · Broiler Service Tech –Moorefield, WV · Pilgrim's employs approximately 40,500 people and operates chicken processing plants and prepared-foods facilities in 14 states, Puerto Rico and Mexico. The Company's primary distribution is through retaile ...

Found in: Jooble US - 3 days ago

---

Starbucks

Des Plaines, IL

BENEFITS · Benefits-eligible partners (employees working 20 or more hours a week) can get a wide range of perks, benefits and assistance. · One of the amazing benefits is the Starbucks College Achievement Program (SCAP): · In a first of its kind collaboration with Arizona Sta ...