1 week ago · 2 min. reading time · visibility ~10 ·
Using Compliance to Build a Positive Company Culture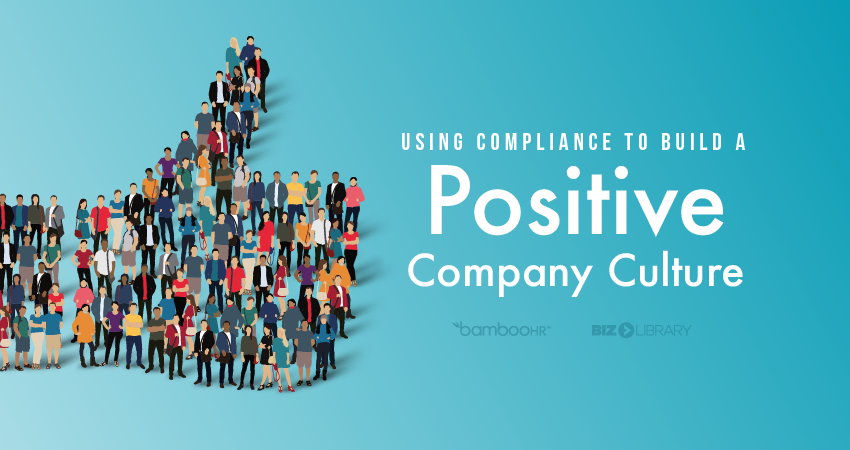 FREE ON-DEMAND WEBINAR
When: Anytime
Where: Online
Cost: FREE
Webinar Description: Keeping up on compliance can be like playing goalkeeper for a soccer team. Do a good job, and your team may never notice; make a mistake, and you could jeopardize the entire game.

According to one survey, HR professionals named changing federal regulations, state laws, workforce planning, cybersecurity, and recruiting as some of their chief compliance concerns. And that's not even the whole list. It's clear that HR goalkeepers have a lot of saves to make when it comes to keeping their organizations compliant.

Because of this pressure, compliance often feels like a chore at best and an overwhelming challenge at worst. There's no winning—there's only not losing. But compliance can be so much more for your organization. In fact, it could become a key piece of your positive company culture.

Join Libby Powers from BizLibrary and Cassie Whitlock from BambooHR as they discuss how to move your compliance strategy beyond a checklist and use it to build a better culture. With a proactive, culture-focused approach to your compliance strategy, you can shift your focus from blocking shots and start scoring goals for your organization.
The cost of non-compliance and a negative company culture
How to approach compliance with a proactive mindset
Major areas of compliance you can use to build your culture
How to use compliance to improve your organization
About the speakers:
Cassie Whitlock, Director of Human Resources at BambooHR
Cassie started her career in the accounting world but working with small and medium sized companies, the HR function was always handed to her. She loves the intersection of business and humans, and believes that when companies focus on the human aspect of their people, the people in turn focus on the business needs. She enjoys her work most when she can take her talents in data, processes, and human psychology to make someone's day better. She believes that strategy is accomplished in the details of how you manage the daily tactical items. A quick humor and a thoughtful, listening nature are the mark of her leadership style. She views her team as part of her family and enjoys working hard with them, while they all learn, grow, and execute on business-critical initiatives.
Libby Powers, Channel Sales Account Executive at BizLibrary
Working with our Channel Sales team to create and maintain strategic partnerships, Libby is passionate about learning and development as well as ensuring the success of all BizLibrary partners. Prior to working in Channel Sales, Libby was a Client Success Consultant. She worked with BizLibrary clients to build and sustain meaningful relationships while strategically growing their learning and development programs for optimal results. Prior to BizLibrary, Libby worked as an account executive and teacher.
Source: BambooHR LLC.
You have no groups that fit your search