6 years ago · 6 min. reading time · ~100 ·
Two Pizzas and a Shovel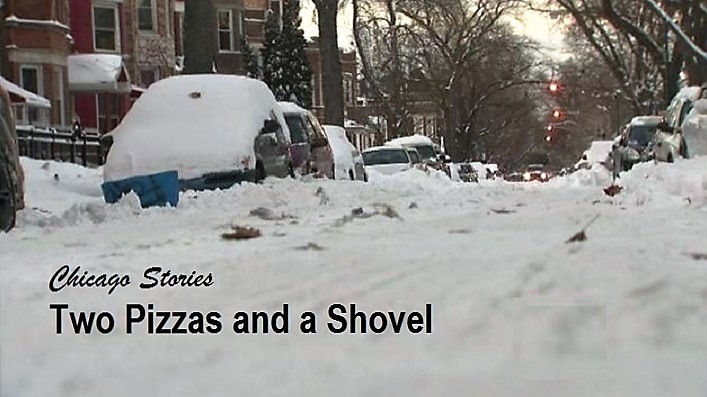 THEY SHOVEL A LOT OF THINGS IN CHICAGO, BUT NEVER BULL CHIPS...
The more things change, the more they remain the same...
At least, that's the way it is in Chicago.
I was born, raised, and lived there until I was an adult. Right in the inner city. First on the West Side near Roosevelt Road and Kedzie Avenue. Then on the South Side in Hyde Park and South Shore. And finally in Rogers Park on the North Side.
I left shortly after I graduated college, when I headed to graduate school. And although I still visited family there, I hadn't returned to live. 
Until the beginning of 2015. When I commenced work on a longer-term consulting contract to reorganize and expand the service operations of a Chicago boat yard.
Because the contract was for a year, I sublet one floor of a two-floor renovated condo in Avondale, a Chicago neighborhood that was historically Polish working class. Duplexes, triplexes, and some small, multi-unit apartment buildings, most of which had been converted to condos. All nicely kept and good value when compared to the outrageously expensive yuppified areas of Lincoln Park, Wicker Park, and Bucktown.
The only problem was parking. For most of it was on the street --- and for overnight, by permit only.
About every other week, I flew back to Florida to spend the weekend with my family. And then back to Chicago to fulfill the terms of my contract.
One time in February, I think it was, I returned on a flight that arrived during the midst of a major snowstorm. Turned out, it was a very good thing I had grown up in Chicago. This is why:
 
In Chicago, when there is a major snowstorm, the snowplows used to keep the streets clear do so by pushing all of the snow from the middle of a street to the curbs each side. Which usually makes it impossible to park a car there, without first digging a parking space out of the man-made drifts. Which is what people do in neighborhoods like Avondale.
 
However, what I knew because I had grown up in Chicago was that, once someone had dug out a space in which to park his or her car, he or she then staked a claim to that space for the duration by placing a chair or chairs in that space.
And woe be to him or her who chooses to ignore a parking space squatter's rights by usurping a space that someone else has created and claimed during the aftermath of a major snowstorm...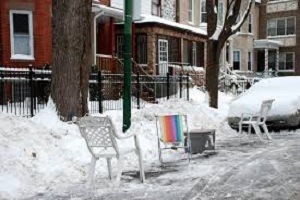 If you ignore such a squatter's claim, you might return in the morning to find your car "keyed". Or one of more of your tires flattened. Or worse, get yelled at, or maybe even punched out. Dug out parking spaces following a storm are a serious matter in Chicago.
Anyway, there I was in February, arriving at Midway Airport at the tail end of a major snowfall. I was tired. And by the time I had picked up my rental car and gotten on the road, it was after 6:00 pm.
All I wanted was to go to my rented apartment, eat something, and go to bed. But I knew I couldn't do that. Because I knew I would not find an open parking space in my neighborhood --- unless I could dig one out for myself.
Consequently, I stopped en route at a Home Depot store to buy a shovel. Not surprisingly, they were out of proper snow shovels, and I had to settle for a steel bladed spade with a 60" handle. Not ideal, but I guessed I could manage nevertheless. And so bought the spade and headed to my home away from home.
Fortunately, when I arrived, then well after dark, there was an unshoveled, potential space right out in front of my building. The problem was that there was no place to park while I dug out that space.
I might otherwise have parked temporarily, although illegally in a no-parking zone at a nearby corner, but such spaces had been piled up especially high with snow.
Or I might have simply double-parked while I dug out a space. Except that the drifts now piled up at the curbs each side of the street had narrowed the roadway to a single lane, making double parking impossible.
The problem was made worse by the fact that I didn't have a chair to mark squatter's rights to a space, and so could not park even temporarily very far away, or I would run the risk that by the time I got back to park in it, somebody else might have taken it.
After circling several blocks several times looking for an opportunity to carve out a parking space for my rental car, I said screw it, and simply stopped in front of my apartment building in the middle of the street and turned on my warning flashers.
I figured it would take me only about twenty minutes to dig out a space.  And that it was a short block, so people coming down the street or turning onto the street would see the flashers and figure out to take another route.
Which all worked well for about the first ten minutes. Until a pizza delivery guy pulled up right behind my car and began honking his horn...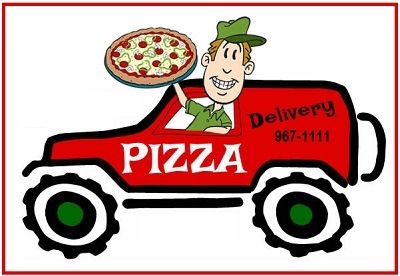 I ignore him and keep shoveling. Being half-finished, there is no way I am going to stop shoveling or drive away from my half-dugout parking space. 
 
After several honks, he gets out of his vehicle and approaches me, shouting aggressively to get the hell out of the way. 
 
I ask him where he thinks I can go and explain I have less than ten minutes of work left --- at which point, I will be happy to park my car and let him pass. Or he can back down the street a quarter block to the corner and take the cross street around.
 
He says that isn't good enough, that he has two pizzas to deliver which are getting cold, and his boss will be pissed at him. 
 
To which, being trained in interest-based negotiating, I offer to buy the two pizzas from him at whatever the bill says, and throw in a tip to boot. If he will just wait calmly for a few more minutes. All the while, I keep shoveling.
He says no deal. That he is going to call the police and have me arrested for blocking traffic. 
 
I say go ahead, call the police. All the while, I keep shoveling --- figuring that, if I can keep him talking long enough, the problem will resolve itself as soon as I finish and can park the car.
 
He pulls out his cell phone, calls the police, talks for a minute, and then holds out his phone to me and says the desk sergeant wants to speak to me.
 
By now it's well after 9:00, I'm really cold, my feet are wet through my shoes, and my toes are numb. I am also myself getting really pissed about his harassment. 
 
So while I kept shoveling, I say loud enough for the desk sergeant to hear, "If the police want to talk to me, they can come out here and arrest me. But tell 'em to bring shovels and a tow truck, because my car is stuck."
And I keep shoveling.
 
Out of the corner of my eye, I see the pizza delivery guy talking again to the cop at the other end, and I hear him say, "Yea, the old guy says he'll be done in ten minutes, yea, yea, okay, but this is shit." Then he hangs up, more pissed off than before.
I keep shoveling, thinking, "Old guy? OLD guy? F@#k you, kid."
 
He says, "I've had enough of this; I'm just going to punch your face in."
To which I reply, "Better think about it first. You have two pizzas. I have a five-foot steel-bladed shovel. How do you think that's going to work out for you?"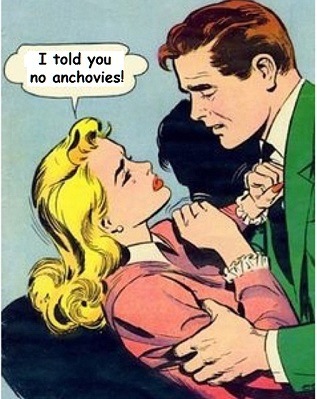 Well, he huffed and he puffed, and... he stomped back to his truck.
 
Just about then, I finished digging out enough of the space to enable me to move my car off to the side, so he could pass. 
 
Which he did, flipping me the bird, and laying on his horn, as he drove by. Case closed.
As is usual with my Chicago Stories, I am not sure whether there is a moral to the tale. Or even if there is, what it might be. 
 
Perhaps, in this case, that talking long enough about a problem gives it time to resolve itself. Or not. --- Phil Friedman
  
Author's Notes:   If you found this post interesting and worthwhile, and would like to receive notifications of my writings on a regular basis, click the [FOLLOW] button on my beBee profile. Better yet, elect there to follow my blog by email. As a writer-friend of mine says, you can always change your mind later.
Should you be curious about some of my previous Chicago Stories, you're invited to take a look at the following:
"Vending Machines Are People Too"
As well, feel free to "like" and "share" this post and my other articles — whether on beBee, LinkedIn, Twitter, Facebook, or Google+, provided only that you credit me properly as the author, and include a live link to my original post. 
 
About me, Phil Friedman:  With 30 some years background in the marine industry, I've worn numerous hats — as a yacht designer, boat builder, marine operations and business manager, marine industry consultant, marine marketing and communications specialist, yachting magazine writer and editor, yacht surveyor, and marine industry educator. I am also trained and experienced in interest-based negotiation and mediation. In a previous life, I was formally trained as an academic philosopher and taught logic and philosophy at university.



 """"""""
Life Lessons
You may be interested in these jobs
Found in: Talent US± - 3 days ago

---

Hematology Oncologist, 550k Guaranteed, 4 day work week · This Jobot Job is hosted by: · Brooke LaveringAre you a fit? Easy Apply now by clicking the "Apply Now" button and sending us your resume · Salary: · $550,000 - $700,000 per year · A bit about us: · i am looking for a Hema ...

Found in: Jooble US - 3 days ago

---

Why join this virtual experience program? At Align Technology, we create technology driven by the belief that a great smile can transform a person's life. · We revolutionized the orthodontic industry by introducing the Invisalign system without losing sight of our innovative spir ...

Found in: beBee S2 US - 5 days ago

---

Southern Glazer's Wine and Spirits

Miramar

Full time

Open the door to a groundbreaking tech career with an industry leader. Southern Glazer's Wine & Spirits is North America's preeminent wine and spirits distributor, as well as a family-owned, privately held company with a 50+ year legacy of success. To create a new era in alcohol ...