TRUMP SAYS, "BOYCOTT BASEBALL, COCA-COLA, MOM, AND APPLE PIE"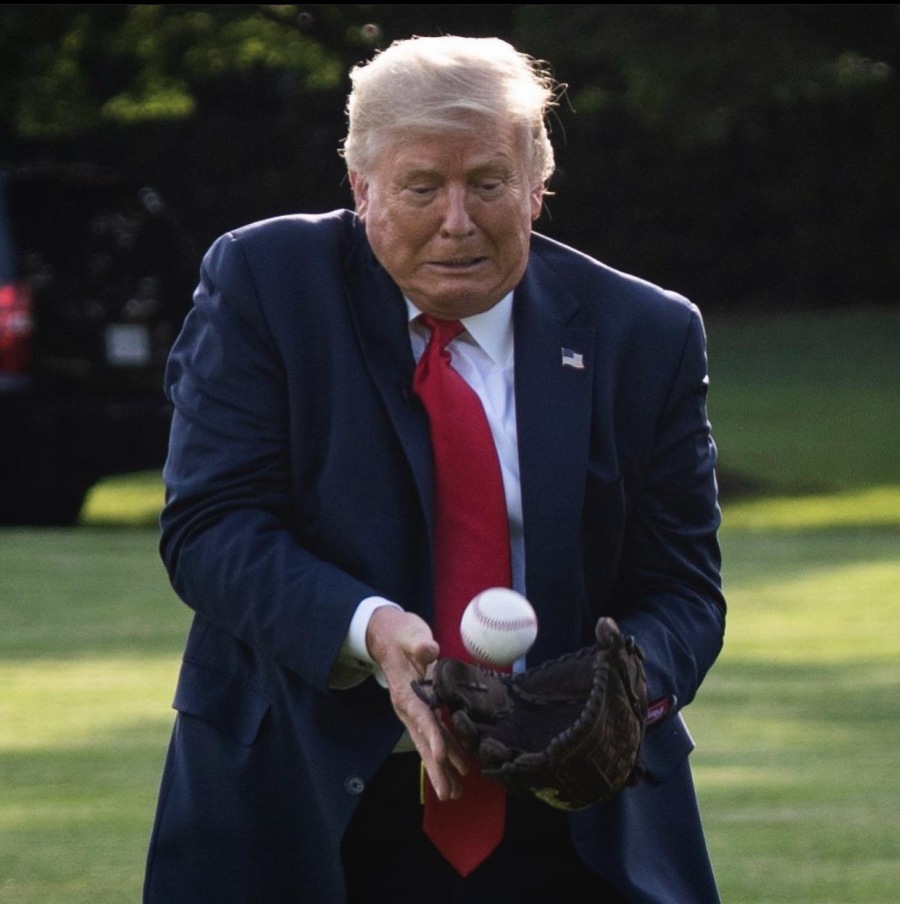 Donald J. Trump claims, "I could have played pro baseball. Every major league team wanted me. I was a natural, like Robert Redford in that movie. I forget the name of it." That was then.
Now, the disgraced twice-impeached ex-president is telling his rabid cult base of gullible loonies to boycott baseball.
Trump is angry because Major League Baseball pulled the All-Star game from Atlanta after Georgia initiated numerous voting restriction laws.
"It's a disgrace what baseball did," Trump says. "And a disgrace how weak Brian Kemp and the Georgia GOP was in their new voting laws. Minorities will still be allowed to vote in Georgia, so they completely failed. A total disaster. Georgia was in on the steal, and I'll never forgive Kemp and Ratsburger, or whatever the hell his name is, for costing me the election."
The self-proclaimed "Victim-in-Chief" still claims he was cheated out of the 2020 presidential election.
"Joe Biden robbed me," Trump says with a straight face. "Everyone knows I should be president. I won all 50 states, won all of them in a landslide. I was ahead by 800 million votes on election night. But the next morning, somehow Biden won! It was ridiculous. Biden stole the election. Then, when patriots went to the Capitol on January 6 to calmly talk about election irregularities, the fake news media paints them like they're the bad guys. It's awful, an absolute disaster what these liberals are doing to America. Now the liberals are sticking needles into millions of Americans. Joe ought to be ashamed of himself."
Trump wants his people to boycott major league baseball and many other American institutions.
"Baseball canceled us," Trump says, "then Coca-Cola, Delta, Apple, and other companies came out against the Georgia voting laws. I've also heard many mothers are against the voting laws. So we need to cancel them too, and the apple pies they bake because we don't know what's in those pies. It could be Apple computer chips or drugs that make people think Biden won the election. I say be safe, people– stick with good old-fashioned all-American foods like borscht and Beluga caviar."
Trump believes he can right the many wrongs made against him.
"People need to send me money, now," Trump says. "Give me your bank account and credit card numbers. With that information, we can stop the steal, and I can get back into office and continue doing my fantastic job of making America great again. I was definitely the greatest president of all time. Everyone says so!"
The porky ex-prez gives his signature thumbs-up, then wobbles out of the room.
——————————————————————–
Read PD Scullin's debut novel "SAWDUST: Love is wilder than a circus," a humorous ride across America with a circus in the early '80s. This book has earned 100% 5-Star reviews on Amazon. Act now and save during pandemic pricing. You're a click away from a fun, unforgettable ride. Buckle up and go.
You may be interested in these jobs
Found in: beBee S2 US - 6 hours ago

---

SpotOn: Product

Chicago

Full time

Staff Software Engineer - Hospitality · This is a full-time role in Atlanta, Charlotte, Chicago, Detroit, or Troy · At SpotOn, we're helping small businesses and restaurants compete and win with technology to better connect with their customers. Think marketing software, website ...

Found in: Jooble US - 6 days ago

---

Stability Healthcare

Salem, VA

Stability Healthcare is seeking a travel nurse RN Med Surg for a travel nursing job in Salem, Virginia. · Job Description & Requirements · Specialty: Med Surg · Discipline: RN · Start Date: ASAP · Duration: 13 weeks · 36 hours per week · Shift: 12 hours, nights · Emplo ...

Found in: Jooble US - 23 hours ago

---

Job Description: · Role Summary/Purpose: · We are looking for a Senior Data Engineer to provide technical leadership for the development of Big Data applications supporting key business domains. · In this role you will be an integral part of an exciting, fast-paced, constantly ch ...