5 years ago · 3 min. reading time · visibility 0 ·
Top 10 Signs Concierge Medicine is Right for You: Patient Edition
10. You don't like waiting for an appointment. If you would prefer to see your doctor when you need to, and not have to go to urgent care, then concierge medicine is right up your alley.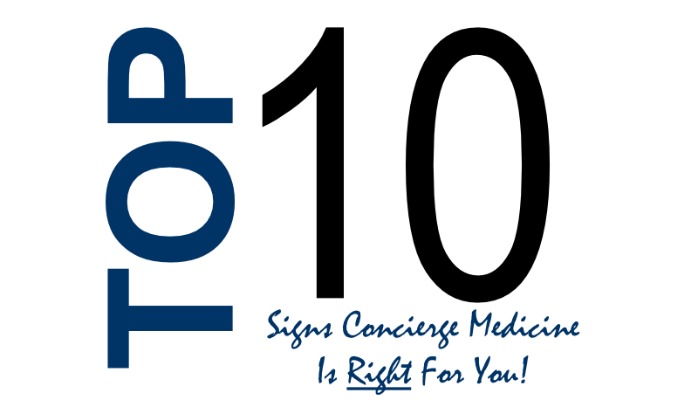 9. You have a high deductible health plan (HDHP). Some patient's insurance deductibles are so high that they never get to 'use' their insurance to see the doctor. Sure they go to a doctor in their network, but they pay out of pocket. If you're going to spend cash, might as well spend it at a practice designed for cash payment.
8. You don't have insurance.  For many who don't want insurance, health sharing ministries (Medishare, Liberty Healthshare, etc.) offer an attractive alternative. Generally more affordable than high-deductible insurance, health sharing ministries have the added benefit of 'legality' under the ACA (you can avoid the IRS penalty). These patients benefit from concierge medicine in the same way those with HDHP do--cash prices for cash services.

7. You don't like switching doctors.  How many times have you had to switch doctors because your doctor is no longer part of your insurance plan's network? Since most concierge medicine doctors aren't 'in-network' for health insurance, it doesn't matter what your network is, your doctor is always available.

6. You think you should be able to text or email your doctor.  Simplicity of communication works well for both patient and doctor in concierge medicine. Need to make an appointment? Pharmacy didn't get the refill? Have a question about a new drug you saw on TV? Just drop us a text or email, and we'll handle it. It saves time for both of us. No need to leave a message and wait for a call back.

5. You would rather pay directly for labs and medications than use insurance.  Many times insurance ends up making things more complicated than it has to be. Bestselling author Mark Steyn once relayed a story about how he was helping a convalescing friend pick up a prescription. The pharmacy didn't receive 'approval' from the insurance company, so they cancelled the script without telling the patient. After phoning to find out about the mistake, it was reordered, and after an hour of delay, still no approval. Finally he says, "Well just let me pay for it then, how much?" Eighteen dollars. So instead of just forking over a $20 bill and calling it a day, they got to play the insurance waiting game. In our practice, patients pay wholesale prices for labs and for medicines that we can order for them. For those medications that we don't supply, there's always GoodRx.  

4. You feel rushed at the doctor.  My father used to always complain about feeling like he was 'on the clock' when he went to the doctor. He used to say, 'Well you sit down and better get your questions in before the time is up, before the meter runs out.' Luckily he has a doctor now that takes his time and answers all of my father's questions. His doctor isn't a concierge medicine doctor. He is one of those doctors in the insurance world who, against all odds, still manages to take great care of his patients. In our practice, the first appointment is blocked for 2 hours. We may not need it all, but we never rush.

3. You like personalized attention.  Many times patients find themselves in concierge medicine practices because they haven't gotten the attention they need. I have seen more than a few patients who have had medical issues addressed and worked up by another doctor prior to seeing me. I review their records and say, 'Well it looks like they did a pretty good job here, I agree with the plan, so what brings you to see me.' And the patient will say something like, 'Because the doctor didn't explain it to me the way you did, and I didn't feel comfortable taking those medications, now I do.'

2. A video consult sounds good to you.  Let's say you went to the beach and now there is a bad rash on both of your legs. You are two hours away from home, but you have access to your cell phone. Well the easiest thing to do is have a quick video consult. Call your concierge medicine doctor (even if it's on the weekend) switch over to Facetime or Skype, and let's have a look. Chances are it's something that an OTC cream would cure, but always good to have a professional opinion. The doc can always call in a steroid, just in case.

1. You can afford a concierge medicine membership and you see the value in having private, personalized medical care.
Depending on where you live, memberships can cost anywhere from $50/month to several thousand dollars a year. Also, depending on where you live the practice may be called 'Concierge Medicine' or 'Direct Care.' The common thread is: doctors get paid by patients directly and, in return, they take care of their patients for the whole year. Concierge medicine isn't for everyone, but for the patients who find themselves looking for something different in medical care, it's a welcome choice.

Dr. Tommy McElroy is a concierge medicine physician in Wesley Chapel, Florida. Follow him on AskDrTommy.com and on Twitter @tampadirectcare
For more Ask Dr. Tommy commentary:  http://echelon-health.com/Ask-Dr-Tommy/commentary/
You have no groups that fit your search