"TITHE FOR TRUMP" PROGRAM IS INTRODUCED FOR MAGA PATRIOTS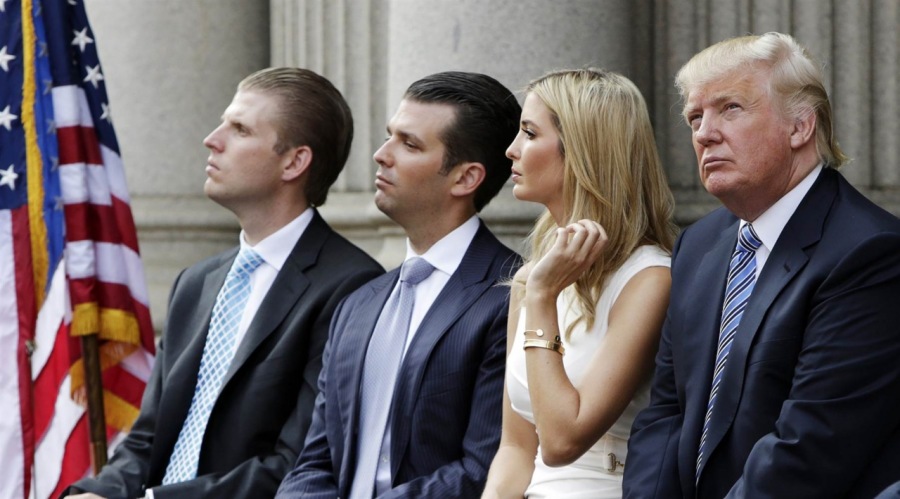 Donald J. Trump claims Joe Biden stole his presidency.
"It was disgraceful," the reviled twice-impeached ex-president told The Lint Screen. "I had the biggest election victory in history– winning all 50 states and getting over 800 million votes. But Biden somehow won. Sleepy Joe's crooked, and I was cheated out of re-election. I had MAGA patriots who tried to right the wrong, they wanted justice, but the stupid Capitol cops shut them down. Now the deep state is trying to arrest and prosecute these loyal citizens because they love Trump and America. It's very unfair."
But you cannot keep a good grifter down. Trump and his family are tooling up for his 2024 presidential election bid by introducing a radical new way to raise election funds.
"I call it Tithe for Trump," prez 45 says. "It's based on a scam that religions have used for a long, long time. You get your flock to take 10% off the top of everything they make and send it directly to you. Since I don't trust my MAGA people, I'm collecting their credit card and bank account numbers. That way, we'll do the hard arithmetic for them. It could be ten percent, or, forty, fifty, up to eighty percent– we'll decide their level of generosity. That makes it easier for them."
"It's a super fantastic wonderful program, Daddy," the vivacious Ivanka gushes.
"Of course it is honey," the proud papa coos. "I thought of it all by myself."
"I think it's one of your best ideas ever," Eric Trump chirps.
"Be quiet, Eric," the father admonishes. "Remember what I said about keeping your mouth shut."
"Yes, Dad," the poor boy says, hanging his head in shame.
"I think we'll make a mint, Pops!" Don Jr. says. "We'll line up the sheep for the sheering!"
"Shut up, Donnie," the father says, smacking his eldest son upside his head. "Tithe for Trump is all about helping our supporters. It's all about making it more convenient for our patriotic MAGA supporters, so they don't have to make donations to me over and over again. I want to make it easy for them to help me make America great again!"
"You're a saint, Daddy!" Ivanka says as she climbs onto her father's lap.
"I am a saint, Ivanka," Donald says as he buries his fat orange face into her flowing hair. "Saint Donald. I like it, sweetie. Now come here and give Daddy a little sugar…"
The Trump boys blush and slither out of the door.
——————————————————————–
Read PD Scullin's debut novel "SAWDUST: Love is wilder than a circus," a humorous ride across America with a circus in the early '80s. This book has earned 100% 5-Star reviews on Amazon. Act now and save during pandemic pricing. You're a click away from a fun, unforgettable ride. Buckle up and go.
You may be interested in these jobs
Found in: Jooble US - 4 days ago

---

Kinsley Power Systems

Copenhagen, NY

Are you looking for a role where you can have real impact on our companies success and on end patient care. Working as a buyer here at Natus Medical you will work directly with our suppliers & contract manufacturers ensuring we meet our customer demand and our inventory require ...

Found in: Jooble US - 1 day ago

---

AGY is a world leader in supplying high performance materials in the form of glass fiber yarns and reinforcements. Our glass fiber material is used in a broad range of markets, including Automotive, Construction, Defense, Electronics, Aerospace, Marine and Recreation. AGY has off ...

Found in: Jooble US - 7 hours ago

---

Become a Part of the NIKE, Inc. Team · NIKE, Inc. does more than outfit the worlds best athletes. It is a place to explore potential, obliterate boundaries and push out the edges of what can be. The company looks for people who can grow, think, dream and create. Its culture thri ...