"The Synchronicity of Serendipity, Epiphany & Coincidence"
"Study the science of art. Study the art of science. Develop your senses … especially learn how to see. Realize that everything connects to everything else." ~ Leonardo da Vinci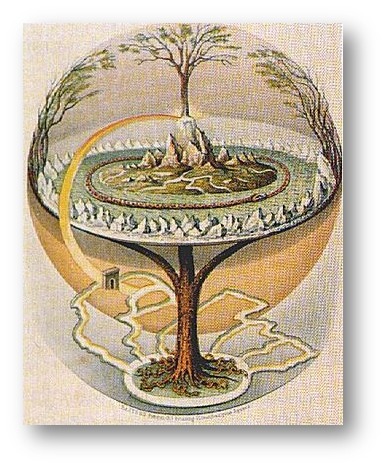 With one breath, with one flow
You will know
Synchronicity
A sleep trance, a dream like dance,
A shared romance,
Synchronicity
A connecting principle,
Linked to the invisible
Almost imperceptible
Something inexpressible.
Science insusceptible
Logic so inflexible … causally connectable
Nothing is invincible
If we share this nightmare
Then we can share this dream
"Synchronicity II"
"The Synchronicity of Serendipity, Epiphany & Coincidence"
We live in a time when people are more likely to think with their feelings & listen with their eyes. This is a reflection of being focused on externals … living in externals which limits what is fully possible.
… Living outside in is living upside down … 
The journey of life should be a journey of growth to be fully human: body, soul and spirit
Human beings are always "in process" & should be open to and able to recognize the moments & the opportunities to GROW.
This sharing is intended to sharpen awareness: to be on the lookout for … to be awakened to "moments" … that may bring enlightenment or growth … what you do with them is up to you ;~)
These "moments" may synchronously appear as: serendipity, epiphany or coincidence.
The concept of "synchronicity" was coined by Carl Jung to describe meaningful coincidences … "a causal connecting principle" that links mind and matter and supersedes cause and effect. 
Synchronicity is defined as: the simultaneous occurrence of events which appear significantly related but have no discernible causal connection.
What does synchronicity in LIFE mean?
A synchronicity might appear or feel like a chance happening that occurs in almost perfect alignment with your current thoughts or ideas. For example, you might be thinking about someone you haven't seen in years as you drive to the mall and then while shopping you bump into that person ... Meeting up was a synchronicity!
Some may call this "coincidence" … a remarkable concurrence of events or circumstances without apparent connection
Some may consider it "serendipity" … the occurrence and development of events by chance in a happy or beneficial way.
What does synchronicity mean spiritually?
A synchronicity for someone on the spiritual path is that moment in the fabric of time when we suddenly and briefly become consciously aware that we have made a deeper connection with the universe or with something that is Greater than our individual self. They can happen to anyone, anywhere at any time. This can be called an "epiphany… an "A-ha! Moment"
… The moment when a person is suddenly struck with a life-changing realization …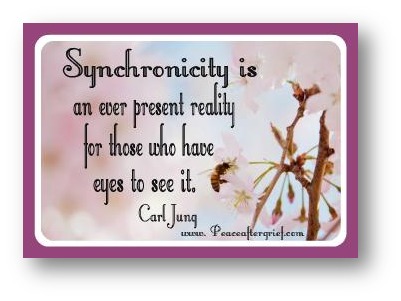 The question is: "Do you have eyes to see" 
It was this quote by Carl Jung & a combination of thoughts from Professor Ali Anani that caused me to have an "epiphany moment" … to understand and better "see" … there ARE moments to connect & synchronize thinking, IDEAS and communication. They are all around us … "ever-present"
Ali Anani stated:
… "You know that pendulums of wall clocks tend to synchronize their movement, I consider differing views as each a pendulum placed to another one. The beauty is when finding synchronicity between them."
… "For ideas to emerge many ideas must interact and feedback to each other … This is a core principle" … "Maybe synchronicity is the output of creativity"
Output needs a receptor for synchronicity to occur. 
There is movement in synchronicity: a flowing out … a point of meeting … a flowing back 
The movement of "interaction & feedback" facilitates creativity & helps us find a place of agreement… and synchronicity
… Like the pendulums on a clock …
Picture in your mind: one pendulum swings one way …and the other pendulum swings the other
This principle also is like trapeze artists.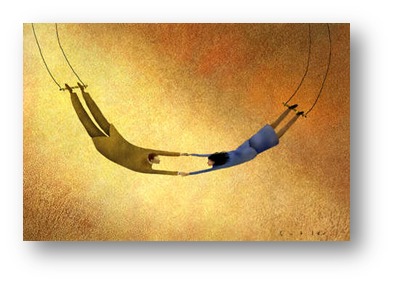 To "to consider differing views" to create harmony … to "find beauty" … the pendulums/the trapeze artist must recognize & lay hold of the moment when they come together to find the synchronicity.
"Recognize AND lay hold of the moment" … from their perch high above … each trapeze artist swings down and then swings back & forth … they build to the perfect momentum & moment when they come together. One artist may catch the other … or they may exchange swings
Perfect timing is required to synchronize this movement … and each must recognize and lay hold of the moment.
"Pendulums" or "trapeze artists" could be: two people or leaders or organizations or countries
"Synchronicity" is possible: even though the "pendulums" or "trapeze artists" are moving & thinking in opposite directions … there are moments presented when they come together
These moments happen with more regularity than we may recognize … the point is be on the lookout … and then lay hold on the moment … like the trapeze artist
Ongoing: communications flow … IDEAS flow … they have to be recognized … received … reacted to
Confirming: "Synchronicity is an ever present reality for those who eyes to see" Carl Jung

LIFE is filled with the Synchronicity of Serendipity ~ Epiphanies & Coincidence
How does one observe acts of synchronicity?
The key is to have an open mind and open heart. 
An 'open mind' is to be in the place of non-judgment about the information flowing through it. This can be tremendously hard. We are used to forming judgments' on just about everything & everyone.
We receive over 400 billion bytes of information about our reality in every second however the brain can only process a piddling 2000 of these. To cope with the overload, it filters out only that information that conforms to the idea of reality you may be holding. So by forming judgments', you will be filtering out the vast majority of your true reality!
If you stay open minded, then the heart begins to open too. You find that not only do questions arise but the answers too.
https://www.esolibris.com/articles/reality/divine_synchronicity.php (interesting article)
Profound wisdom: 
"We need to expand internally with *intentionality to see the world expanding and full of potential possibilities. We also live in the error that the heart has no capacity to see for itself, giving credit only to what our eyes see." ~Ali Anani 
This rich quote beautifully affirms the great value of an open mind & open heart … to facilitate "internal expansion" … GROWTH (personally-professionally-spiritually)
Again: 
We live in a time when people are more likely to think with their feelings & listen with their eyes
"Develop your senses … especially learn how to see." Leonardo da Vinci
Engage the mind & heart: see AND perceive … hear AND understand
Live focused on internals & live more fully human (body, soul & spirit)
… Living inside-out helps us live right-side up …
Be willing to GROW … Be willing to know 
There is a saying: "what you resist persists" If you resist the opportunities that come to you to grow personally, professionally and spiritually … Circumstances & situations MAY repeatedly be presented until you can recognize them & lay hold of them.
However: it could also be that some opportunities are only before you once … never to return
GROWTH may include change: large or small.
Small changes can produce huge shifts: in individual behavior … or in a culture or country 
Valuable admonitions:
NOT all "change" is "good" (history bears this out)
"Do not be so open-minded that your brains fall out." ~ Gilbert K. Chesterton
… Discernment and wisdom should be constant companions
… In all things guard your mind & guard your heart
... Don't allow these moments to pass by because of BIAS or blindness … a closed heart or closed mind robs like a thief.
… A "moment of synchronicity" may be small and subtle … a gentle "nudge" … We must be alert, attentive … able to recognize the moments … and then decide and act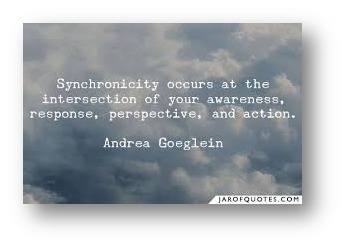 "The ideas are so simple, that we may think they are trivial. If we just consider their effect we know the real value of such ideas." ~Ali Anani
Always be on the lookout for "moments of synchronicity" … and cooperate with opportunities that can produce growth … this may change your life … and possibly your destiny.
This brief testimony: it was such a "moment" that I recognized & responded to. I chose to "believe" … It changed my heart and changed my thinking and in turn … changed my life. Over decades I became a woman of faith but that journey began with "a moment"
... few things are so ingrained 
that can't be open to be changed ;~)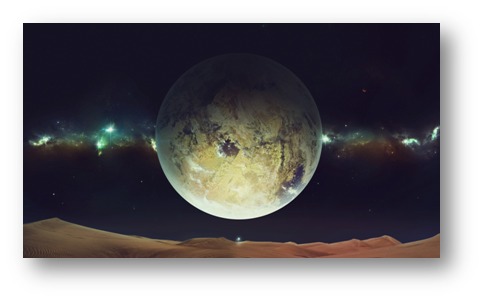 Synchronicity II
With one breath, with one flow
You will know
Synchronicity
A sleep trance, a dream dance,
A shared romance,
Synchronicity
A connecting principle,
Linked to the invisible
Almost imperceptible
Something inexpressible.
Science insusceptible
Logic so inflexible
Causally connectable
Nothing is invincible
If we share this nightmare
Then we can dream
"Spiritus mundi"
If you act, as you think,
The missing link,
Synchronicity
A connecting principle,
Linked to the invisible
Almost imperceptible
Something inexpressible.
Science insusceptible
Logic so inflexible
Causally connectable
Nothing is invincible
We know you, they know me
Extrasensory
Synchronicity
A star fall, a phone call,
It joins all,
Synchronicity
A connecting principle,
Linked to the invisible
Almost imperceptible
Something inexpressible.
Science insusceptible
Logic so inflexible
causally connectable
Nothing is invincible
It's so deep, it's so wide
You're inside
Synchronicity
Effect without a cause
Sub-atomic laws, scientific pause
Synchronicity
These thoughts are dedicated to my dear Professor Ali Anani ~ a most "brilliant bee" ;~) who clearly does "see" … and began the conversation.
… expand internally … with *"intentionality" ~ @Joel Anderson with thanks for a rich add
 
"intentionality" is a component of growth as is purposeful & determined attentiveness … a desire to grow ;~) these are as petals on a flower called "Growth"
Songwriters: Gordon Sumner/Synchronicity II lyrics © Sony/ATV Music Publishing LLC
Image: http://sf.co.ua/id179069
On February 17th 2020 these thoughts left my famous "bee-drafts" ;~)
I write: "In His Light"~ Fay Vietmeier
If my words make you think … Great ;~)
As "iron-sharpens-iron" … I enjoy bantering with other BEES … your feedback is as "honey"
A glimpse of the "Bee" called "me" ;~)
My caring nature makes me an advocate. My curious nature makes me a "queen of questions" … but gifted with the ability to listen ;~) I am a woman of deep faith, a blessed mother, a voracious reader, a blossoming writer, a grateful person, and a lover of beauty … I treasure family, true friendships and my loyal clients ... enjoy traveling, learning, good movies, good wine and golf. I'm a "heart-to-heart" communicator.
https://www.bebee.com/@fay-vietmeier-pennsylvania
https://www.linkedin.com/in/faymarmalichvietmeier/detail/recent-activity/
You may be interested in these jobs
Found in: Jooble US - 2 days ago

---

Trustaff is seeking a travel nurse RN Telemetry for a travel nursing job in Tampa, Florida. · Job Description & Requirements · Specialty: Telemetry · Discipline: RN · Start Date: ASAP · Duration: 13 weeks · 36 hours per week · Shift: 12 hours, nights · Employment Type: ...

Found in: Jooble US - 4 days ago

---

Encompass Health

Alexandria, LA

Job Description · A stronger bond with patients A stronger impact on recovery · BE THE CONNECTION. · As a licensed practical nurse/licensed vocational nurse (LPN/LVN), you'll be the connection between exceptional care and real, positive results. Paired with mentors who encou ...

Found in: beBee S2 US - 2 days ago

---

Kindred Healthcare

Lawton

Regular, Full time

Description Position Summary: · The LPN provides direct patient care by utilization of the nursing process in accordance with the established policies and procedures of Southwestern Medical Center. Performs a variety of direct and indirect patient care duties within the scope of ...