3 years ago · 1 min. reading time · visibility 0 ·
The Simple Joy of a Smile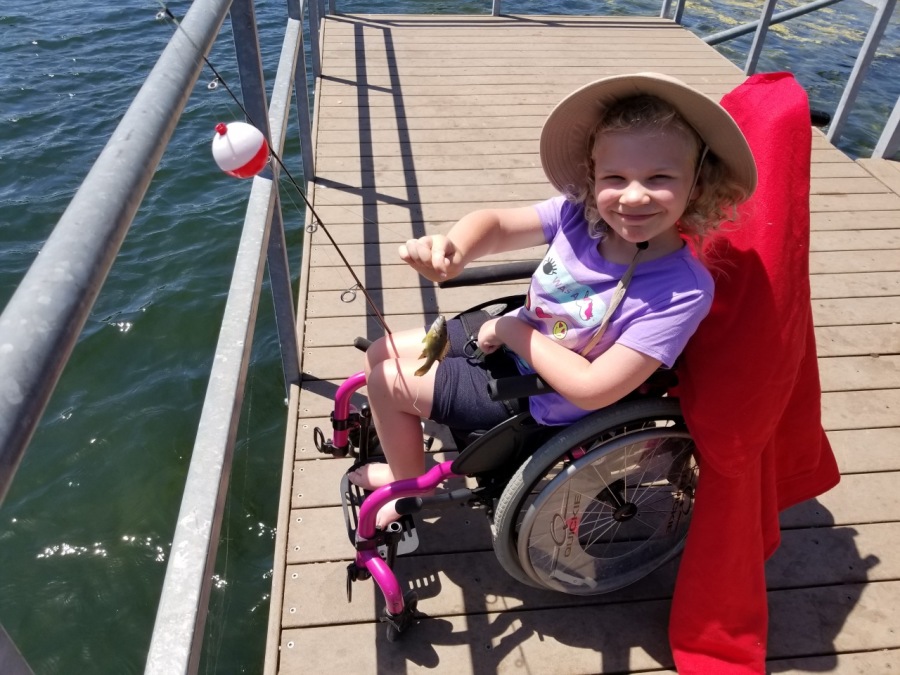 A captured moment. One of those snap shots in time highlighting the simple and sometimes small things in life that make one smile.
On the way back from a recent family reunion in Lindsborg, Kansas (aka Little Sweden) my cousin Chris, his wife and daughter Irena stopped in Manhattan, to help Irena add to her list of "Big First Time Things."
This picture was taken of the Master Angler as she shows off the very first fish she ever caught. In total she caught 17 bluegill (catch and release) in about an hour.
As my cousin Chris said "…you can see, one of the basic rules of fishing applied: the size of the fish doesn't matter, it's the size of the smile on the angler."
Indeed.
"At just a year old, Irena's father, Chris Johnson, was told she had a medical condition called Spinal Muscular Atrophy (SMA).  SMA is a rare condition that affects parts of the nervous system as it relates to voluntary movement.  Most children with SMA are not able to walk, have trouble breathing, and often are more susceptible to fatal illness.  Our Irena has Type II, so unlike many other cases of SMA, Irena is able to walk on her knees allowing for some lower body movement. Irena is so strong!  She visits specialists all over the country for treatment and surgery to help improve her mobility and work toward a cure." *

"Irena wants to become a chemist so she can find a cure for SMA and other diseases and be able to help kids just like her."*
*For more insight on Irena, please take a second to look at one story about her courageous journey: http://gsksmoblog.org/2018/06/girl-scouts-is-the-place-for-all-girls-mermaids-included/