3 years ago · 1 min. reading time · visibility 0 ·
The Road Chronicles...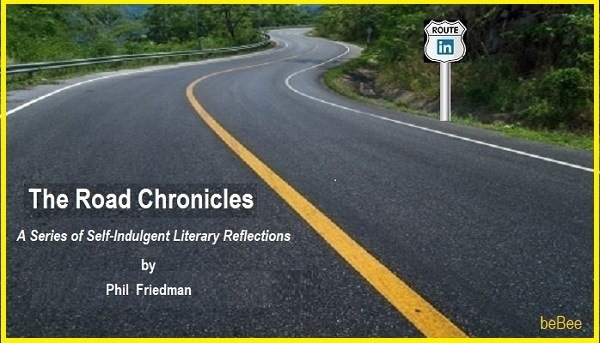 THIS SERIES OF LITERARY SELF-INDULGENCES IS DUBBED "THE ROAD CHRONICLES" BECAUSE THEY USE BEING ON A ROAD AS A CENTRAL METAPHOR ...  

The series title emerged organically in 2016 from the recesses of my psyche, I think upon reflection, in deference to Jack Kerouac's seminal work "On the Road".

My early reading of Kerouac's novel first drew me into a period of narrowly focused introspection, then summarily cast me out into the world — where I have since sought to connect with people, ideas and things across a much broader field of engagement. My writing and engagement on social media has been an extension of that period of awakening.

And this series expresses some of my own observations, hard-won during the journey from then to now. You will find all the installments at:  

If you enjoy this series and would like to receive notifications of my writing on a regular basis, simply click the [FOLLOW] button on my beBee profile or LinkedIn profile.

Better yet, elect there to follow my blog by email. As a writer-friend of mine says, you can always change your mind later.
As well, if you feel this series rigs a bell with you and is of value, please like it and share, share, share it around to your network —  whether on beBee, LinkedIn, Twitter, Facebook, or other social media platforms, provided that you credit me as the author, and include a live link to the original posts.
About me, Phil Friedman:  With some 30 years background in the marine industry, I've worn different hats — as a yacht designer, boat builder, marine operations and business manager, marine industry consultant, marine marketing and communications specialist, yachting magazine writer and editor, yacht surveyor, and marine industry educator. I'm also trained and experienced in interest-based negotiation and mediation.  In a previous life, I was formally trained as an academic philosopher and taught logic and philosophy at university.
Text Copyright 2017 by Phil Friedman  —  All Rights Reserved
Image Credits: Phil Friedman and Google Images.com

#THEROADCHRONICLES
You have no groups that fit your search