The Puzzle of Life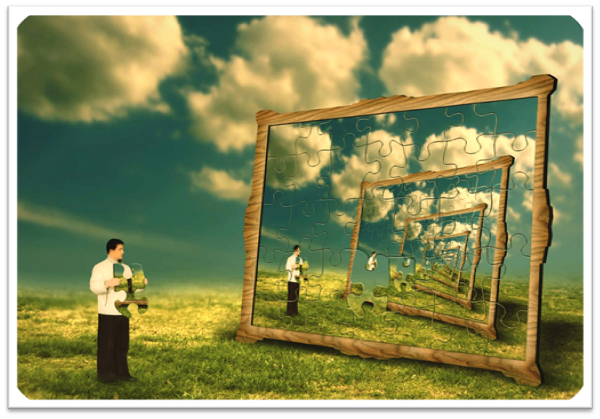 Do you love putting puzzles together?
I do. My strategy is do the frame first.
.. this is like setting a foundation ..
.. it matters not your tribe or nation ..
Foundations are essential in the "Life Puzzle" @Farooq Omar 
A wonderful metaphor for life .. a PUZZLE 
In truth .. we ere very much like that .. in PIECES 
Human beings are "broken" 
Our shards are like glass tokens           
Not all fractals are filled with glamour
LIFE comes at us .. a pounding hammer
Each soul .. in due time .. gets battered
At some point .. we fall apart .. scattered  
With hairline fractures or completely shattered
.. life is like that .. this is how we all begin .. 
.. in a spiritual condition .. called "sin"
.. eventually the cracks appear .. within
We have broken places. We are in pieces. A puzzle
.. a body
.. a spirit
.. a heart with a mind
.. a soul: mind-will – emotions 
We have this wonderful "treasure in a jar of clay"
.. will we allow The Potter to make us
.. or will the clay argue .. till there is only dust
It takes time & deep searching to understand 
.. the pieces 
.. how they fit 
.. where they fit 
.. to find your purpose
.. to understand the complexity 
.. the puzzle of life .. is often filled with strife 
.. choices & decisions made .. eventually they define us 
.. try not to "rehash blunders" .. but seek how they refine us
.. be in His Light.. this will be a guide .. DARKNESS confines us
.. how do you find the RIGHT piece? .. after you've chosen the wrong
..  who you are .. why you're here .. what is the destination .. your song?
"In their heart's humans plan their course,
    but the Lord establishes their steps." – Proverbs 16

Earth is bound: everything & everyone is in process
 .. moving mysteries .. make not knowing more complex
.. we grow in understanding or we stand still in ignorance 
.. every step along the way we are putting together our life puzzle
"At last, every one of the bits of the riddle with meet up and the image will be finished." @Farooq Omar 
I love this about God .. He is the "God of All-Grace" 
.. yet how much time we foolishly waste .. 
.. with all the worthless things we chase .. 
Still His LOVE endures forever .. His kindness is everlasting  
.. even when we mess up (expect it) 
.. even when we make "blunders" (we all do) 
.. even when we do wrong things & our path is crooked                                                                         
Look up .. look within .. be willing .. open your heart
Trust in the Lord with all your heart
    and lean not on your own understanding;
in all your ways submit to him,
    and he will make your paths straight." Proverbs 3
The Lord makes firm the steps
    of the one who delights in him;
though he may stumble, he will not fall,
    for the Lord upholds him with his hand." – Psalms 37
This Rock is my foundation ..
I will proclaim the name of the Lord.
    Oh, praise the greatness of our God!
He is the Rock, his works are perfect,
    and all his ways are just.
A faithful God who does no wrong,
    upright and just is he." – Deuteronomy 32
As my heart turned to God .. I became a woman of faith .. this is written on my heart
"It is in Christ that you find out who you are & what you are living for. 
Long before we heard of Him .. He had his eye on us .. designs on us for glorious living 
It is part of the overall purpose He is working out in everything and everyone." – Ephesians 1 

9-18-2021
Giving honor .. 
This post was inspired by Farooq Omar 
"Life Puzzle"
https://www.bizcatalyst360.com/life-puzzle/
"In His Light" .. I write
All rights reserved:  Fay Marmalich-Vietmeier 
If my words make you think … Great ;~)
As "iron-sharpens-iron" … I enjoy bantering with other BEES … please know, your feedback is as "honey"
A glimpse of the "Bee" called "me" ;~)
My caring nature makes me an advocate. My curious nature makes me a "queen of questions" but gifted with the ability to listen ;~) I am a woman of deep faith, a blessed mother, a voracious reader, a blossoming writer, a grateful person, and a lover of beauty. I treasure family, true friendships & my loyal clients. A "student at heart, I love learning: in every human dimension. Enjoy traveling, good books, good movies, good wine gardening & golf. 
I'm a "heart-to-heart" communicator.
https://us.bebee.com/bee/fay-vietmeier-pennsylvania/blog
https://www.linkedin.com/in/faymarmalichvietmeier/detail/recent-activity/
https://twitter.com/femvietmeier
https://www.facebook.com/fayemv
You may be interested in these jobs
Found in: Jooble US - 3 days ago

---

Robert Half Technology

Blue Bell, PA

DescriptionLooking for a new opportunity? This growing company in the Hospitality field might have the perfect position for you, in their part time, remote Help Desk Analyst role This is a position for a self-confident, motivated person with a strong work ethic and excellent comm ...

Found in: beBee S2 US - 15 hours ago

---

Arbor Terrace Morris Plains

Morris Plains

Full time

We are hiring an LPN to Join Our Team in Morris Plains, NJ: · $1,750 Sign On Bonus : · Join us for an interview and receive a free gift · All Shifts Available: · Full-time: 7 pm - 7:30 am · Full-time: 7 am - 7:30 pm: · Are you ready to love your job again? · Join The Arbor Comp ...

Found in: Jooble US - 1 day ago

---

Planet Fitness

Highland Village, TX

Full time

Job Summary · The Member Services Representative will be responsible for creating a positive member experience by providing a superior level of customer service to Planet Fitness members, prospective members and guests. · Essential Duties and Responsibilities · Greet members ...