The Pearl-holder and the field of bees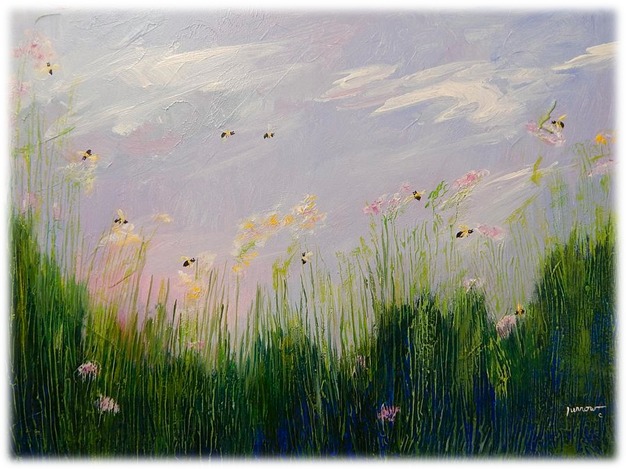 The "field of bees" is ever-vibrant
.. at times quiet .. other times chaotic
.. filled with learning and listening ..
.. communicating & creativity ..
.. there is beauty all around ..
.. stop to catch the sights & sound ..
.. come to this lovely "sweet home sweet"
.. here sharing, caring, bees do meet ..
In this present time ... in a land far away, there lives a wise Professor. He loves to take long walks in the "field of bees"
In this LIFE-filled field ... he often finds "pearls" scattered among the endless blossoms of creativity & inspiration. LEARNING & sharing are his purpose & passion.
Over the years he has made friends with many of the bees that gather in this flourishing field to produce honey & enjoy the welcoming winds.
This "field of bees" is a field of friendship ... there is much "bee-bantering" to pass the time and fill the mind.
The Professor became an "ambassador" in this place ... known by many bees and loved for his always warm greetings & encouragements.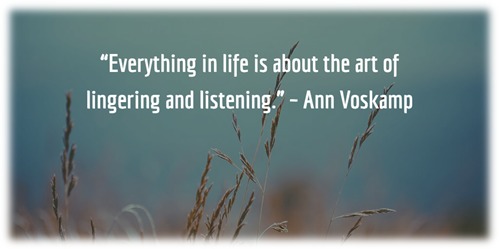 One day the Professor met a new bee & welcomed her. Somehow, she found her way through a storm to this lovely field and soon grew to enjoy the company of the other bees and this wise Professor.
It was discovered that she loved spiritual things ... often hard to see ... and being in the Light which fills with Peace ... a secret Catalyst for creativity to be released ;~)
She would be found buzzing about in the field with poems on her wings ;~)
While the Professor would give scientific explanations about fascinating things ;~)
His mind a "wind-mill" of ideas & ideals ... fractals & freezing ... barrels & butterflies ... metaphors, methodologies & myths ... clusters, choices & Cynefin's ... leadership & love ... strategies & shadows
Rain or shine ... in every season these two might be found in the field wandering, wondering ... and bantering ;~)
In time, the Professor dubbed this new bee a "well-spring spirit" ... and she dubbed him a "pearl-finder"
They see the world around them in often DIFFERENT ways ... but they both love finding "pearls"... and drawing from their treasure.
This wise Professor once said: "We may say things differently for one or all reasons, but still what we see is beauty." 
The "well-spring" bee tucked away that wisdom where she places her gathered "pearls"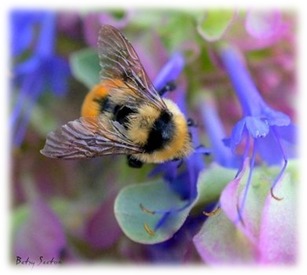 These was a bit of back & forth bantering on where to keep "pearls" ... that arrived agreeably at "pearl-holder" ... a folder for pearls '~)
One fine day ... the breeze seemed sweetly inspiring and the "well-spring" bee said "my dear Professor ... let's have some bee-fun ;~)
"Why don't you try to write a poem ... for poetry will stretch your capacity ;~)
"To get you started on this adventure, just write one line ... then I'll add another.
We'll keep adding lines ... as they come to our minds
And finish the fun ... when no words can we find ;~)

 
Hesitant ... a bit unsure, the Professor SMILED ... his smile drifted with the clouds.
He wondered "will poetic thoughts from me be distained" ... But the dare remained.
Being gifted with a teachable spirit ... he decided to try.
The Professor began: "A pearl-holder has many folders" (line one ;~)
With poetic-consideration, the line was tweaked and thoughts began to emerge.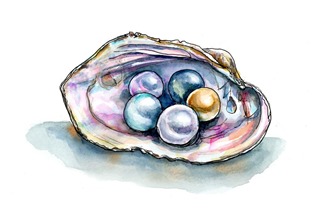 "The Pearl-holder"
A "pearl-holder" has many oysters (Ali) 
A place to keep ideas ... as in a cloister (poetry-mentor) 
Like pearls ... they will become "wonder" (Ali)
We must protect them from plunder (poetry-mentor)
The longer they stay in the oysters' shell (Ali)
The more likely creativity will excel (poetry mentor)
... the rest of the poem is all Professor ... not one line at a time but flowing out ... as from a spout ;~)
Ideas hiding strength within
Emerging with their sound flicking
Singing and dancing for ideas in the making
Rainy Ideas that shower new ones
Those were clouded and sounded worried
Fearing being mocked at to be buried
Rainy ideas with wings to fly
Making a rainbow in the clouded sky
Shouldn't' be worried for they shall not die
The wind shall carry us to cold hands
We have fluffy shells to warm us wherever we land

Creative ideas kindle in few curious minds
Planting moments idea seeds
To cover their fertile fields
With loving passions indeed
Few seeds landed back in the folder
All covered with greenish clover
Invigorating the souls who are desperate
With hope and their lives perfected
~ Ali Anani ~
 
The poetry challenge blossoms here: "Awakening Dormant Ideas"
https://www.bebee.com/producer/@fay-vietmeier-pennsylvania/awakening-dormant-ideas
 
On the birth of a poet: 
This "poetry-mentor" has a beaming SMILE 
"fertile fields" of blossoming words to beguile 
... readers with your unique and engaging style ;~)
The poet in you has awakened ... for all to see 
A "hidden strength" ... unveiled ... this was meant to be 
Words "emerge ... singing & dancing" ... like waves do break 
I think you have found "wings to fly" and "rainbows to make"
You closed your eyes & looked within ... quieting the doubts & din
Many lines will overflow ... thoughts will be revealing. 
Creativity knows no bounds ... go & break the ceiling ;~)
With a "Professor-Poet" ... we are now dealing ;~)
~ Poetry-mentor ~ 
"No good poem, however confessional it may be, is just a self-expression. Who on earth would claim that the pearl expresses the oyster" ~ Robert Cecil Day Lewis
Takeaway: 
By sharing .. we grow 
By receiving .. we grow 
By way of a poem, "The Pearl-holder" is about mentorship ... about the value of mentorship.
It has been well-stated that in life: "one should always have a mentor and one should always be a mentor"
... The "field of bees" is everywhere ... 
We should always be on the lookout because wisdom show up in unexpected places. 
Opportunity is everywhere to give & to receive: in your family, your workplace, your neighborhood, your church ... your inner-circle 
One is never too old or young to teach OR ever too old or young to learn. 
Mentorship can be many things to many people. For some, it's traditional: someone senior takes someone junior under their wing ... for others it's more unconventional. 
The one thing that mentorship has in common for everyone is that it's personal. Person-to-person. It requires caring ... attentiveness and nurture. "Tell me and I forget, teach me and I may remember, involve me and I learn." ― Benjamin Franklin 
"Mentoring is a brain to pick, an ear to listen, and a push in the right direction." — John Crosby 
"We're here for a reason. I believe a bit of the reason is to throw little torches out to lead people through the dark." — Whoopi Goldberg 
Mentors can develop leadership skills and gain a personal sense of satisfaction from knowing that they've helped someone. 
Mentees can expand their knowledge and skills, gain valuable advice from a more experienced person, build their networks 
BOTH grow personally & professionally 
Mentoring is an opportunity to develop communication skills, expand viewpoints, break bias's ... consider new ways of thinking and new ways of approaching challenges & situations in life and work. ... and a poet was born ;~)
An excellent resource for growth: "Mind Tools"
https://www.mindtools.com/pages/article/newCDV_72.htm
May 6, 2020
Giving honor where honor is due: to "my dearest Professor" who was willing to be mentored by a bee ;~) and "blossom into a poet" ;~)
This post flows out of numerous conversations over many months where "pearls" became a focus 
If you want to learn more on emergence of the "pearl-holder" .... read comments here:
https://www.bebee.com/producer/@ali-anani/creativity-from-disruption#c18
Luminescent bees on "pearls"
https://www.bebee.com/producer/@ali-anani/where-is-the-pearl
https://www.bebee.com/producer/@cityvp/the-pearl
Other buzz-posts that relates to the inspiration of "pearls" 
https://www.bebee.com/producer/@ali-anani/clustery-ideas#c35
https://www.bebee.com/producer/@ali-anani/how-to-write-your-next-story-and-live-a-full-life#c48 
"Field of bees" image:
https://pixels.com/featured/field-of-bees-sue-furrow.html 
"In His Light" … I write ;~)
All rights reserved:  Fay Marmalich-Vietmeier 
If my words make you think … Great ;~)
As "iron-sharpens-iron" … I enjoy bantering with other BEES … your feedback is as "honey"
A glimpse of the "Bee" called "me" ;~)
My caring nature makes me an advocate. My curious nature makes me a "queen of questions" … but gifted with the ability to listen ;~) I am a woman of deep faith, a blessed mother, a voracious reader, a blossoming writer, a grateful person, and a lover of beauty … I treasure family, true friendships and my loyal clients ... enjoy traveling, learning, good movies, good wine and golf. I'm a "heart-to-heart" communicator.
https://www.bebee.com/@fay-vietmeier-pennsylvania 
https://www.linkedin.com/in/faymarmalichvietmeier/detail/recent-activity/ 
https://twitter.com/femvietmeier 
https://www.facebook.com/fayemv 
You may be interested in these jobs
Found in: Jooble US - 1 week ago

---

BoulderCentre for Orthopedics

Boulder, CO

Description: · Exercise Specialist / Personal Trainer / Medical Assistant · Department: Clinical · Reports To: Clinical Manager · Supervises: N/A · Sign-on Bonus: $1,000 · Overtime Status: o Exempt x Non-exempt · Job Summary: The Athletic Trainer assists providers with ...

Found in: Jooble US - 4 days ago

---

ShiftMed

Valley Stream, NY

ShiftMed is looking for Certified Nursing Assistants (CNAs), of all levels of experience, to join our nursing team · When you join ShiftMed, you get to take control of your work schedule. Our app-based platform gives you exclusive access to open shifts at local nursing homes, ski ...

Found in: beBee S2 US - 3 days ago

---

Oracle

Saint Paul

Full time

Job Description · Junior consulting position for those who are continuing to develop their expertise. Receives general instruction on routine work and detailed instruction on new projects or assignments. · As a member of a project team, follows standard practices and procedures t ...