1 year ago · 3 min. reading time · ~100 ·
"The path to well-being is paved with well-doing"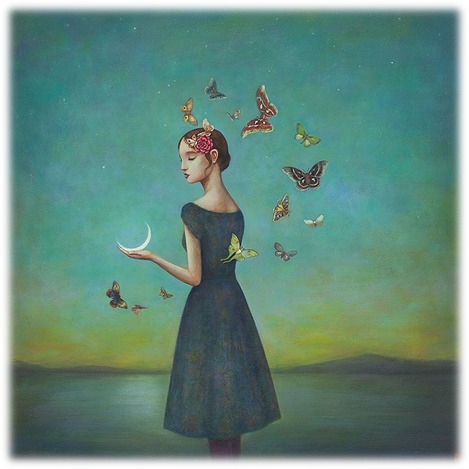 "The way to improve the world is first by using one's own heart and hands and head," - Robert Pirsig
"Mentoring is a brain to pick, an ear to listen, and a push in the right direction." — John Crosby 
"Tell me and I forget, teach me and I may remember, involve me and I learn." ― Benjamin Franklin 
Well-doing includes mentorship which often ends in friendship.
Mentorship can be many things to many people. For some, it's traditional: someone senior takes someone junior under their wing ... for others it's more unconventional.
There is value & reward in sharing part of yourself with another person in a meaningful way. The process requires caring, empathy, encouragement .. attentiveness & nurture. These cannot be manufactured .. for they are of the heart.
The one thing that mentorship has in common for everyone is that it's personal:
Person-to-person & heart-to-heart.
By sharing .. we grow
By receiving .. we grow
By way of a poem, "The Pearl-holder" is about the value of mentorship & the reward of friendship.
https://www.bebee.com/producer/@fay-vietmeier-pennsylvania/the-pearl-holder-and-the-field-of-bees
It has been said: "in life one should always have a mentor and one should always be a mentor"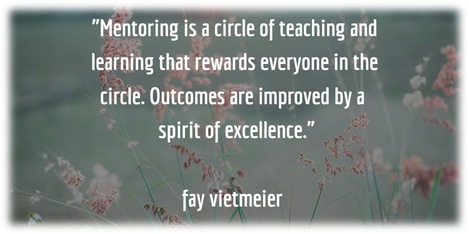 We should always be on the lookout because wisdom show up in unexpected places.
"The field of bees" is everywhere .. it is the field of LIFE
Opportunity is everywhere to give & to receive: in your family, your workplace, your neighborhood, your church .. in your inner-circle & your outer-circle.
One is never too old or too young to teach OR ever too old or too young to learn.
Mentors can develop leadership skills and gain a personal sense of satisfaction from knowing that they've helped someone.
Mentees can expand their knowledge and skills, gain valuable advice from a more experienced person .. and build their networks.
Mentorship aligns with the concept of "iron-sharpening-iron"
"As iron sharpens iron, so one man (person) sharpens another." Proverbs 27:17 (NIV)
In the sharpening of iron with iron, both pieces change .. the sharpener & the one being sharpened.
A similar concept is found another place in Scripture: "let us consider how we may spur one another on toward love and good deeds."  Hebrews 10:24 (NIV)
BOTH grow personally & professionally .. some spiritually.
Mentoring is an opportunity to develop communication skills, expand viewpoints, break bias's ... consider new ways of thinking and new ways of approaching challenges & situations in life and work. 
Perhaps help to awaken or DISCOVER some hidden talent ... maybe help a poet be born ;~)
The things you are mentoring & modeling are growing in you during the process.
Well-doing will increase the quality of your light & your light-emitting ability.
"We're here for a reason. I believe a bit of the reason is to throw little torches out to lead people through the dark." — Whoopi Goldberg 
This post was inspired by a poem of Chitra Govindraj  on LI - by this line: "Everyone I believe must have a mentor or guide"
"Mental Health- Living in a Bubble"

Some of us live without knowing
Others go through hardships coping
Are they really coping though?
Most of the times we will never know

Outward a smile, a different veneer
We never realize they've been bullied, others sneer
What goes on in another's mind
No matter how close we are still blind

Some say there are signs like we're billboards
Certain triggers that mental illness is known for
Does it need an inner strength or love?
Do you need a miracle from up above?

A constant connection and compassion
Goes a long way if you have a strong companion
Support and empathy is what's missing today
Those not in your circle you keep them at bay

Before you take your life there must be a solution
Not that you would be chained to an institution
There is communication to lure your mind
Dig and dig until you find

Everyone I believe must have a mentor or guide
So you don't need to feel you must hide
Finding out who we each are
Is a beautiful conversation leaves no scars

Mental health why is it taboo?
Speaking to anyone could be a breakthrough.
Taking that first step, we must follow through
Chat with someone you will find
You're not the only one who's been on this ride and left behind.

-Chitra Govindraj


Resources:
Well-being is complex because human beings are complex.
https://en.wikipedia.org/wiki/Six-factor_Model_of_Psychological_Well-being
2)
"The Fractal State of Humanity"
https://lnkd.in/gCf5mCg
3)
An excellent resource for growth: "Mind Tools"
https://www.mindtools.com/pages/article/newCDV_72.htm
4)
http://godschemistryset.blogspot.com/2011/09/as-iron-sharpens-iron.html
Chitra's post on LI
https://www.linkedin.com/feed/update/urn:li:activity:6769914974824382465/?commentUrn=urn%3Ali%3Acomment%3A(activity%3A6769914974824382465%2C6770027978341572608)
February 23rd 2021
"In His Light" I write
All rights reserved:  Fay Marmalich-Vietmeier 
If my words make you think … Great ;~)
As "iron-sharpens-iron" … I enjoy bantering with other BEES … please know, your feedback is as "honey"
A glimpse of the "Bee" called "me" ;~)
My caring nature makes me an advocate. My curious nature makes me a "queen of questions" … but gifted with the ability to listen ;~) I am a woman of deep faith, a blessed mother, a voracious reader, a blossoming writer, a grateful person, and a lover of beauty … I treasure family, true friendships and my loyal clients ... enjoy traveling, learning, good movies, good wine and golf. I'm a "heart-to-heart" communicator.
https://www.bebee.com/@fay-vietmeier-pennsylvania
https://www.linkedin.com/in/faymarmalichvietmeier/detail/recent-activity/
https://twitter.com/femvietmeier
https://www.facebook.com/fayemv
You may be interested in these jobs
Found in: Talent US Sponsored - 22 hours ago

---

Shipt is a membership-based marketplace that helps people get the things they need, like fresh produce and household essentials, from stores they trust. Help people save time, and have fun while you're at it – there's never been a better time to join Shipt. · As a Shipt Shopper, ...

Found in: Talent US Sponsored - 2 hours ago

---

Great opportunity for exceptional LPNs PRN Healthcare is looking for multiple Long Term Care (LTC) Licensed Practical Nurses (LPN) for per diem shifts or local contracts. · We pride ourselves on the authentic relationships we build and maintain with our Licensed Practical Nurses. ...

Found in: beBee S2 US - 1 hour ago

---

TopFlite Recruiting

Peoria

Full time

Job Description: · NOW Hiring CDL-A OTR Drivers · Hiring Area: · IN, IL, MO, AR, LA, TX, OK, KS, NE, CO, KY, TN, MS, AL, GA, FL, OH, PA, NJ, DE, SC, NC, WV · Earn $80,000+ Per Year + $3,000 Sign-On Bonus + Excellent Benefits · CALL GREG AT FOR IMMEDIATE PHONE INTERVIEW · APPROVED ...