2 years ago · 2 min. reading time · visibility ~100 ·
The Impact of AI and Machine Learning on the Field of Law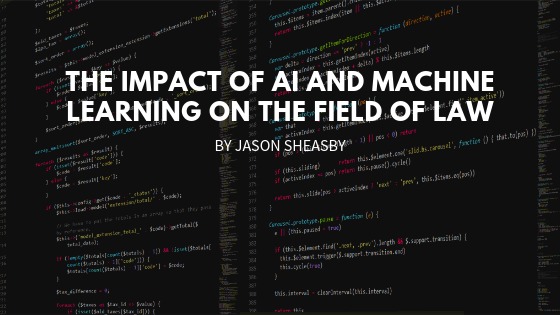 The rapid advancement of technology has had an impact on all of us in our daily lives. When technology impacts an entire sector, concerns and questions arise. What effect if any will it have on normal operations or the jobs of its professionals?

Artificial intelligence (AI) has entered the legal arena in a big way. The result may be the transformation of the legal profession in numerous ways. With its ability to handle tedious tasks, those in the legal field have found they have more time to devote to higher-level tasks like advising clients, court appearances, and negotiations.


What is Artificial Intelligence and Machine Learning?
AI is the development and theory of complex computer systems with the ability to perform tasks usually handled by human intelligence. Machine learning refers to the use of computer rules or algorithms that analyze data to ascertain patterns and insights. Both AI and machine learning are quickly causing a shift in how legal work is completed.
Legal Documents and Research
The analysis of documents for legal use has been dramatically enhanced by AI-powered software. At a rate much faster than humans could manage,
computer systems are able to review legal documents
to find items of relevance to particular cases. The algorithms of machine learning then work to find similar documents and other useful insights. The result is a lot of the workload of review and research taken from human workers so they can focus on other aspects of their cases. AI can do the legwork and produce complex reports at the end of the process as well.
Due Diligence
Due diligence can be time-consuming. Support professionals spend a lot of time conducting due diligence to ascertain background information for their clients. Many facts and figures must be verified; decisions on previous cases must be studied to be able to effectively advise clients.
AI can make the process a lot more efficient
in taking on the more tedious aspects of it.
Contract Management and Review
The management and review of contracts for clients is another time-consuming task in the legal sector. It's vital to work that identifies risks and ensures that there are no negative consequences in the contracts for clients. Using AI, the analysis of contracts can be done very quickly in bulk.
Divorce
The average divorce costs $25,000 in the U.S. and can take a year or more to complete. New programs can provide unhappy couples with a self-guided way to settle their divorce quickly at a fraction of the cost. Thanks to AI, couples can navigate through all the critical decisions necessary in their individual circumstances.
Predictions
AI can determine the likely outcomes of legal proceedings better than humans. Questions often directed to legal professionals can be posed to the AI. "What are my chances of winning?" or "Should I settle the case?" With access to trial data from several years, AI can empower lawyers to make critical decisions based on powerful insights.
The Future of AI in Law?
AI's impact on the legal sector
will likely be sizable with many tasks automated in the years to come and new talent strategies implemented. Proactive firms will embrace AI and machine learning as soon as possible and put it to work for them.