4 years ago · 1 min. reading time · visibility 0 ·
The Homeless Who Offered Me His Food
I ordered my coffee in Hebrew. I speak a confident kitchen Hebrew. And I know many questions in Hebrew for which I don't understand the answers yet.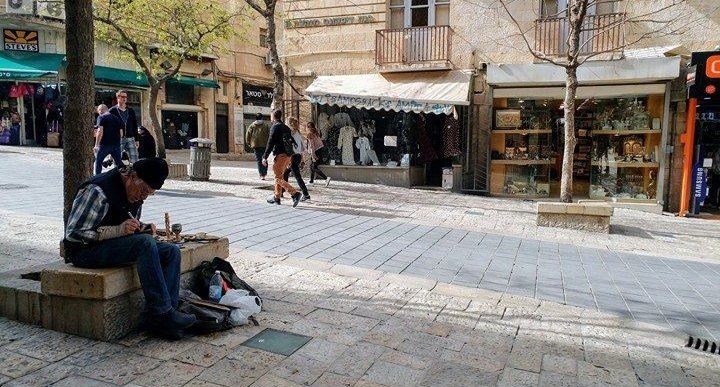 But comes this homeless showing me a coin and instead of begging for money, he sits down on the chair beside me while he is chewing one of the chicken wings from a plate he carries in his left hand. In his right hand there is that coin.
He looks at me: "Metuka (my dear) ma ze (what's this)?"
He really disturbed my thinking as I was I just outlining a project in my notebook.
And then I saw it was forint. It was Hungarian forint. What are the chances that a homeless walks up to me, a Hungarian, with a Hungarian forint?
"Ah, it is from Hungary."
"How much does it worth?"
"Kzat meod (very little) I answer."
"Kzat meod?"
"Ken, slicha."
"Where does it say Hungary?"
(note that he actually thinks about the words I'll understand)
"It says, Forint and that means Hungary."
"At gara be Hungaria? (Do you live in Hungary)"
"Lo, aval ani Hungaria. (No, but I'm Hungarian)"
"So please keep it!"
"And he offers that 200 Forint he was holding."
"No thank you, please keep it."
Then he asked me about why I'm in Israel and I know all the handy words like work, boyfriend, love it here.
A perfect Hebrew 101 conversation in which both parties win: He enjoys my company, I enjoy practicing my Hebrew.
But then, I needed to leave and I ask for the chesbon (bill).
I tell him beteavon (enjoy your meal) as I am about to leave. He just started his second sauce-riched chicken wing.
"At rotza kzat? (Do you want some?)"
"Lo, toda raba. (No, thank you)"
And I left with far too many questions about that chicken wing.
--- I'm on a whole journey here. If you want to see how a Christian struggles with being drawn into Judaism, join me here!
"