1 year ago · 4 min. reading time · ~100 ·
The Four Pillars of Strategy – The Rule of "PREP"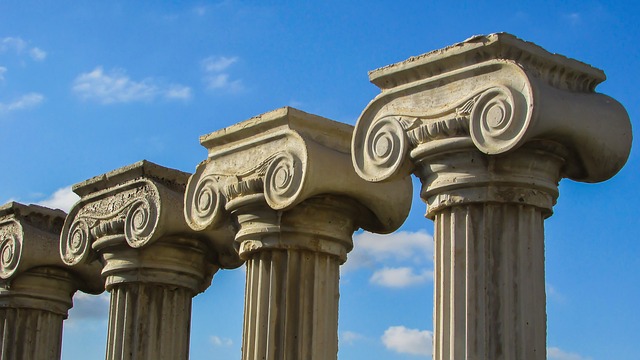 Introduction
I'm not a prep-er nor feel that we need to prep for everything that may happen (at least not practically). It's good to be prepared psychologically, as Seneca and other Stoics advise us. There is one kind of prepping though that we can all agree about, in terms of its usefulness: our own plans, particularly those that span over the here and now and finish at some specific point in the future. For example, we may have a plan for how we are going to graduate from a particular course we are taking, another one for how we are going to make a new business venture and another one about how we can apply this "personal branding" thing using beBee! :-)
These plans and any other plans we may devise are our way of Strategy, a concept that's both abstract and practical, even if we don't think much about it. This article is a brief presentation of some insight I had the other night about Strategy and how it manifests (I'm working on a strategy game these days so I think a lot about this topic!). This is just my own mental model on this matter so please take it with a pinch of salt. Ideally, you'd expand it and make it even better. But first, let's look at what we have so far.
Pillar 1 – Position
Where are you now? Are you aware of your position? Fortunately, when it comes to our physical position it's almost trivial to find out about it. But what about our position concerning our plan? If we are working through something that has a beginning and an end, this question may morph into something like "what's our coverage status?" In the case of a board game, it could be how much space we occupy with our meeples. In any case, it's important to know the position of our presence on the board, be it a game board, or the board of spacetime defined by our plan. Maybe that's why so many people in the business world are so fond of making diagrams and other graphics, define and monitor KPIs, etc. A good strategist always minds his position (surroundings) since all of that is crucial for the strategy at hand.

Pillar 2 – Resources
Knowing the position is not enough though. For a good strategist, it's equally important to mind the resources available. You may have a pretty good idea of the lay of the land when you start on your 7 Km hike, and even have a good map with you, along with a compass (or a GPS even if you more high-tech). But what about supplies? Surely you need to have some water and perhaps a snack too. Maybe some extra clothes to cover yourself if needed. Most importantly, you need to have time. In many other situations, money is also an important resource to consider, especially if your project relies on other people too. So, thinking about resources, monitoring them, planning around them, and managing them, are essential for Strategy.

Pillar 3 – Education
You may have all the resources in the world and a good idea of where you stand and the area around you, but without some education, you are doomed. You see that all the time with various start-ups than through some miracle manage to secure some funding and yet don't go very far. After all, the collective years of experience of their team may not be enough if it's not a proxy for the education that often accompanies experience. Education is usually seen in terms of knowledge and know-how, though there are other ways to view it. For all practical projects, know-how is significantly more important as it brings knowledge to a more useful state. Strategy is a hands-on endeavor and as such it requires a solid education to be carried out. This includes but it's not limited to managing resources efficiently, tracking progress, thinking about the next steps on time, and of course, learning from experience. In a sense, education is intelligence that's been applied to the real world. And by that, I also mean Ethics and morality since these are also part of intelligence.
Pillar 4 – Potential
Finally, there is the matter of potential (in lack of a better word and in an attempt to make a cool acronym of all this!). By this, I mean things like technology, talents, and tactics. Technology is particularly important in projects today, even if they are not tech-based. If you need to use a machine, you need to understand technology, at least to some extent. As for talents, this has to do with the potential for improvement in an individual. All the experience in the world may not be enough to make someone comparable to someone with talent. Think about someone who can visualize and analyze complex positions on the chessboard, all without having a chess set in front of him (e.g., the well-known chess master from NYC, Bobby Fisher). Do you think that you can compete with this kind of person, no matter how much you study chess and how much you play? As for tactics, this is the potential of the moment, an elegant combination of timing, resources, and what could be if you just make that risky move that your opponent hasn't spotted yet.
The Need for Holistic Thinking
Of course, all of the above stuff is useless unless you figure out a way to take it all into account while working on your strategy. After all, all of these (and probably other factors too) work together, just like parts of an engine. Strategy may not be as mechanical a process though (unless it's in the form of some algorithm for a strategy game). In real life, it involves holistic thinking and careful weighing of the factors at play. Perhaps in the beginning resources are the most important thing but later one potential comes into play more ferociously. Throughout all this, the position changes, so we need to take that into account too. Maybe that's why in chess Tactics are taught first along with the handling of simpler positions, before proceeding to more Strategy-related themes. After all, a strategist needs to think of the whole since too much focus on the parts can foil the execution of any plan, no matter how well-crafted.

Conclusions
Based on all this, we can say that Strategy is a more complex matter than meets the eye. Yet, the fact that we innately make plans as soon as we develop the discipline that comes with adulthood goes on to show that it's within reach. Perhaps, of all the transferable skills we can learn and hone, this one makes more sense to cultivate, especially if you plan further ahead or if your plans involve others too. Cheers!
You may be interested in these jobs
Found in: beBee S2 US - 5 days ago

---

Rice Toyota

High Point

Full time

We are seeking a Assistant Service Manager/Advisor (ASM) to join our Service team. What We're Looking For Our ideal candidate is someone can work in a customer-facing, fast-paced environment coupled with exceptional resiliency and composure. · No previous management or Service Ad ...

Found in: Indeed US - 1 week ago

---

Thomas J Henry Law, PLLC

Austin

EXPERIENCED PLAINTIFF TRIAL ATTORNEY salary of $250,000, plus guaranteed commission after achieving performance goal. · Top Texas Law Firm is currently hiring TRULY Experienced Plaintiff Trial Attorneys with an annual salary of $250,000, plus a guaranteed commission after achievi ...

Found in: Indeed US - 1 day ago

---

en · Your time. Your Goals. · What is DoorDash · Available in over 4,000 cities in the U.S, DoorDash connects local businesses and local drivers (called Dashers) with opportunities to earn, work, and live. · As a Dasher, you can be your own boss and enjoy the flexibility of choos ...