3 years ago · 2 min. reading time · visibility ~10 ·
The Depot Diner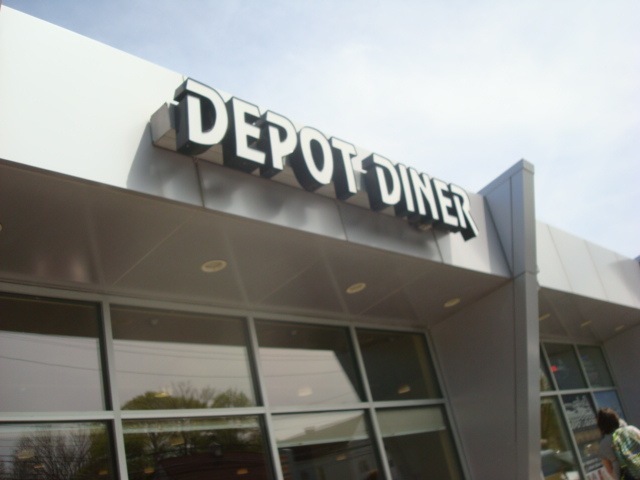 Welcome wafts through the air.  It rides on the delicious aromas of the fare offered by the Depot Diner (located at 23 Enon St. Beverly, MA 01915 978-922-6200). The food is unique in its presentation and plentifulness.  Breakfast is comforting here.  Early morning dwells in quietude, whereas dinnertime offers a celebratory atmosphere.
I set out this morning to go to the store for a few incidentals.  I planned on hitting our local Starbucks for one of their newer creations.  But the Depot Diner was in passing, and the allure of their delicious breakfasts drew me there.  I consumed a hearty steak tips and eggs dish: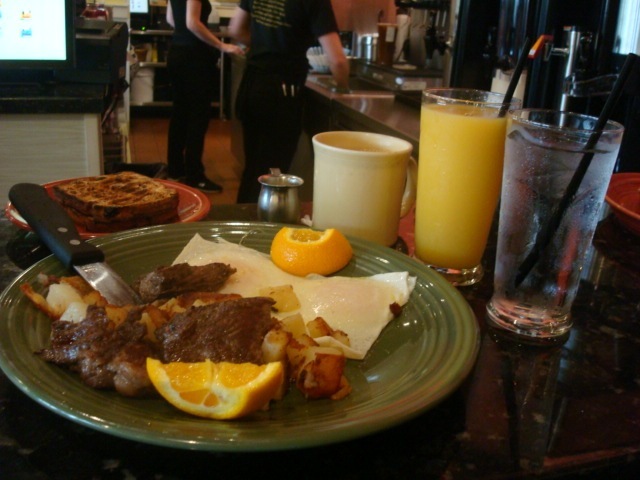 But I noticed prior to ordering; a young woman sitting at the counter we shared, pondering over a few sheets of paper.  She was a trainee, and the paper was a test to see if she understood ingredients in the dishes. The Depot Diner has a computer system which requires a full listing of ingredients if a customer deviates from the given fare.  It's expected that wait-staff will learn these ingredients in order to fluidly manage the computer screen for ordering.
The music of the wait-staff moves through the process of giving made more sense.  Teamwork is a concert there, and I can see the staff is nurtured into the dance.  There is no sense of urgency—just purpose.  There is Holly, Kara, Kendra–and many more.
Here is Katy: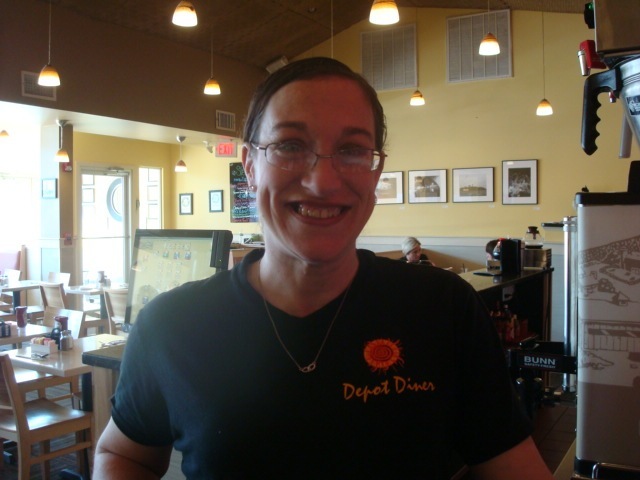 And from the back: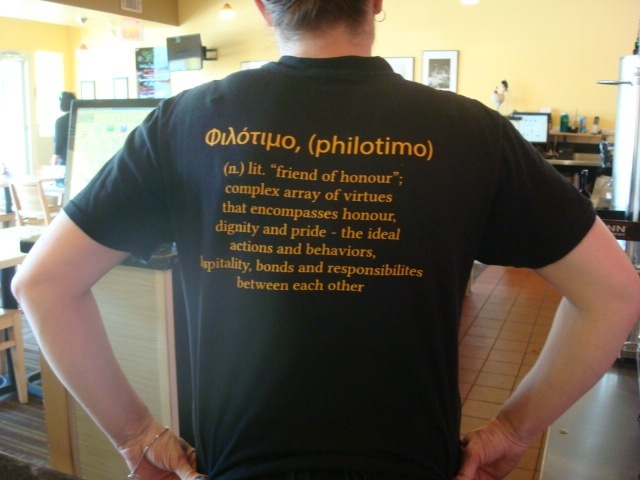 If you like the T-shirt, you can get one here:
http://depot-diner.com/product/depot-diner-t-shirt/
George—who stands at a podium just inside the door—takes care of his charges with aplomb.  His soft demeanor and gentle smile follow his eyes as he scans the room to discern seating arrangements.  Nothing seems to rile him.  He is a consummate professional.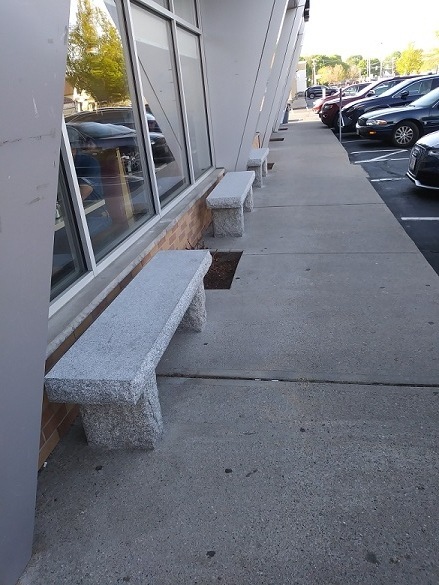 People often weave their way to benches outside during their waits.  I've seen them bundled in coats during winter months, waiting to experience the warmth inside.

Others hang in the foyer while they wait.  Everybody is smiling.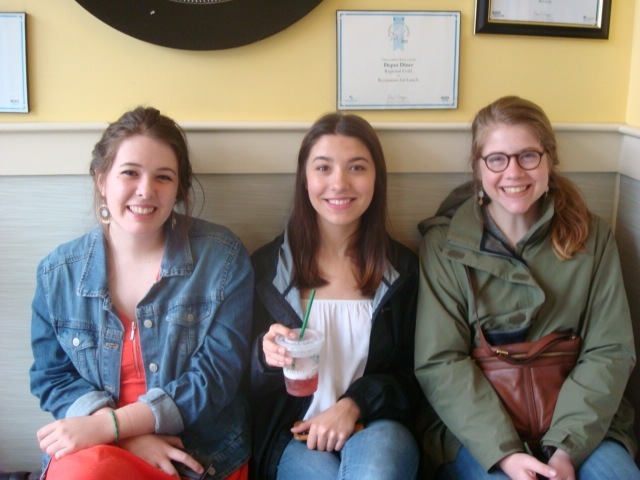 Bessie (not her Greek name) mothers the room; up-ticking the experience with her grace and smile.  Her sons, the Hantzopoulas brothers, run the place—fielding the kitchen; whipping out delicious treats that always make my mouth water with anticipation.
Am I biased?  Perhaps.  The Greek food is exquisite, and I am partial to it.  I'm sitting here fully satisfied with a meal I consumed a scant hour ago.  As I finish up this article, I have made another excursion to this home-away-from-home.  I had my avgolemono (egg-lemon) soup,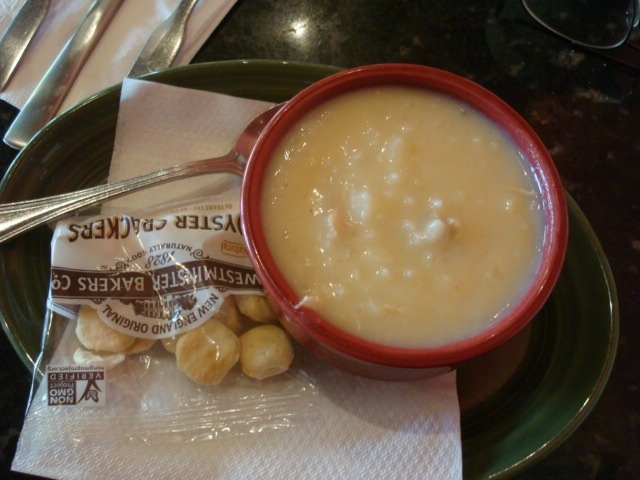 moussaka (an eggplant concoction),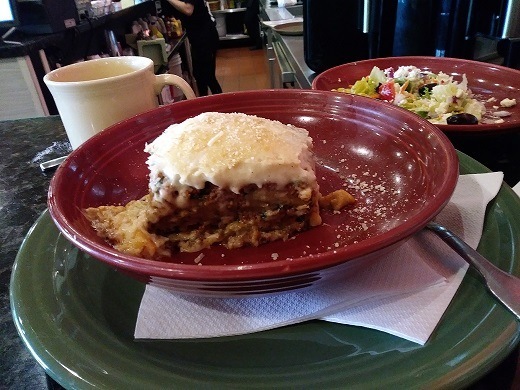 and rice pudding—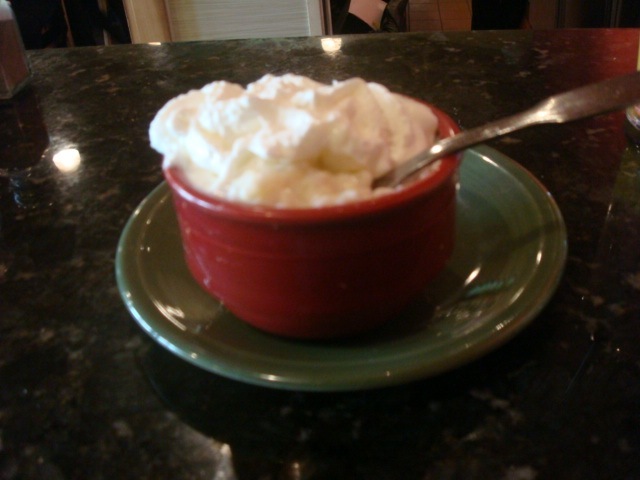 Let's not forget the delicious Greek salad.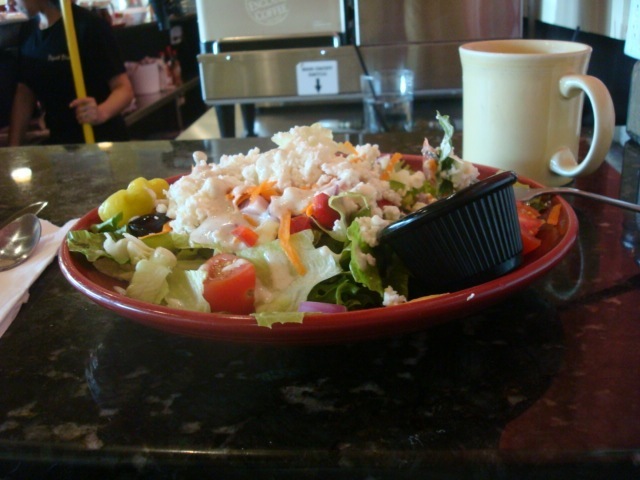 I am full and content.
Copyright 2018 Joyce Bowen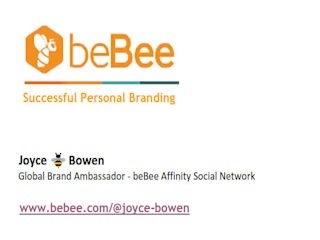 About the Author:  Joyce Bowen is a freelance writer and public speaker.  Inquiries can be made at crwriter@comcast.net