10 months ago · 3 min. reading time · visibility ~10 ·
*The Day I Met John Lennon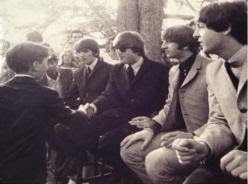 I was eight years old. My parents were watching the Ed Sullivan Show. At school the next day, some girls were all huddled around each other showing cards they had of each of the Beatles. It was an interesting time. Like there was some kind of electricity in the air. I don't know. I was only eight, but I do remember that almost everyone was talking about the Beatles. 
And then one day my Dad asked me if I'd like to meet the Beatles. I'm like, "Yeah right." He just kept looking at me like he wanted to know for real. I thought he was joking. My Dad wasn't joking. "Sure!," I said. That's all I could get out of my mouth. My Dad reached over and messed up my hair and said, "Be ready on Monday when you go back to school, because all the girls will want to be your best friend, David."  He walked away whistling a Beatle tune. I think it was "She Loves You." My Dad loved the Beatles.
To tell you the truth, I liked their music too, but I loved John Lennon the most. Practically everyone at school had a favorite Beatle. Well, my favorite was John. He was just so cool. Something about John attracted me to him. Don't know what it was, but he seemed really different than all the others. 
It was Saturday and my Mom and Dad and I got in the car and drove to Etheridge Park in Liverpool. There were a lot of cars parked there so my Dad had to drive around a bit to find a place to park. He and my Mom were sitting up in their seats slightly leaning over to the left to see if they could see any of the Beatles. I was in the backseat with my face practically glued to the window. My heart was racing which I can't recall it ever going this fast before. Maybe on Christmas morning when I was six and got my first bike. But this was like a big Christmas for everyone. 
I swear I could feel everyone's heart racing. It was intense.
And then I saw the Beatles!
Well, I saw the tops of their heads. I yelled out, "There they are!" and my Dad and Mom almost went through the windshield as my Dad put on the brakes so he wouldn't hit the car in front of us. They didn't get mad though because they were looking as hard as I was. 
My Dad found a parking spot and we all got out and walked to the gathering where all the people were. It was getting more and more electric, like the static electricity thing they do at the Fair. My Mom took my hand and she hardly ever gets too excited, but I noticed she had goose bumps on her arms. It was so cool. She looked down at me and said, "David, you're going meet the Beatles!" She smiled real big. She looked like a little girl and was so happy. I couldn't actually believe it really. But I thought it would be cool if I could meet John. 
As we got closer, we found people lined up to actually greet the Beatles. They were just sitting on stools greeting people! The excitement in the line was unbelievable. People were trying to contain themselves and be polite but you could sense they just couldn't wait to have their turn.
And then I had mine. When Paul reached out to shake my hand he said "Hi, I'm Paul, and who might you be?" I was staring up at him and couldn't believe I was shaking hands with Paul McCartney. "I'm David," I said nervously.  And then Paul said, "Well, glad to meet you Davy." He was so nice, I mean he was really nice.
I found myself moving along like at a wedding I went to with my Mom and Dad. You greeted everyone and just kept moving. Before I knew it I was shaking hands with Ringo. "Well, what's your name young man?"  "Davy" I said, only realizing I've never said Davy until Paul called me Davy. Ringo shook my hand like he was so glad to meet me. He was like a big kind of clown that Ringo. Kind of goofy, but genuine goofy. I was in a daze really. I could feel my parents behind me and my Mom kind of trying to not giggle and squeal too much. 
And then I reached out to shake hands with John Lennon. He had just finished talking with someone and it was just  natural to want to reach out and shake his hand. And then the world must have stopped or something right then, because everything went into slow motion. I heard the snap of a camera and the buzz of people talking and it was all surreal. John looked at me through his sunglasses and flashed me that John Lennon smile I'd etched in my mind the first time I saw it on TV when the Beatles were being interviewed.
And then John said to me, "Nice to meet you Davy, I'm John." I was frozen. I was caught up in his voice. How'd he know my name?  His smile got bigger and then he spoke.
"I saw you coming down the line in your smart suit and remembered when I was your age. I overheard you introducing yourself to Ringo and I thought I have a best mate of mine named Davy. Played guitar with me and the boys when we first started. Pleasure to meet you, Davy." 
I could barely see John's eyes through his sunglasses but I could feel him looking right through me. It was like meeting an old friend I'd had and when he said those words, I felt like I was back home or something. I felt like we'd known each other before or something. 
I smiled back at him and looked John straight in his sunglasses and said:
"The pleasures mine John, the pleasures mine."
*Note: This was an excursion into my imagination as a Writer and although it's fiction, it was as real to me as if I truly experienced it. 
Hope you enjoyed a trip back in time.
Best,
Dave
You have no groups that fit your search