The Bane of Humanity: Edward Bernays, and the End of the World We Know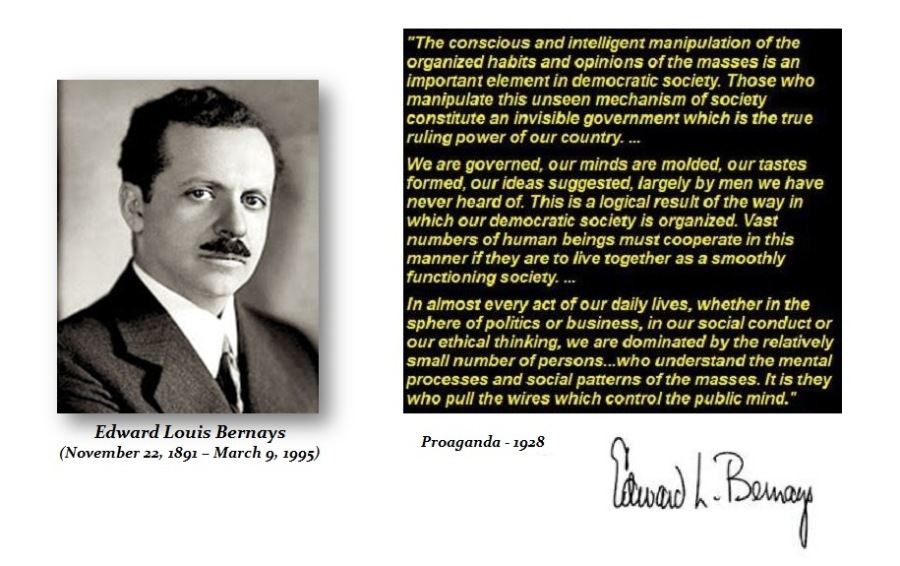 Edward Bernays: Edward Louis Bernays was an Austrian-American pioneer in the field of public relations and propaganda, referred to in his obituary as "the father of public relations". Bernays was named one of the 100 most influential Americans of the 20th century by Life.
Born: Edward Bernays, November 22, 1891, Vienna, Austria-HungaryDied: March 9, 1995, Cambridge, Massachusetts, USOccupation: Public relations, advertising

WIKIPEDIA
Edward Bernay [the coiner of the term public relations was Sigmund Freud's nephew.]
                                                          : Edward Bernays : on Propaganda and Public Relations
The worst occurrences in human history were not military wars, but the war against those of us considered by the money guys to be "useless feeders." Bernays was one of them.
Bernays' techniques have been used by the wealthy to use us to create more wealth—not for us, but for them.  We are driven to work harder to buy more and buy more and buy more…
We work and they jet around the planet seeking ways to drive the herd—us to work harder to provide them with more.  They are the 'useless feeders.
Come back from time to time for more on Edward Bernays.

Copyright 2020 Joyce Bowen
Articles from Joyce 🐝 Bowen Brand Ambassador @ beBee
View blog
You may be interested in these jobs
Found in: Jooble US - 6 days ago

---

Triage Staffing - Google Rating 4.9

Nashville, TN

Travel Laboratory: · Laboratory Nashville · Location: · Nashville · Start Date:1/2/2023 · Shift Details:12H Nights ( 6:00 PM-6:00 AM ) · 36 hours per week · Length:13 WEEKS 13 weeks · Apply for specific facility details. · Medical Technologist<

Found in: beBee S2 US - 6 days ago

---

UNITED ROAD

Peapack and Gladstone

Full time

UNITED ROAD · HIRING EXPERIENCED DIESEL TECHNICIAN CALL US TODAY (877) 641-1396 GET A $5,000 SIGN-ON BONUS · UNITED ROAD OFFERS EXPERIENCED DIESEL TECHNICIANS: Competitive pay based on experienceGuaranteed raise within the first six months · $5,000 Sign-On Bonus for Experienced ...

Found in: beBee S2 US - 3 days ago

---

Welocalize

Texas

Full time

MAIN PURPOSE OF THE JOB We are looking for interpreters for English <> Spanish to join a newly formed team for one of our global clients. The interpreters will provide consecutive legal-court interpreting services ON-SITE for one of our clients. They will take ownership of the i ...