Blogging
>
Patrick blog
>
"TEXANS DON'T NEED POWER OR CLEAN WATER," PERRY SAYS, "WE LIKE THE FREE MARKET"
"TEXANS DON'T NEED POWER OR CLEAN WATER," PERRY SAYS, "WE LIKE THE FREE MARKET"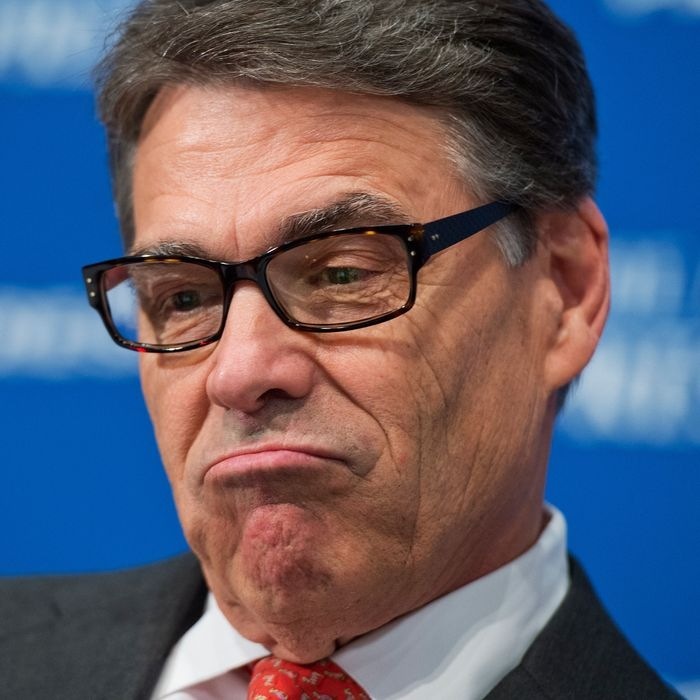 Former Texas Governor Rick Perry says he knows his people "like the back of my hand," as he points to his open palm. "And Texans are tough, they don't need no handouts from nobody."
Perry, who ran the Energy Department in the Trump administration (even though he didn't know what it did), believes too many people have a dependency on utilities.
"Texans are happy to go without rather than relying on the federal government giving them stuff," Perry says. "We're makers, not takers. We don't need luxuries like power and clean water."
Texas had a catastrophe last week when the state-run power grid failed–– causing clean water issues and a cascade of problems for its 29 million residents.
"Other states are hooked up to a national power grid," Perry explains. "That's fine if you don't have an adventurous spirit, if you like playing it safe. But that attitude ain't what built the Lone Star State. We don't need government interference. We like to let the free market rule, so we developed our own power grid. And because we let AOC use some of her newfangled liberal green energy, it ruined our power grid for everyone. Let that be a lesson. You can't trust Democrats."
Despite the hardship, Perry believes calamities like a statewide power failure are good for the residents.
"It helps build character," he says. "I'll bet some folks figured out how to build their own power grid and they were toasty warm."
President Joe Biden has declared a major disaster in Texas, freeing federal funds and agencies to address the suffering in the state.
"Biden is trying to ruin Texas," Perry claims. "He stole the election and now he's just trying to steal some Texan support. But it won't work. We're not going to be taking candy from strangers."
Perry puts on a cowboy hat and declares the interview over.
"I got a flight to catch," he says. "I'm going to take advantage of that great rate of $309 a night at the Ritz-Carlton Cancun. That's a smoking deal!"
And with that, the cowboy rode off into the sunset.
———————————————————————————————-
Enjoy PD Scullin's debut novel "SAWDUST: Love is wilder than a circus," a humorous romp across America with a circus in the early '80s. You're a click away from a helluva fun ride.
You may be interested in these jobs
Found in: beBee S2 US - 1 week ago

---

City of Milwaukee

Milwaukee

Regular, Full time

Introduction · Enter the world of building inspection by · drawing upon your education and experience in architecture, engineering, · construction management, or trades. Code Enforcement Inspectors proactively · manage conditions in their designated districts to maintain positive ...

Found in: beBee S2 US - 1 week ago

---

Newton-Wellesley Hospital

Newton

Regular, Full time

Description The Unit Coordinator works under the direction of the Nurse Manager or designee to coordinate the activities essential to the effective functioning of the patient care unit. · She/he acts as a key contact person for the nursing unit; performs appropriate tasks to impl ...

Found in: beBee S2 US - 2 days ago

---

Atlas Medstaff

Tyler

Full time

Atlas MedStaff is seeking a travel nurse RN ED - Emergency Department for a travel nursing job in Tyler, Texas. · Job Description & RequirementsSpecialty: ED - Emergency Department · Discipline: RN · Start Date: 01/31/2023 · Duration: 13 weeks · 36 hours per week · Shift: 12 hour ...