6 years ago · 7 min. reading time · 0 ·
Surely, You Jest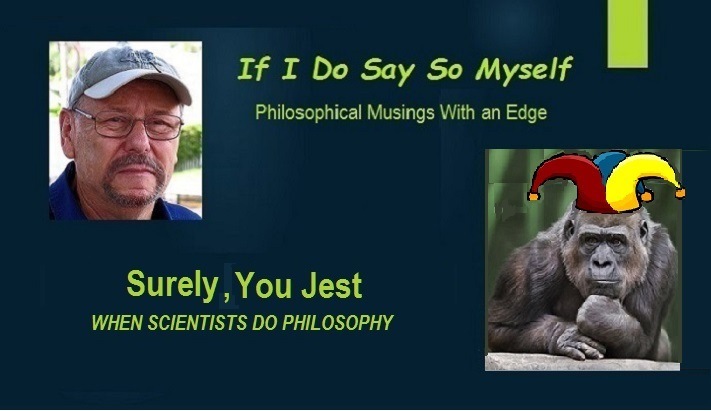 WHEN SCIENTISTS DO PHILOSOPHY...
Preface:  Be warned. This piece borders on being a typical academic rant, and deals with a somewhat esoteric subject. But that does not mean it is obscure. For it is not. I believe strongly that it can be followed by any moderately intelligent and reasonably literate reader. And so, I hope that you will stay with me, despite this caution, which I feel obliged to voice.
A recent post by my scientist friend, Milos Djukic, shared without comment an article by Dr. Brian Kurilla, Ph.D., in American Scientist, titled "The Evolution of the 21st Century Scientist".

The article is primarily about what the author, Dr. Kurilla, sees as a contemporary migration of scientists from the environs of academic research to the less rarified world of business and commerce. And he claims that fewer than 45% of academically trained scientists now actually work in the Land of the Ivory Towers. Which claim I am fully prepared to accept. However, he also says that,

"Science is about far more than the accumulation of facts. It's about the process we use to acquire knowledge. Facts can change over time with subsequent research and discovery, but what doesn't change over time is the method and approach used by scientists to study the natural world."
Brian Kurilla, Ph.D. in American Scientist

And then, goes on to assert by implication, if not by outright postulation that scientists and the  "scientific method" are superior respectively to the rest of the planet's population and their methods for understanding the world.
To my mind, all still within the bounds of a primarily reasonable outlook.
Then, not to be satisfied, Dr. Kurilla crosses a line in the sand that has been drawn and defended by just about every 20th and 21st century philosopher of repute, when he says that,

"Science is about far more than the accumulation of facts. It's about the process we use to acquire knowledge. Facts can change over time with subsequent research and discovery, but what doesn't change over time is the method and approach used by scientists to study the natural world."

Brian Kurilla, Ph.D. in American Scientist
Facts can change over time? Really?

Research and discovery establish truth in the natural world using the scientific method? Really?

Surely you jest, Dr. Kurilla.

Let us be very clear, the thesis you're advancing is that the only unchanging reality is the way scientists approach and seek to understand the physical world —  commonly called using the  "scientific method". 

Well, pardon me.  But as a philosopher, I object to these baldfaced claims and pronouncements. For in my opinion, they smack of a logically unsustainable and wrong-headed relativism.
Even leaving aside that the scientific method and approach used by scientists to study the natural world has itself mutated over the centuries, we need simply ask ourselves,

What sense is there in pursuing science at all, if that which science seeks to study and understand is constantly and forever in flux?
Need I point out the only possible answer to this question? Hardly.
For, Dr. Kurilla, it seems to me that your underlying thesis is its own reductio ad absurdum. Contrary to your  statements, facts are objective realities. They do not change willy nilly.

True, our perception of the facts and what they are, may change. And at any given point in time, our perception of what the facts are may be more or less in alignment with a reality that ironically we may never know, or be able to know completely. But that does not mean that the facts or reality change, or that they are relative.

Further, let us be clear about this, as well:  Nothing in this view — which is held by the vast majority of philosophers of science  — is inconsistent with the generally accepted contemporary vision of science and the "scientific method".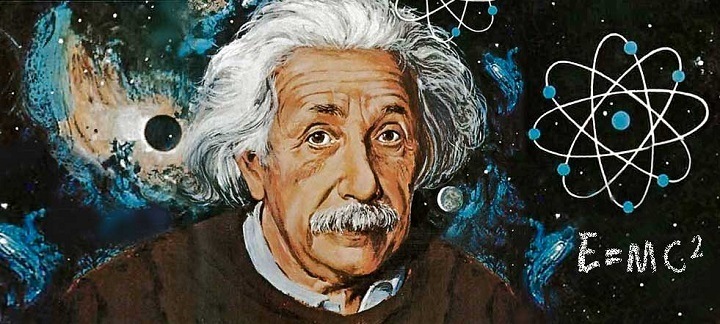 No doubt, some will rally to your position, pointing out with self-assurance that since Einstein we've known that "everything is relative."  Truth, facts, and reality. My truth is different from your truth. The facts today different from the facts some years from now. And the reality I recognize different from yours. Poppycock!
First, Einstein did not in his special and general theories of relativity seek to prove, as is so often asserted, that everything is relative. Rather he sought to establish ways of seeing the events of the space-time continuum independent of the distortions to our perceptions created by our relative position (or velocity) in observing them.

Consider, if you will, looking at this moment up into the night sky and seeing all the millions or billions of stars in the universe. You can observe their positions and apparent movement, and as a result, you can form a picture of what the universe is like at this moment. Unfortunately, that picture would be wrong.
Because it takes so long for light to reach us from so far away, almost none of those stars are in the position we "see" them as being in, for they have moved by the time we observe them, or we have, or both. So the reality of the universe is not what we observe it to be at this moment, that is, not what we perceive it to be.

However, it does not follow logically from this that reality is relative. For reality is what it is, whilst our perception of it is both relative to our position in the time-space continuum, and is changing all the time ahead of our perception.

Granted, science has come a long way since Einstein introduced his theories... It has come all the way to contemporary String Theory. But the key is to understand that theories are just that, theories.

Theories are explanations constructed on the basis of observed phenomena, created to "explain" (or model) a reality that is not directly observable. Theories may be more or less accepted by scientists and lay persons, and more or less well confirmed by predictive and retrodictive testing. But theories remain theories, and are not to be identified with the "reality" they seek to describe and explain.

When some theories become very well accepted by the relevant scientific community, they often come as well to be considered fact. But they are never fact, precisely because ultimately they deal with phenomena not directly observable. Consequently, it is a mistake to think that, because many theories evolve and change over time, that fact is mutable.
For again, if fact were mutable, there would be no point to the search for scientific knowledge.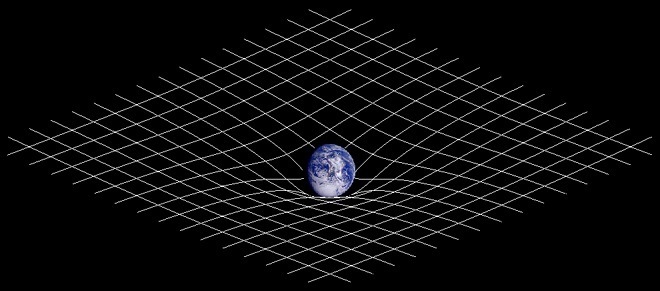 And while we're on that particular topic, I should also like to take exception to the oft-expressed view, and the view implied, if not explicitly stated by Dr. Kurilla's thesis, that scientific theories are the only reality in the physical world. 

Theories do not create reality — however much they may structure our conception and perception of it.
Now, you might ask where Dr. Kurilla comes up with his thesis of the scientist, through his practice of the "scientific method",  as the creator of reality. Here's what I think.
But first, kindly understand that, while the following rumination is about scientific personalities, it is not an ad hominen argument or attack upon scientists in general, or upon Dr. Kurill in particular. Rather it is the expression of my personal observations, conducted over many years, both inside and outside of academic circles.
When social scientists view the work of physical scientists, the social scientists, as a group, tend to experience what I call  "fact envy"...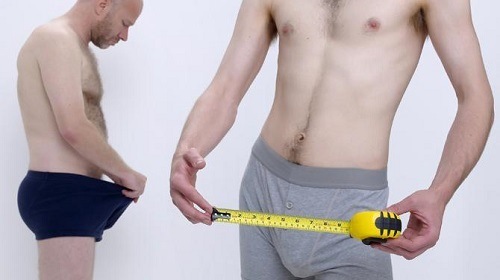 Yes Virginia, I do tend to think it is a matter of "my facts are bigger than yours"... or perhaps more accurately, your facts are bigger than mine.
But whichever it is, it has for a long time seemed to me that social scientists want to focus more on the "substantial and durable" nature of the process of science, rather than on the object(s) of scientific inquiry. And I am inclined to conclude that is because social scientists deal with things like the mind, personality, attitudes, social behavior, and the like — all of which, as objects of scientific inquiry, are less "corporeal" than the object(s) of physical science.

If you doubt that, consider how many social scientists actually get "the shakes" every time a neuropsychologist writes a paper that seeks to reduce "mind" and "consciousness" to a cluster of brain matter exhibiting dynamic electrochemical reactions.

I suspect that one reason for their reaction is that some social scientists confuse "relative" with "subjective." I think, for instance, our view of "the mind" is relative to our point of view as an observer. But it is not subjective in the way that we might say beauty is. Or goodness. Or honor.
However, be that as it may, there is no basis for blurring the division between the process of scientific inquiry and the object(s) of such inquiry.

There is little to be gained here in replicating the point over and over again. Simply ask yourself whether, if that which Dr.Kurill postulates were true, would there be any point to, say, the pursuit of engineering science.

What good would it do to develop an entire science of strength of materials —  including vast tables of mechanical properties of various and sundry materials, used in designing and engineering structures like skyscrapers and bridges — if the established mechanical properties of those materials could at any time change radically and unpredictably on their own?
No, my friends, if the pursuit of scientific inquiry is meaningful, then there must be a physical reality beyond the process that seeks to discover and understand it. That reality may not be what even our best or mostly confirmed theories of today postulate that it is, but that it exists underpins all of science itself.   —  Phil Friedman
Postscript:  I am more than happy to "philosophize"  about this issue with anyone who wishes to do so. However, please do not regale me with religious objections and arguments. This issue is actually completely independent of questions like whether there is a god (or gods), why there is evil in the world, and even whether the theory of evolution is correct or not.

As well, do not upbraid me for taking Dr. Kurilla to task, for I have neither said, nor done nothing here that is not commonly said and done in any healthy academic environment, where there is free and active intellectual exchange. Moreover, I have sent a link to this post to Dr. Kurilla c/o American Scientist, so that if he so chooses, he may respond either here or in a venue of his choice.

Finally, if you were tenacious enough to make the effort and take the time to follow these remarks all the way to this point, I sincerely thank you for reading and look forward to engaging you further in conversation about this philosophical issue, should you so desire. — PLF

Author's Note:   This post represents an unusual return to a kind of philosophy which I gave up doing years ago, but which I have been moved of late to partake in again. If you found this interesting and worthwhile, and would like to receive notifications of my writings on a regular basis, click the [FOLLOW] button on my beBee profile. As a writer-friend of mine says, you can always change your mind later.
As well, feel free to "like" and "share" this post and my other articles — whether on beBee, LinkedIn, Twitter, Facebook, or Google+, provided only that you credit me properly as the author, and include a live link to my original post.
About me, Phil Friedman:  With 30 some years background in the marine industry, I've worn numerous hats — as a yacht designer, boat builder, marine operations and business manager, marine industry consultant, marine marketing and communications specialist, yachting magazine writer and editor, yacht surveyor, and marine industry educator. I am also trained and experienced in interest-based negotiation and mediation.
In a previous life, I was formally trained as an academic philosopher and logician, and taught logic and philosophy at university.


The (optional-to-read) pitch: As a professional writer, editor, university educator, and speaker, with more than 1,000 print and digital publications, I've recently launched an online program for enhancing your expository writing: learn2engage — With Confidence. My mission is to help writers and would-be writers improve the their thought and writing, master the logic of discussion, and strengthen their ability to deal with disagreement.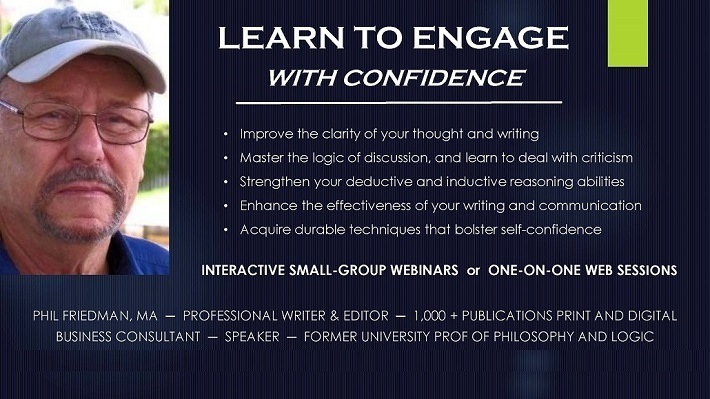 To schedule an appointment for a free 1/2-hour consult email: info@learn2engage.org. I look forward to speaking with you soon.



You may be interested in these jobs
Found in: Jooble US - 1 day ago

---

Methodist Healthcare Ministries

San Antonio, TX

The mission of Methodist Healthcare Ministries of South Texas, Inc. (MHM) is "Serving Humanity to Honor God" by improving the physical, mental and spiritual health of those least served in the Rio Texas Conference area of The United Methodist Church. · Essential Duties: · Perform ...

Found in: Talent US+ - 3 days ago

---

MathWorks has a hybrid work model that enables staff members to split their time between office and home. The hybrid model provides the advantage of having both in-person time with colleagues and flexible at-home life optimizations. · Learn More: · your passion for MATLAB and joi ...

Found in: Talent US+ - 3 days ago

---

Lockheed Martin

Littleton

COVID-19 continues to significantly impact our employees, families and communities. With employee health and safety as our top priority, and as a federal contractor, Lockheed Martin is taking action to address the increased risk and uncertainty COVID-19 variants pose in the workp ...