6 years ago · 5 min. reading time · ~10 ·
Some Advice and An Apology to My Teenage Daughters on My Birthday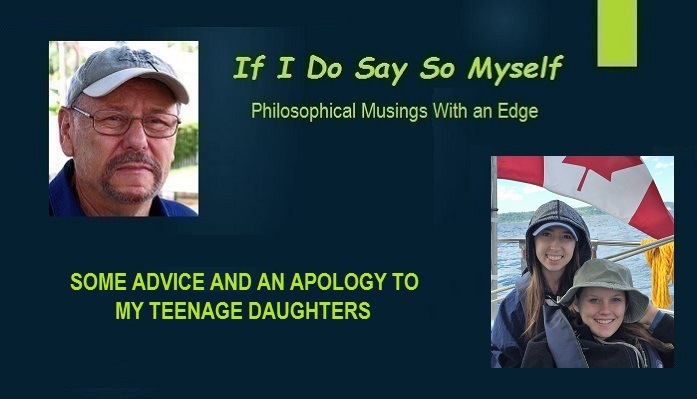 BECAUSE LIFE IS NOT AMENABLE TO RE-DO...
Dearest Daughters,
I am somewhat relieved these days that the two of you are dual U.S.-Canadian citizens. For I am not optimistic about what living in the United States will be like during the remainder of your lifetimes.
I am pretty certain it will more difficult and offer significantly fewer opportunities — for good jobs, decent education, and material ease — than my generation enjoyed. And this saddens me to my core.
Not that my generation had it easy. Many of us began with very little. Our parents were often first-generation Americans, who were themselves the children of immigrants to the U.S. But we had hope.
Hope that we would do better than our parents, who had in turn done better than their parents. Better in terms of education, jobs, and yes, material ease.
To be sure, we faced our fair share of political and social upheaval.

The Korean war.The Vietnam war. The Cold War. The domestic struggle for civil rights and increased  social justice. The shootings at Kent State. The brutal murders of Schwerner, Goodman, and Chaney in Mississippi. The Chicago police riot during the Democratic National Convention. But we had hope.

Even when some of us went into self-imposed exile for decades in protest against fruitless and self-destructive U.S. military adventurism in Southeast Asia, we had hope.

Hope that sprang from a deep-seated belief in the underlying goodness and common decency of America. Hope that was reinforced by the general welcoming openness of Americans concerning immigration — because, after all, why wouldn't someone want to come to live in the United States of America? Hope further solidified by the experience that so many of us had of being, as they say, without a pot to piss in, yet managing through a conglomeration of Federal grants and loan funds to get through college and even graduate school, with some accrued debt, but nothing crushing. Yes, we had hope.
Today, however, it's becoming increasingly difficult to have hope.

Not because of the military actions in foreign lands — although the gods know how horrendous and potentially useless those actions are. And not because of the recent surge in violence both abroad and within our nation's borders. But because as a nation, we in the U.S. appear to be losing the ability to care about one another. More important, we seem increasingly unable to feel that we should.

It's the un-caring that keeps us from casting all else aside temporarily in order to commiserate with, and comfort the families and colleagues of the slain Dallas police officers — who by all reports stayed in harm's way while doing their utmost to move and protect the demonstrating crowd. And yes, it's the same un-caring that prevents us, as a society, from feeling, at the abuse and misapplication of deadly force by some policemen, especially against blacks and other minorities, so much outrage that we once and for all rise up and solve the problems and drive the scourge of racism from our midst.
It's this same un-caring that predominates in the ongoing presidential election campaign, and imbues it with the rhetoric of a demagogue. It's this un-caring that prevents us from seeing the necessity for universal basic healthcare and a living minimum wage. It's this un-caring which generates a point of view that totally me-centric. Or, perhaps, it is the me-centricity that generates the un-caring. Either way, we are caring less and less each day about others, and more and more retreating into our own desires, mitigated not one whit by the limits of our true needs.

For several decades during the last century, it appeared we might be changing, as a society, for the better, albeit with a step backward from time to time. Now, I just can't see that we are.

You may still be too young and idealistic to understand this, but It was also a time when the principles of non-violent civil disobedience, promulgated by Ghandi and MLK, had a chance of succeeding. Because that was an era during which our society appeared still to have a collective conscience. A time when we could still feel so sickened by seeing bricks and bottles being hurled at young black students trying peacefully to exercise their rights to attend school, that we overwhelmingly stood behind then President Dwight D. Eisenhower, irrespective of our political party affiliations ... when he dispatched troops to assure their safety, as well as the adherence by the state and local governments to Federal law.


It's this un-caring that underpins the current presidential election campaign, and imbues it with the rhetoric of a rampaging demagogue. It's this un-caring that allows us to go on each day virtually oblivious to the harm to, and loss of life occurring as the result of our botched actions in the middle east. It's this un-caring that prevents us from seeing the necessity for universal basic healthcare and a living minimum wage. And it's this un-caring that generates a point of view so totally me-centric. Or it is the me-centricity that generates the un-caring? I am not sure. But either way, we seem to be caring less and less each day about others, and more and more retreating into attending to our own perceived needs and desires.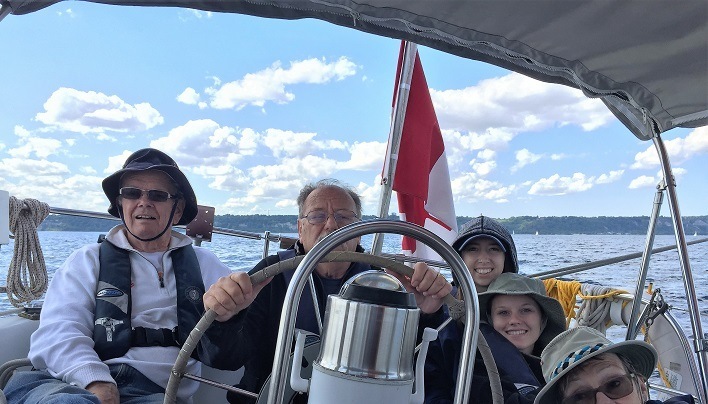 The upshot is that, while I am overjoyed to have you and your mother, and some of our best friends and family with me on my birthday today, I am feeling an undercurrent of deep sadness.  For what might have been, and what no longer seems likely to come to pass. Which brings me to the advice I want to offer you.

As you grow older, keep your Canadian passports and, of course, your Canadian citizenship. While not without its faults, Canada has always been a kinder, gentler society than here in the U.S. And it has always had a bigger heart for the plight of the less fortunate and disadvantaged, whether they are so for economic or political reasons. Canada once generously offered respite and refuge for a U.S. citizen you know, who was at the time in the throes of severe political disillusionment and seeking self-imposed exile. And if the current political trends continue in the U.S., it may very well turn out to be a welcome place of refuge for the two of you, as well as for the spouses and children you may someday have.


Finally, my apology.

At one time, it appeared that my generation was well on the road to giving our children a better life, socially and politically. I know that I and many of my contemporaries thought we would accomplish infinitely more in terms of social progress than we ever came close to achieving. Which is why you and your generation are now facing the reality of your lives actually being worse, not better than ours.

I am not exactly sure what happened, how we left the rails. Perhaps, in our push to give you the "things" that we didn't have, to care for you better than our parents cared for us, and to protect you from a world that we knew from experience could be brutish and vile, we sold out. Sold our social souls for "good" jobs, two cars, and a house in the suburbs. And sold our political authenticity for safety and comfort, however much that turned out to be fleeting and illusory.

What I am sure about, however, is that you are due an apology. For not only is my generation leaving you and your contemporaries with a life that will be much harder and more difficult than our lives were, we are leaving you with little, if any hope for an improved future.  And for that, I am truly sorry. — Dad
Author's Notes:  Because this piece is written from the heart, I will not make the usual appeals for ongoing readership, additional followers, or connections. However, if you have teenage daughters or sons, and what I've written here resonates for you, then you may want also to read   "Three Points of Advice to My Teenage Daughter" . — Phil Friedman

About me, Phil Friedman:  With 30 some years background in the marine industry, I've worn numerous hats — as a yacht designer, boat builder, marine operations and business manager, marine industry consultant, marine marketing and communications specialist, yachting magazine writer and editor, yacht surveyor, and marine industry educator. I am also trained and experienced in interest-based negotiation and mediation. In a previous life, I taught logic and philosophy at university.

"""
You may be interested in these jobs
Found in: beBee S2 US - 3 days ago

---

Lee Company

Chickamauga

Full time

Job Description · Summary of Job: · Responsible for performing maintenance and service for our commercial HVAC customers, utilizing our technology, technical capability, and exceptional customer service to provide customer-first solutions. · Education and Experience: · Universal ...

Found in: Jooble US - 6 days ago

---

McDonald's

Nottingham, MD

Description: · McDonald's Works for Me. I'm going places. I want to have fun, I like to be challenged, and I need a schedule that works for me. The Job for Me - Get a job that fits your life, inspires your best, and moves you forward. Choose your hours. Pursue your education. Bui ...

Found in: Talent US± - 5 days ago

---

Capstone Logistics, LLC

Mooresville

Shift: 1st Shift: 8am-5pm (must be available to work overtime if necessary due to business demands) · Compensation:Potential to Earn Over $18.50The selected Warehouse Associate will work in an IT warehouse environment which includes collecting labels, reprogramming, pulling parts ...