Show Me the Intelligence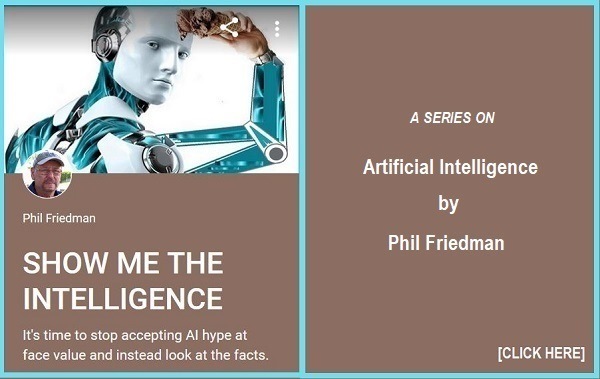 IT'S TIME TO STOP ACCEPTING AT FACE VALUE THE HYPE OF PROPHETS OF ARTIFICIAL INTELLIGENCE AND INSTEAD ASK TO SEE THE HARD EVIDENCE...
"Artificial intelligence will reach human levels by around 2029. Follow that out further to, say, 2045, we will have multiplied the intelligence, the human biological machine intelligence of our civilization a billion-fold." 

― Ray Kurzweil, Futurist and Author
The hype about the rapidly approaching Singularity of Artificial Intelligence comes not so much from the Prophets as from the Profits of AI...

― Phil Friedman, AI-Skeptic and Author in   "Artificial Un-Intelligence" 
 
A recent article in Forbes loudly purported to provide us with #5d36bb503c8b">"10 Powerful Examples Of Artificial Intelligence In Use Today". Unfortunately, not one of the examples cited represents a true instantiation of Intelligence, artificial or otherwise.  

― Phil Friedman, in  "Artificial Un-Intelligence" 
 
The operating principle in the promotion of AI seems to be if you say it loudly and often enough, people may believe you...
― from "The Emperor May Be a Bot... But He Still Has No Clothes" 
 
"... look for example at a driverless car, that's a form of ... modest intelligence, the average 16-year-old can do it as long as they're sober, with a couple of months of training. Yet Google has worked on it for seven years and their car still can only drive ― like on sunny days, without too much traffic."

― GARY MARCUS, "The limits of artificial intelligence", Tech Crunch, April, 2017

 
Let's get real. At 16 years old, 4'9" tall and well under 100 lbs, Mary Lou Retton, could have kicked the ass of the 1,800-pound Boston Dynamics back-flipping "super" robot fifty times over... 
To read the series, go to:  
 
1. "Artificial UN-Intelligence"
 
2. "The Emperor May Be a Bot... but He Still Has No Clothes"
 
3. "The Robots Are Coming, the Robots Are Coming..."
 
4. "The Prophets VS the Profits of Ai"
 
5. "The Anthropomorphization of Ai"
  
About me, Phil Friedman:  With some 30 years background in the marine industry, I've worn different hats — as a yacht designer, boat builder, marine operations and business manager, marine industry consultant, marine marketing and ghostwriter, yachting magazine writer/editor, yacht surveyor, and marine industry educator. I'm also trained and experienced in interest-based negotiation and mediation. In a previous life, I was formally trained as an academic philosopher and taught logic and philosophy at university.
Author's Note:  If you find the series interesting and enjoyed reading it, please register your likes and comments, and share it on your social media platforms. Thanks for supporting human common sense and intelligence.
  
Text Copyright 2017 by Phil Friedman  —  All Rights Reserved
Image Credits: Phil Friedman and Google Images.com

#AI  #ARTIFICIALINTELLIGENCE  #FUTURISM  #PREDICTINGTHEFUTURE
#CHATBOT #ROBOTS #BOT #SHOWMETHEINTELLIGENCE #AIREVOLUTION 
 
Science and Technology
You may be interested in these jobs
---

Advantage Sales and Marketing, LLC

Lumberton, United States

Part time

Are you detail-orientated with a love for Tetris or puzzles? Interested in working in retail, but with weekends off? We handle product movement in grocery We display it, we move it, we track it; makin ...

Found in: Careerbuilder One Red US C2 - 1 day ago

---

U.S. Customs and Border Protection

The Colony, TX, United States

Interested in a career in federal law enforcement? U.S. Customs and Border Protection (CBP) has Entry-Level openings for Border Patrol Agents with the U.S. Border Patrol (USBP), and we need you Federa ...

---

Seattle Fish Co.

Denver, United States

Job Description · Job DescriptionCompany Description · Since 1918, Seattle Fish Co. has been committed to serving those who serve others, expanding our devotion to health, environment, community, and ...