6 years ago · 7 min. reading time · 0 ·
Blogging
>
Phil blog
>
Screwed, Blued & Tattooed: How LI Pulse Writers Have To Be Feeling These Days
Screwed, Blued & Tattooed: How LI Pulse Writers Have To Be Feeling These Days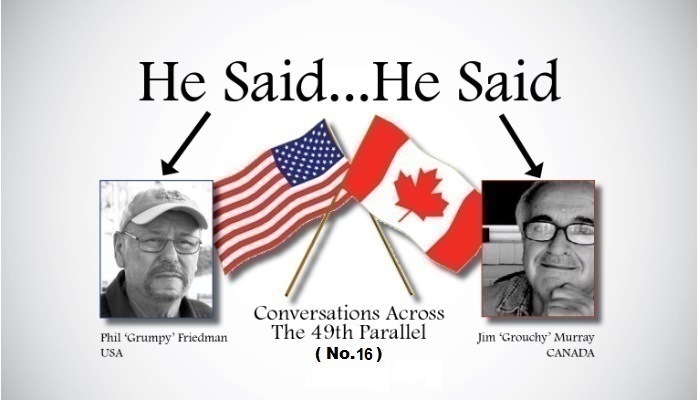 AN AFTERWORD TO THE DYNAMIC DUO'S PREVIOUS POST ON LOOKING FOR LOVE IN ALL THE WRONG PLACES...
Preface:This is the 16th installment of this series by Jim Murray and me. We've kept at it, because the response in terms of readership and engagement continues to be gratifying. In fact, we've expanded it's exposure and accumulating following, by now simultaneously publishing it not only in parallel fashion under each of our respective bylines, but as well on both beBee and LinkedIn. If you find what you read here worthwhile, let us know. And if you disagree with what one or both of us says, be sure to comment. For whether you agree or disagree, intellectual engagement is what it's all about.

JIM:
As you know, Mr Boat Boy, I did my final Pulse post last Saturday. The only thing that will bring me back is if things change here in the Lumpy Kingdom for the better and our notifications get restored to what they were in the beginning. Otherwise I don't need this crap.
And one by one a fair number of the LI independent writers are realizing that they don't need it either.

https://www.linkedin.com/pulse/wall-jim-murray?trk=prof-post

A lot of people could care less about the statement I was attempting to make by this action. They will keep staring at the wall and doing all the mental acrobatics to convince themselves this is just a glitch in the Mighty Algorithm and it will be fixed soon.
But you and I know better. You especially. Because way before anyone I know (besides the prophetic Milos Djukic), you were banging out posts about LinkedIn's concerted strategy of content control, which as we know was all in aid of promoting their chosen Influencer poohbahs.
At first I thought well he's an alarmist isn't he? But after a while, a whole lot of us started experiencing what people like you, Samantha Bailey and Milos Djukic already knew.
Today, this situation has gone from aberrant to completely screwed up. Paradoxically in the middle of all this, LinkedIn managed to sell itself to one of the biggest tech companies on the planet, which only confirms my favorite Bob Dylan lyric…"People are crazy and times are strange…"
Part of the selling proposition, I am sure is…lookit all the content we have…billions of posts from millions of people, and we got it all for a couple promises that we never intended to keep. Aren't we fucking clever?
So I'm just wondering, on a scale of one to ten, just how prophetic you are feeling these days. 

PHIL:
I think I'm feeling more pathetic than prophetic.
As you've said, I've been hammering away for almost two years now at the fact that LinkedIn's moves on writers and groups appeared clearly to me part of an orchestrated effort to undermine any and all networks having the potential to be strong content distribution conduits outside of LI's direct control.
Except in rare instances, I've been met with comments that made me feel like Chicken Little. I've been told variously that, "Oh, it's the Algorithm… just needs a bit of tweaking." And, "Oh, people are complaining about receiving too many notifications of posts from their connections." And, of course, "Oh, give it a rest, Friedman; LinkedIn is still in its growth phase, and is working to sort out the natural problems." — Never mind that LI seems to have been "sorting out its problem" for fourteen years.
So now, with the reality of the situation hitting everyone square in the face, I am personally less than sympathetic. For it wasn't really that hard to see, if you simply looked around you.
For example, I am a member of several industry-specific groups who respective members number well in excess of 100,000. And there are some groups approaching 1,000,000 in membership. By historical standards for special-interest publications (magazines) that level of circulation (readership) is seriously impressive. And in some, if not most of these cases, the owners of the groups are monetizing preferred access to their groups for promotional posts, by incorporating such access into marketing services they are otherwise offering.
As a result, there are dollars being collected by someone other than LinkedIn for activity taking place on LinkedIn. Well, duh! How would you expect the Wiener and The Whopper to take that?
And how would you expect LinkedIn to react to LIONs like Jim Cody and Richard DiPilla? These are guys who, unlike most open networkers, actually used their huge accumulated networks of connections for distributing the work of independent authors, outside of LinkedIn's direct control?


JIM:
You won't get an argument from me on any of those points. The question I keep bringing up, and I only do it because it makes no sense to my marketing brain, is why the hell they are doing this in the first place?
Why go to all the trouble to create an open publishing platform, offer people a fairly decent incentive (notifications and featuring if you're lucky) to post there, get it revved up to a crazy number and then just throttle it back?
I spent a lot of time last year pondering this and came up with two possible conclusions.
1. They got in over their head and didn't know how to manage this ands/or
2. When they went public, the pressure was on to monetize everything and in their panicked

little hamster brains, they completely overlooked the simple fact that the independent writers, who marketed the hell out of their posts, were the ones who were bringing more people to the site than the exalted influencers, who were basically singing to the HR choir. This would, of course, tend to make them look fairly clueless as publishers when approaching someone like Microsoft.
Net net…throttle back the independents, first by reducing their notifications to a trickle, then actually messing with their stats to make it look like the Influencers were dominating the playing field here.
As I said in my 'final' post…we were only a pawn in their game. Since I no longer give a rat's ass about Pulse, (at least until some miracle happens and they clean up their act), my only hope is that as my new publishing campground at beBee grows, they will continue to realize who is actually helping them attract users.
Some people would disagree and others like our friend Bruce Johnson are trying to look at the acquisition in a positive light. But we shall see, shall we not? 

PHIL:
You know, Jim, I wish you and all the other disillusioned and errant Linkies would stop with the This-Is-My-Last-Post-On-LinkedIn bull chips.
What is that all about? Do you guys think LinkedIn — meaning really the Wiener and The Whopper — give, in some of your favorite words, a rat's ass? You know very well they don't.

And all the ring-nosed self-appointed LinkedIn apologists will only be jumping for joy at not having you push them into a state of conceptual and emotional dissonance.
But beyond that, you know it's not true. You're going to continue posting updates on LI that poke them in the eye, whenever you can. And you're going to share your beBee long posts back onto LinkedIn, with the specific intent of drawing LinkedIn readers back onto, and into your beBee post pages. In fact, you already are. And I have no argument with any of that.
As far as I'm concerned, LinkedIn deserves whatever bad it gets. For as a corporate entity, it took my work, and your work, and the work of many worthy independent writers, in consideration for a definite promise to provide certain distribution services, then cynically reneged, as you point out, on a legal, albeit implicit contract.
Consequently, I have no problem with any of the cuts you or anyone else inflicts on LI, for it is — or should be — a case of what goes around comes around. I just wish everyone would just stop with the wounded prima donna act, and simply go about using LinkedIn to their own best advantage. For as I've said many times in the past, almost ad nauseum, if you can't beat 'em, figure out a way to use 'em.
And in this last respect, maybe we should form a hive on beBee named "The Association of LinkedIn Ex-pats f or Revenge", where we could put our heads together to figure out how best to strike back. Just kidding… maybe.


J
IM: As our mutual friend Anders Liu-Lindberg pointed out in a comment on my last Pulse post, people seem to get quite a spike in their page views and engagement whenever they announce they are leaving.
Just for the record, and speaking as a "disillusioned and errant Linkie", all I really said was that I was not going to post any more original content on Pulse, because, well there's just no damn point to the exercise.
And as you well know, I am linking all of my beBee posts to LinkedIn with an invitation for people to follow me there.
Am I poaching Linkies on behalf of beBee? Well I sure hope so. And you can file that under enlightened self-interest. Or building a following on beBee, which is what any writer with a couple brain cells to rub together should be working hard to do.
LinkedIn had made their bed and whatever happens is way beyond our control. I'm sure they're driving their Bentleys all the way to the bank with a heavy heart and a guilt complex a mile deep. But a rat's ass is still something I do not give.
Maybe it's the Calabrian in me that enjoys the idea of revenge, no matter how insignificant that might be in the greater scheme of things. But I'll be back as soon as they make everybody an offer they can't refuse.
All right. It was a little bitter and twisted this time around. But the gestalt was worth it. Phil got to give me a hard time for being a primadonna and we both got a lot of stuff out of our systems.
Author's notes:  Jim Murray can, and always will speak for himself. So direct any hate mail to him at his beBee address.
As for me, if you'd like to receive notifications of my writings on a regular basis, click the [FOLLOW] button on my beBee archive page. As a writer-friend of mine says, you can always change your mind later.
Feel free to "like" and "share" this post and my other LinkedIn articles — whether on LinkedIn, Twitter, Facebook, or Google+, provided only that you credit me properly as the author, and include a live link to my original post.
About me, Phil Friedman: With 30 some years background in the marine industry, I've worn numerous hats — as a yacht designer, boat builder, marine operations and business manager, marine industry consultant, marine marketing and communications specialist, yachting magazine writer and editor, yacht surveyor, and marine industry educator. I am also trained and experienced in interest-based negotiation and mediation. In a previous life, I taught logic and philosophy at university.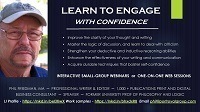 The (optional-to-read) pitch:
As a professional writer, editor, university educator, and speaker, with more than 1,000 print and digital publications, I've recently launched an online program for enhancing your expository writing:
learn2engage — With Confidence
. My mission is to help writers and would-be writers improve the clarity of their thought, master the logic of discussion, and strengthen their ability to deal with disagreement.
To schedule an appointment for a free 1/2-hour consult email: info@learn2engage.org.


"""""""""
You may be interested in these jobs
Found in: Jooble US - 6 days ago

---

Geisinger Health System

Richfield, PA

Job Title: Nurse Practitioner - Psychiatry · Location: Lewistown, Pennsylvania · Job Category: Nurse Practitioners, Advanced Practice · Schedule: Rotation · Work Type: Full time · Department: Psychiatry Department · Date Posted: 12/16/2021 · Job ID: R-23506 · Job Su ...

Found in: Jooble US - 6 days ago

---

Job Description · Retail Store Associates play a meaningful role within the CVS Health family. At CVS Health, we're shaping the future of health care for people, businesses, and communities. With your talents and expertise, you can help us play a more active and supportive role i ...

Found in: beBee S2 US - 2 days ago

---

Jm Swank

Oskaloosa

Full time

Hiring CDL-A Company Truck Drivers · Average $80,000 - $90,000+ a Year With Weekly Home-Time Call To Speak To A Recruiter (844) 577-0900 · CDL-A Driver Benefits: · Competitive pay, $80,000 - $90,000+ annually · $32 per hour (overtime eligible after 40 hours) · $5,000 sign-on b ...