4 years ago · 3 min. reading time · visibility ~100 ·
Read this NOW, or you will be run over by a mail truck!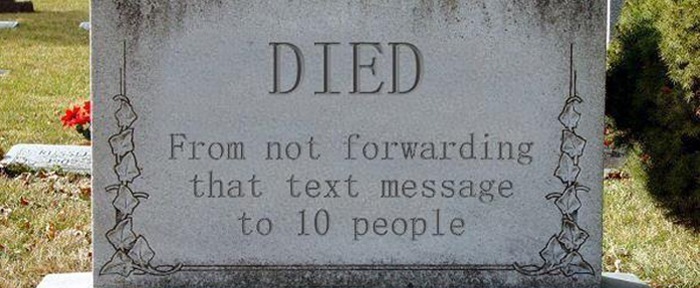 We have all received those asinine chain letters at least once in our lives, you know the ones that tell you if you don't forward this letter to all your friends in the next 5 minutes you will die!
Really now!?
That's interesting when I have hundreds if not more that I have no intention of forwarding to anyone, and what you know, I am still alive!
What is a chain letter anyway?
A typical chain letter consists of a message that attempts to convince the recipient to make a number of copies of the letter and then pass them on to as many recipients as possible. Common methods used in chain letters include emotionally manipulative stories, get-rich-quickly pyramid schemes, and the exploitation of superstition to threaten the recipient with bad luck or even physical violence or death if he or she "breaks the chain" and refuses to adhere to the conditions set out in the letter. Chain letters started as actual letters that one received in the mail.
There are some letters that you have the opportunity of receiving in school that read: "Pass this note around the classroom, or I will bash your face in!" Well in this case you just hand it to the person closest to you and hope that no one is waiting for you after school!
I have read over and over how I will be killed after sunset, stabbed to death in the bathroom, run over by a mail truck, killed by a dozen stampeding horses, and one of my favorites sucked into the toilet the next time you use it!
Even though we find this humorous the reality of this is, it creates a lot of fear in kids who are not really educated on what to believe. Then you get those children that refuse to use the bathroom, are suddenly afraid of horses, fear playing after sunset, and kids screaming, running in the opposite direction of the mail truck!
On a serious note there are many things people send you that are not necessarily great to send to naïve people.
Then you get the opposite spectrum, where people send you those inspiring letters to pass on to all those you love saying: send 12 people this hug and God will bless you 12 times, call 8 friends tell them to look out on there front step for a present from the Lord, say the lords prayer 10 times as you look up at the heavens and God will rain down money, walk ten blocks and return to your first step, you will find the answer to your problems.
So, is this true?
No, of course not people just have no lives and feel that in someway they are helping us out with giving us false hope or just scaring us half to death!
Even though I know that this is a big pile of BULL DOO, DOO, sadly kids end up believing too much of this and it is our jobs as parents to inform our children that this is a hoax and not to be superstitious.
My own daughter received these when she was younger by school kids on paper (before they started over taking Facebook) and she was scared of what would happen if she didn't pass it on! Now she knows better, but are parents really watching out?
Sometimes these chains can cause many emotional problems and insecurities in children and cause false hope in adults.
Have you ever received an e-mail saying that a person is sharing their fortune, and all you have to do to receive part of it is to forward the e-mail to as many friends as you can? So, nowadays, a chain letter may take the form of an e-mail, an instant message, a posting on a friend's social network profile or a text message. If you learn how to recognize them and what threats they pose, you can go a long way in protecting your internet security, both at home or while mobile.
Beware and educate yourself on types of chain letters!
Sick Child: They tell a fake story of a sick child who needs to raise money for an expensive operation. They ask you to donate money and share the kid's story.
Petitions: The letters may ask you to sign an online petition for a new law sustaining a social cause. You have to submit some personal details and forward the message to other people.
False Warnings: They warn you a virus is circulating over the web, threatening to crash users' operating systems. They urge you to strengthen your internet security by installing or deleting certain files on/from your system.
Rewards of Money: They lure you with get-rich-quickly pyramid schemes. You are asked to enroll other people into a scheme, promising you a certain amount of money for each new recipient you add to the chain.
Urban Legends: Examples: Rich billionaire shares his fortune if you share the news; Katu Lata Kulu steals your soul if you don't forward her story to your friends; Ted Bundy will find you and kill you if you don't repost/send his story to 10 friends.

Superstitions: Threaten you with 7 years of bad luck or even physical violence or death if you refuse to re-send the letter to other people.
I think it is safe to say the next time you run into a chain letter toss it in the trash or mark it as spam and move on….Don't worry I have a feeling you will wake up tomorrow!
Author: Jacqueline Williams
(aka Fancy J London)
All Rights Reserved ©2021
"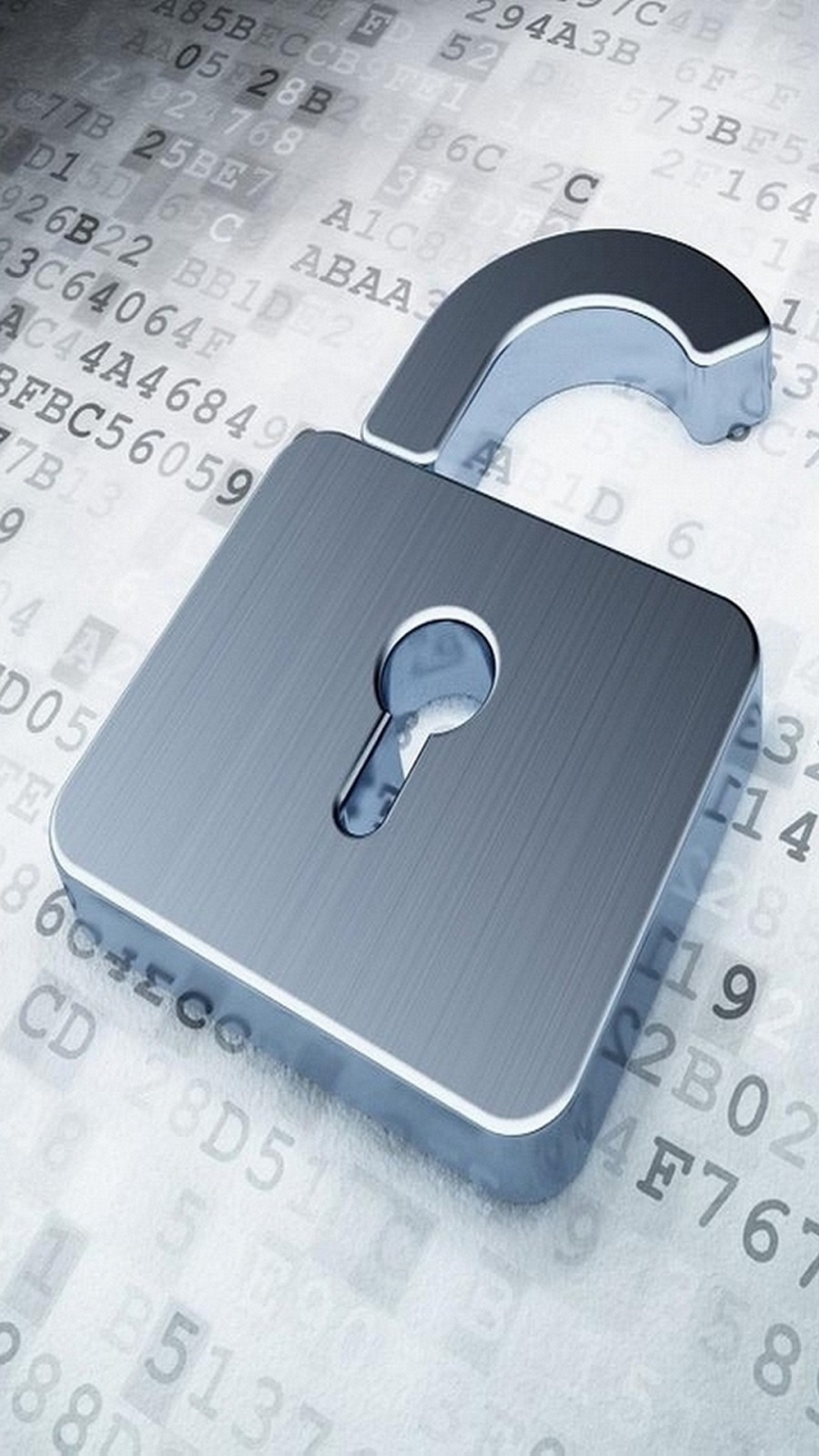 When technology fails...
Have you ever thought to yourself; 'What would I e ...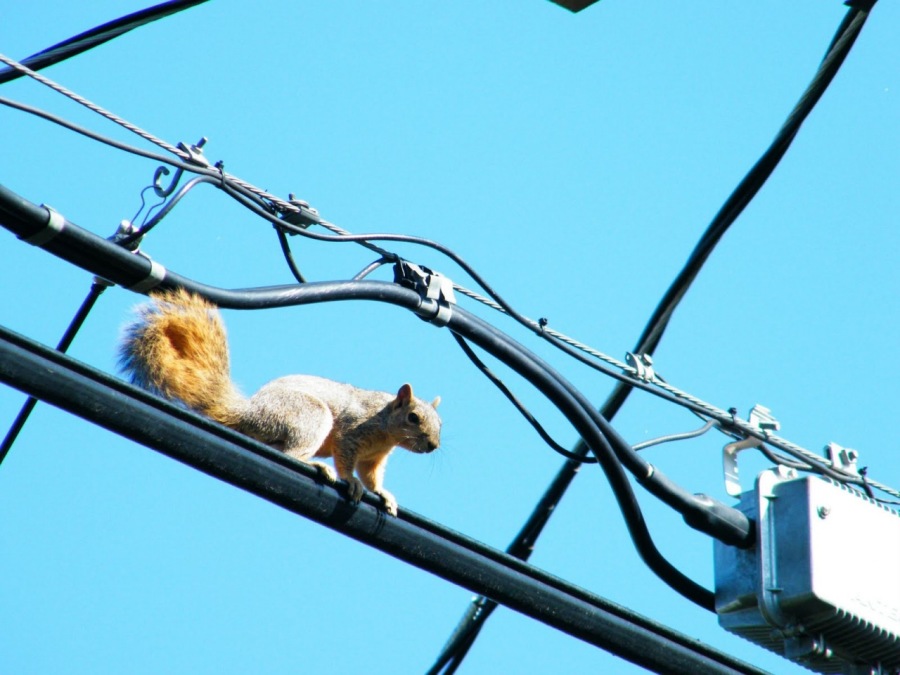 'Squirrels use the Internet'?
This is one of those, 'The dog ate my homework, sh ...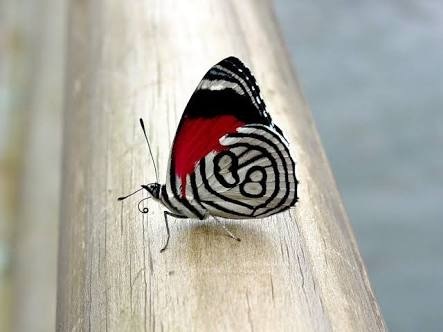 Whisper
Catch a whisper on a wing, · traveling fast on a g ...
4 years ago · 0 min. reading time
You have no groups that fit your search