QUIET KYRSTEN SINEMA FINALLY EXPLAINS WHAT SHE WANTS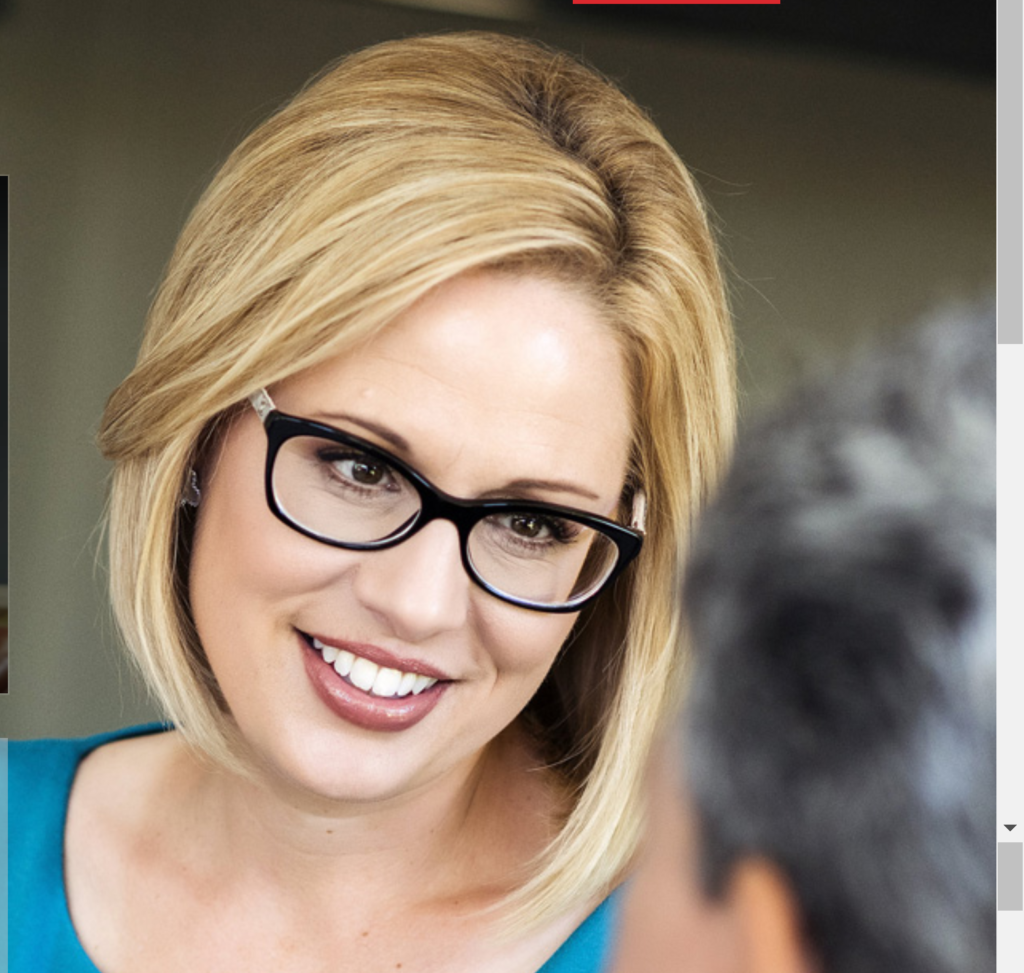 The dogged investigative journalists of The Lint Screen tracked down Arizona Sen. Kyrsten Sinema (D?) to ask why she is stonewalling Joe Biden's "Build Back Better" spending plan.
Sinema, who has been tight-lipped up to now, sat and spoke at length about her feelings.
KS:  "It's just, you know, I guess the spending plans have a lot of money in them when you think about it, and I know they will help a lot of people. I mean, just about anyone who has to work for a living. You know, the people who aren't super-rich so they have to pay taxes––what is it they call those people again? Oh, yeah, the lower and middle-class people. I think that's what you're supposed to call them.
And well, the thing is, I suppose the infrastructure bill is really good because it would employ a lot of people to repair a lot of things that are old and crumbling in our country. You know, like bridges that collapse while cars on them, or the United States electrical grid, which is held together by chewing gum, duct tape, and optimism.
And then, the social programs would do things that might bring America into the Twenty-First Century. You know, provide Americans some of the nice things they have in Europe: childcare, early education, help with college, and affordable drug prices. Those kinds of things.
But the more I think about it, I don't know. I just can't seem to get on board with the spending plans. Even though I know they would be great for the country, our citizens, Joe Biden, and the Democratic Party.
I guess what I want from the spending plans is just, you know, well––like maybe, stuff. Yeah, that's it. Stuff. I don't know how much clearer I can be about this. I want stuff, lots of stuff. And until I get my stuff, I just can't in good conscience support the spending plans. I hope I've made myself crystal clear."
Following her explanation, an assistant escorted the Senator to a scheduled dinner with pharmaceutical lobbyists who donated heavily to her election campaign.
———————————————————————————————-
Enjoy PD Scullin's debut novel "SAWDUST: Love is wilder than a circus," a humorous romp across America with a circus in the early '80s. You're a click away from a helluva fun ride. Buckle up and go.
You may be interested in these jobs
Found in: Jooble US - 1 week ago

---

Power Home Remodeling Group

Keller, TX

DoD SkillBridge Program · Description: · Power Home Remodeling is an American business that recognizes the impact military service has on those who served and the families who support them. Our Power Veteran's Initiative takes an active & authentic approach to recruit and train t ...

Found in: beBee S2 US - 16 hours ago

---

FIS

Little Rock

Regular, Full time

Position Type : · Full time · Type Of Hire : · Experienced (relevant combo of work and education) · Education Desired : · General Equivalency Diploma · Travel Percentage : · 0% · Job Description · Job Description · Are you curious, motivated, and forward-thinking? At FIS you' ...

Found in: beBee S2 US - 1 day ago

---

L3Harris Technologies

Peoa

Full time

: Job Title: Software Engineering Intern C (Salt Lake City, UT) · Job Code: CS8 · Job Location: Salt Lake City, UT · Job Description: · Apply computer science, engineering, and mathematical analysis concepts and principles in the development of software for the target applic ...