10 months ago · 2 min. reading time · visibility ~10 ·
Proud Boys Confess They Crave Meaningful Relationships And Intimacy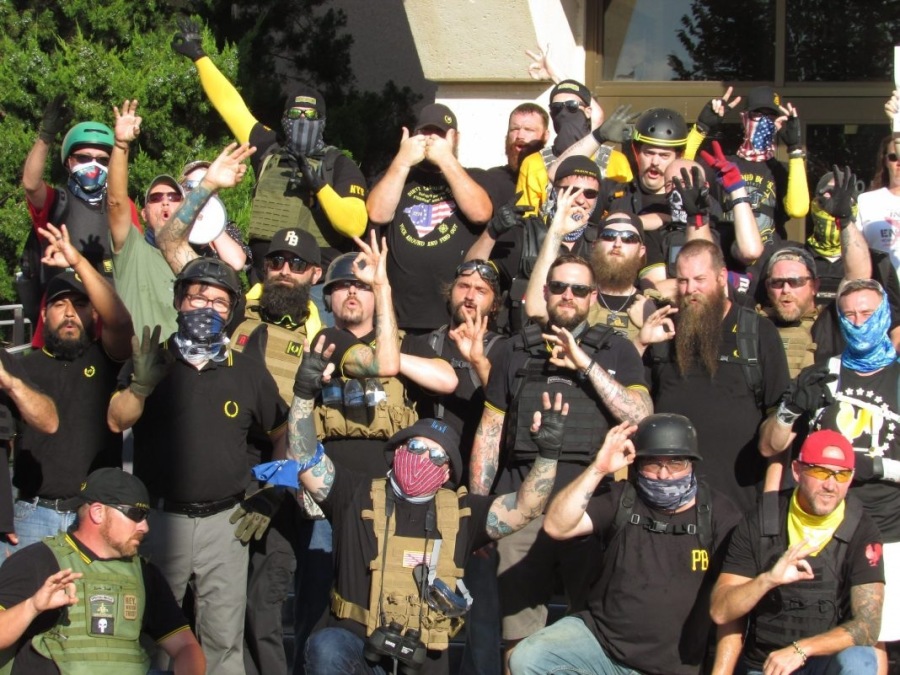 They are perhaps the most misunderstood people in the world, this ragtag confederacy of macho men who call themselves The Proud Boys. But these rugged fellas are not what they seem.
Many people think they are shady ruffians looking for a fight— low intelligence yahoos who would adopt as their daddy figure a despot wannabe like Donald J. Trump.
But that's only one side of their story.
When one sits down with a Proud Boy over a chilled glass of a crisp Napa Valley Sauvignon Blanc, Stonewall Kitchen Sea Salt Crackers, and artisanal Havarti cheese, you'll find a tender heart beneath his raging tatted brawn.
We spoke with some Proud Boys recently in The Lint Screen offices. The aroma of our Christmas potpourri filled the air as the gang sunk in their bean bag chairs.
"Lots of people look at us, but they don't really see us," says Burt "The Hammerhead" Clousin. "They think we're only about violence, racism, anarchy, and smashing faces of libs. But we're so much more."
"We're just guys who are kind of shy," adds Jerry "Lip Splitter" McEnery. "We want to come out of our shells, open our hearts, and have meaningful conversations deep into the night."
"I like all that corny romantic stuff," confesses Rex "Locked & Loaded" Thompkins, with a chortle. "I dream of cuddling with a special someone, watching a rom-com, and sharing our feelings afterward."
"I'm a bubble bath addict," Hank "Silky Smooth Skin" Gurly says, with a hearty chuckle. "I don't think that makes me any less of a man. I moisturize like anyone else. Anyone who says that does make me less of a man, I'll shoot 'em in their damn chest and stomp their skull."
The Proud Boys are upset President Trump was cheated out of his re-election bid.
"We ain't standing for it," says Danny "Full Clip" Hooligan. "We'll fight to the death to keep the big man in office."
"He makes me feel really safe," Bobby "The Glock" Sammings says, as he curls into a fetal pose and sucks his thumb. "We're happy to die for him if we have to."
"Dunno why politics gotta be so ugly," The Hammerhead says, shaking his head. "Why can't Biden just concede and believe Trump. We do. Why would a guy like the president of the freakin' United States lie? He won all 50 states, fair and square, just like he says."
The Proud Boys pour themselves more glasses of wine. They nibble from the tray of white seedless grapes and fresh strawberries. They enjoy the hummus. Their table manners are beyond reproach.
"We just want walks on the beach," says Jerry "Bloody Fists" Mulligoon. "And some intimate conversations. Then, maybe enjoy some chill time with a good Robyn Carr novel. After that, we can grab a bike chain, crowbar, and Louisville Slugger and beat the living hell outta some liberal socialists."
"We ain't hard to understand," Full Clip says. "Not once you get to know us."
The men finish their wines, fruits, hummus, and cheese. They press their tee-shirts, so they are crisp, spritz cologne, and head out the door.
"We're late for our Mensa meeting," Bloody Fists says. "And that's never smart. Those eggheads will lay a righteous beatin' on ya, but good."
———————————————————————————————-
Enjoy PD Scullin's debut novel "SAWDUST: Love is wilder than a circus," a humorous romp across America with a circus in the early '80s. You're a click away from a helluva fun ride. Buckle up and go.
You have no groups that fit your search