11 months ago · 1 min. reading time · visibility 0 ·
Plotting Your Child's Escape from Public School?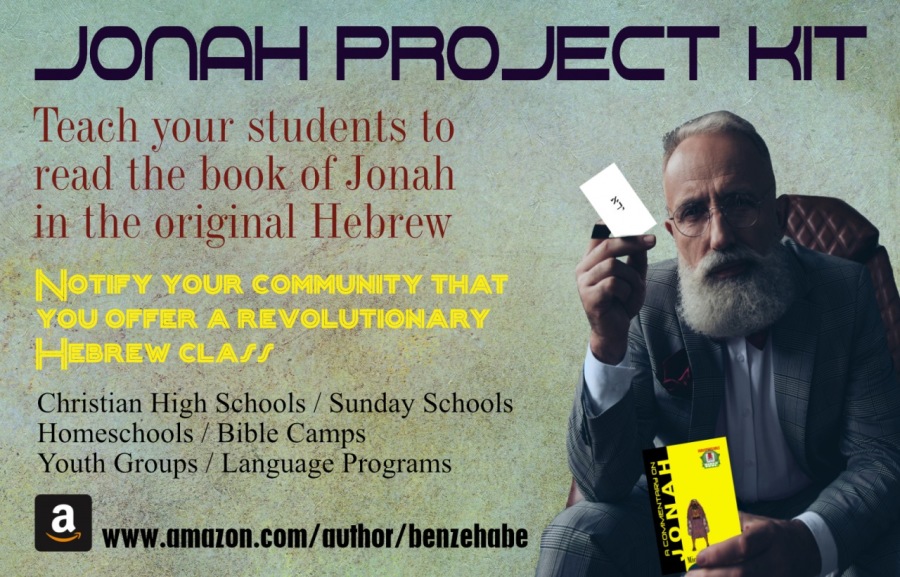 Most states require children to learn a foreign language before graduating high school. Offer a language program that will serve them for the rest of their lives. In about 6 months, you, with no Hebrew background, can teach students how to read the book of Jonah—in the original Hebrew.
Jonah is one of the shortest books in the Bible. If your kids can learn to play cards, they can learn Hebrew. The book of Jonah only has about 100 unique Hebrew words. Anyone, no matter what language, can learn 100 words.
Jonah had a little problem: Bad religion. God addressed this problem (bad religion) through a young man by the name of, Jonah. It seems Jonah loved his religion, more than his religion's God. One small thing out of order can create an ugly chain of negative consequences. At least, that's what happened to Jonah.
It boils down to a simple definition: idolatry, means giving someone, or something, more prominence than it deserves—including religion. Priorities were paramount to the God of Israel. That was made clear in the second commandment, regarding idolatry.
What poor Jonah had to learn was, religion is a very small venue to a very large God—larger than any one man's interpretation. The great sages have discovered: the more we learn, the smaller we feel. And in that, there is no shame. To the contrary, even an imperfect religion can be a noble path—until you run out of road.
By memorizing the 22 letter alphabet, then playing with the letter flash cards, then playing with the Hebrew word cards, the mystery of foreign language dissipates. Today, you may speak English, but God hardwired you to speak Hebrew. So, waste no time getting back to the language you were designed for.
Before buying one item, request our 3-page curriculum. We will send a PDF attachment. Examine the simple steps, then decide if your student can manage this simple course.
Perfect for private schools, homeschools, church youth programs, and vacation Bible schools. Makes a perfect gift. Request free curriculum (
https://www.etsy.com/shop/accidentalhebrew
)
You have no groups that fit your search