3 years ago · 1 min. reading time · visibility ~10 ·
Melania Brings Her Empathy And Love To Border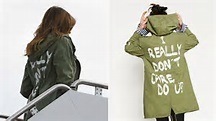 Snowflakes are melting over the border crisis of illegal immigrant children being separated from their parents and scattered across America.
2,300 children are MIA. But not for long!
In a decisive and brave move, first lady Melania Trump took to her Batplane and flew to McAllen, Texas.
The high fashion former model sported an exclusive $39 designer jacket with the message: I DON'T CARE DO U?
Apparently, her FU jacket was at the cleaners.
Sources close to FLOTUS report she is furious that "some cruel and idiotic bonehead" decreed that kids get taken from their parents.
"The first lady is determined to get to the bottom of this problem," the anonymous source told The Lint Screen. "But first she said she simply must get her nails done — she says they are positively atrocious and she's tired of suffering with them. "
No worries, America, becoming great again is right around the corner.
As Melania Trump says, "Be best."
#########################################
Patrick Scullin (aka PD Scullin) is a founder of ASO Advertising and recently left the ad game to be a full-time writer, wrangling parts of speech to entertain and amuse.
He has two blogs: The Lint Screen (satire, smartassery humor, pop culture ramblings, and advice for people getting hip replacements) and Empathetic Adman (marketing pontification).
Thanks for reading.