1 year ago · 3 min. reading time · ~10 ·
MCCARTHY SWEARS HE "WAS SOMEWHERE ELSE" ON JANUARY 6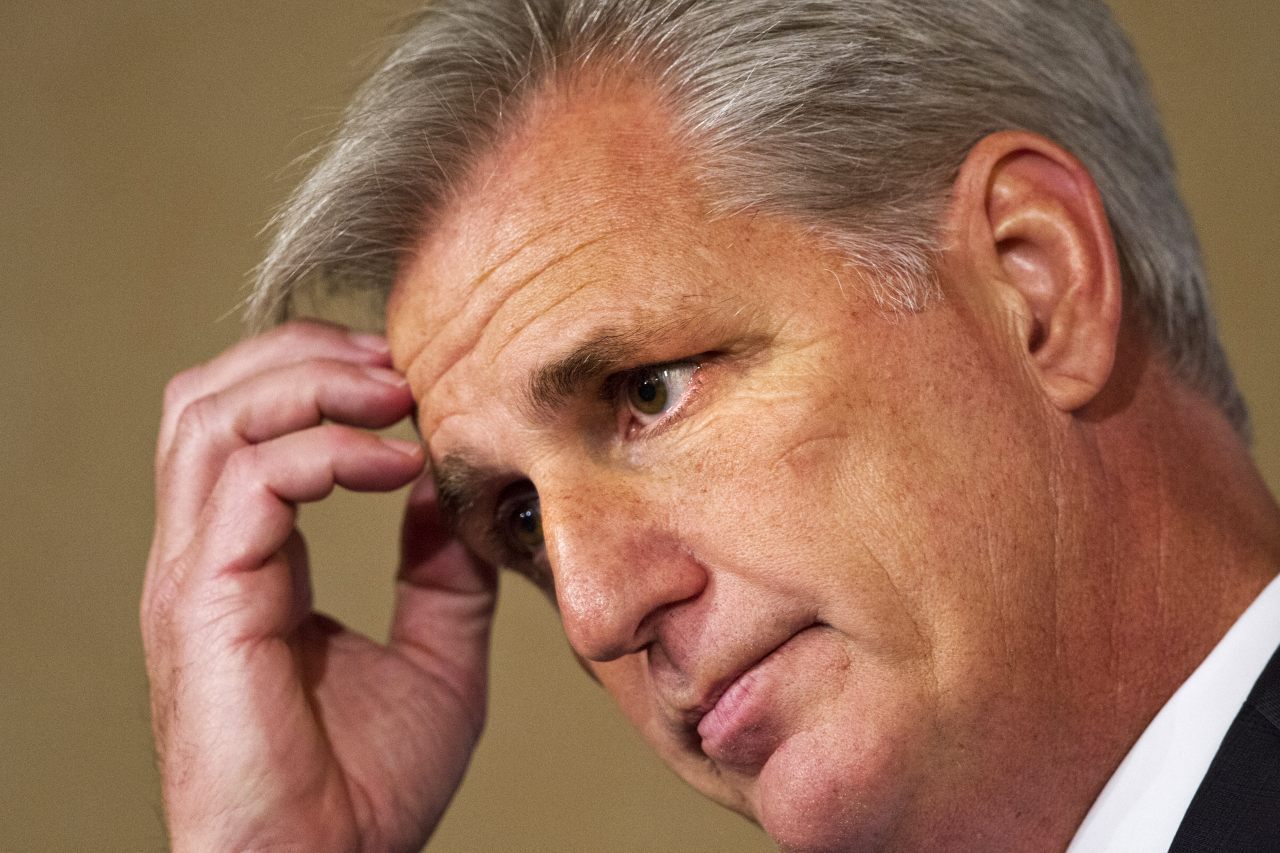 Congressional Minority Leader Kevin McCarthy (R-CA) says he "is usually sharp as a tack," but for some reason he can't recall where he was on January 6, 2021.
"They tell me there was a little brouhaha inside the Capitol Building," McCarthy told The Lint Screen. "I don't know anything about that. I was nowhere near Washington D.C. on that day."
When asked where he was, the lawmaker squirms in his seat, and mops his slick brow.
"That's a good question," the congressman says. "I might have been back in my district. Or, traveling, working to get peace in the Middle East. I'm not sure. I'll have to check my calendar and get back to you, but I know I wasn't in Washington."
McCarthy says he is unaware of the insurrection and attempted coup in the Capitol Building on January 6 by manic supporters of disgraced twice-impeached President Donald J. Trump.
"I've heard the Democrats are trying to make a little skirmish seem like the end of democracy," the tall Californian says. "Of course, liberals hate everything President Trump did to make America great again, so I guess it's natural they want to paint him as the bad guy. I'm sure the Capitol thing was very minor."
McCarthy said he trusts his inner circle of trusted compatriots.
"I've talked to Marjorie Taylor Greene, she's always rock solid," McCarthy says. "She said it was all good, no trouble. The same with Matt Gaetz, a very honorable guy. I've also spoken with Ron Johnson– who is dependably spot on in his analysis. He said it was Antifa and Black Lives Matter, had nothing to do with Trump. And Jim Jordan thinks it was simply a little misunderstanding. I've also heard from Ted Cruz, and that handsome senator from Missouri, Josh Harley. They both hadn't heard anything about Capitol trouble. And, I got confirmation from the man with a backbone of steel, Lindsey Graham. He said it was nothing. They all tell me January 6 was a quiet day."
McCarthy wrings his hands and continues. "Of course, I've also talked with President Donald Trump, who is always a paragon on honesty and unbiased analysis. He said it was just a few patriots protesting a stolen election."
The silver-haired politician shakes his head.
"We need to get on with life. Let sleeping dogs lie," McCarthy says. "I wish I had been in the Capitol on January 6, then I could speak with total authority. But since I wasn't here, let's rely on the trustworthiness of some good, honest, God-fearing, cop-loving, Republicans to tell us the truth. There is absolutely no need for any investigation. That's just politics played by the socialists hellbent on destroying our country."
He pauses. "Then we need to get down to business and prove Biden stole the election."
——————————————————————–
Read PD Scullin's debut novel "SAWDUST: Love is wilder than a circus," a humorous ride across America with a circus in the early '80s. This book has earned 100% 5-Star reviews on Amazon. Act now and save during pandemic pricing. You're a click away from a fun, unforgettable ride. Buckle up and go.
You may be interested in these jobs
Found in: Linkedin WW - 2 days ago

---

Encore Software Services, Inc.

Honolulu, HI,

Hi All, · Greetings from Encore Software Services · We have a Immediate Job Opportunity for Infrastructure Engineer position in Honolulu , HI with our Direct Client . So please review the below JD and share me your updated resume. · Job Title : Infrastructure Engineer · Location ...

Found in: Linkedin WW - 2 days ago

---

TeamBradley, Inc.

Deerfield, IL,

TITLE: POS Help Desk Technician, 22-11821 · LOCATION: Deerfield, IL area · STATUS: Hybrid · OVERVIEW OF THE POSITION: Our client, a leader in the retail industry, has always been committed to offering their employees stability, outstanding benefits packages, and ample opportunit ...

Found in: Jooble US - 1 week ago

---

XPO Logistics

South Burlington, VT

Solutions driven success. XPO is a top ten global provider of transportation services, with a highly integrated network of people, technology and physical assets. At XPO Logistics, we look for employees who like a challenge and can communicate effectively in all situations. We ...