4 years ago · 1 min. reading time · visibility ~10 ·
Looking Back at Previous Work - I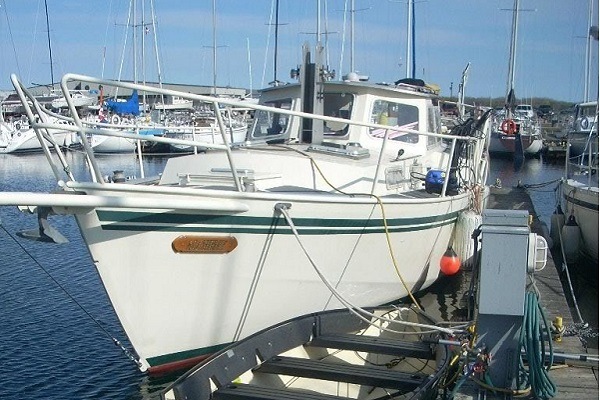 DESIGNED AND BUILT BACK IN THE 1980s, THIS STOUT 41-FOOT ALL WELDED ALUMINUM SAILING YACHT WAS PART OF MY KODIAK CRUISER SERIES...
Each year, as the opening of the Fort Lauderdale International Boat Show (FLIBS) approaches, I find myself scanning back through my files for samples of prior work.

This year, I began by searching on Yahoo and Google using the input term "Phil Friedman yacht", with the result that I ran across this old posting on the Cruiser's Forum.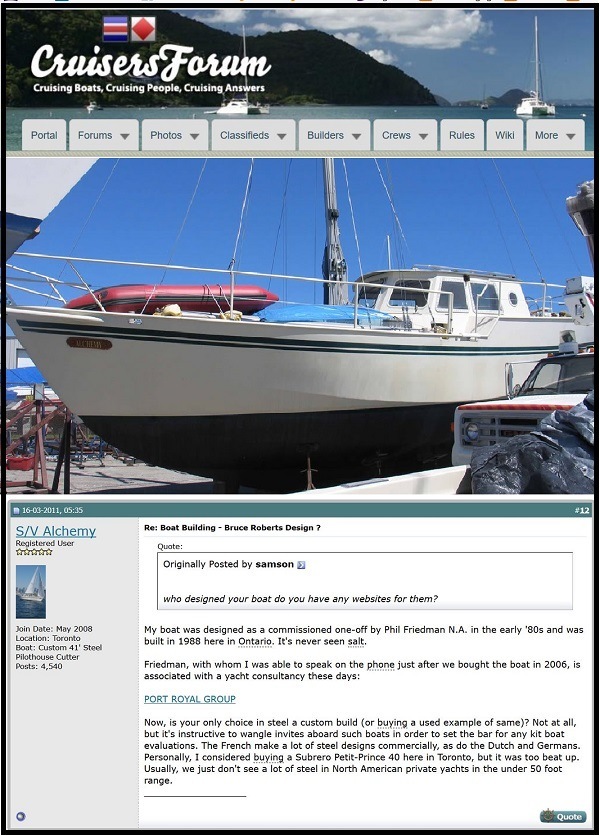 Now named "Alchemy", she was designed in my Toronto office for a couple who planned to sail her around the world, and she was custom constructed by a freelance boatbuilder whose name, as I remember, was Gerhardt Geistenhouse.

She had a double-chine bottom that was conically-developed for steel plating without pre-rolling any compound curves into the flat plates. At the time, I used a specially developed technique that assured the chines forward diminished to a zero angle, which effectively produced the appearance of a "round-bottom" hull, when she was sitting in the water -- as you can see from the photos.

The extra high tabernacle that held the foot of the mast on her deck enabled her to be rigged and de-rigged without the need for a mast crane and was a trademark feature of my Kodiak Cruiser Series.
A number of yachts from this series made trans-oceanic crossings and one of my Kodiak Cruiser 33s successfully completed a circumnavigation of the Pacific Rim.

To anyone out there -- and I am sure there are still a few -- still sailing on one of these, I bid you fair winds and safe harbors, always.   —  Phil Friedman
The author, Phil Friedman, will be available, by appointment, for discussion and consult at the Fort Lauderdale International Boat Show (Bahia Mar Marina, Nov 1-5, 2017).

For more information or to make an appointment, email phil@PortRoyalGroup.com or call or text  1.954.224.2145.
For more about my decades of work in the yachting industry, see:
Or see:

"Sizing Generators to Run Greener and Cleaner"
"Ten Insider Tips on Yacht Build Contracts"
About the author, Phil Friedman:  With 30 some years background in the marine industry, Phil has worn numerous hats — as a yacht designer, boat builder, marine operations and business manager, marine industry consultant, marine marketing and communications specialist, yachting magazine writer and editor, yacht surveyor, and marine industry educator. He is also trained and experienced in interest-based negotiation and mediation. In a previous life, Phil taught logic and philosophy at university.

#YACHTS
#MEGAYACHTS
#SUPERYACHT
#NEWYACHTCONSTRUCTION
#YACHTNEWBUILD
#YACHTING
#BOATBUILDING
#YACHTPROJECTMANAGEMENT
#OFFSHOREYACHTS
#SAILINGYACHTDESIGN
#YACHTBUILDCONSULTING
"""
You have no groups that fit your search