Life Aboard the Noka ― Part I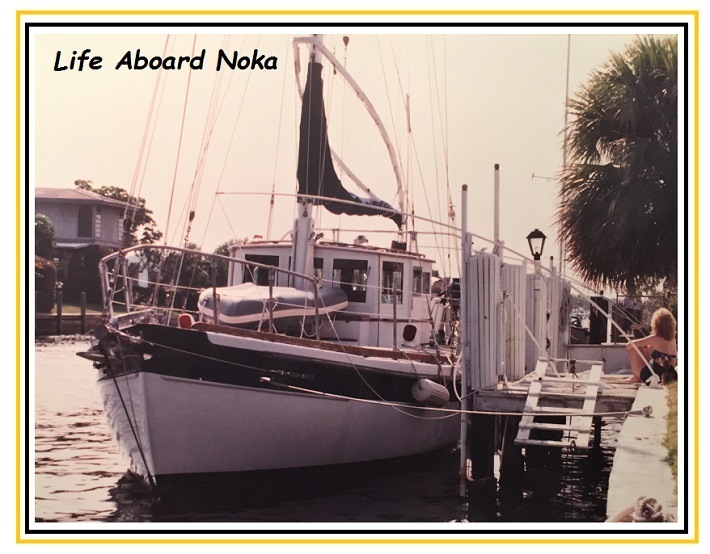 TALES OF LIVING AND CRUISING ABOARD THIS 18-TON CUTTER BUILT IN OUR BOATSHOP...

My wife Susan and I were crossing the Gulf Stream on the way back from Grand Bahama Island to Hillsborough Inlet, Lighthouse Point, Florida.
The weather had kicked up, with wind and seas coming from the northeast ― the worst possible scenario for that particular crossing of open waters. For with surface wind and seas opposing the Gulfstream current, which often ran at six or more knots in a northerly direction, really nasty and confused sea conditions were building up. And for the first time in a long while, we had a genuine concern for our personal safety.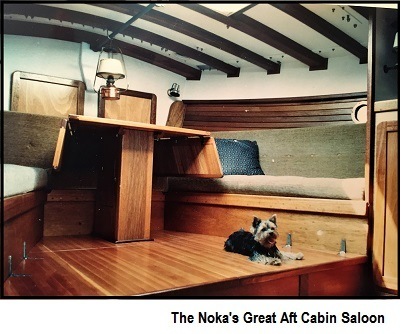 As the seas built up, we began to realize that it was the Noka which had led us into danger.
But not for the reason you might suppose. As we were not at that time aboard our Noka, the stout 18-ton wheelhouse cutter shown in these photos. Rather, we were aboard our much smaller 28' twin-diesel Sportfishing yacht, the Noka II, which we had acquired after we had swallowed the anchor, moved ashore and sold the first Noka.
"Noka" in Ojibwe stands for the Bear (Clan), which is the symbol for strength and courage... And our Noka was every inch a bear of a boat...

I had designed, and we had built the first Noka ourselves in our Toronto-area boatshop. She was such a strong, stable, seaworthy and seakindly vessel that, in seven years of cruising on her, we had come to trust implicitly in her abilities in all manner of weather and seas. So much so that in the easier-going sub-tropical summer season, we paid little attention to the weather reports ― except, of course, for those of hurricanes that might be headed our way.
We had left Grand Bahama with the same devil-may-care attitude that we had developed when we were sailing in the first Noka. Unfortunately, the Noka II, in which we were now running in two- to three-meter seas, wasn't a tenth as tough or forgiving or watertight as the original Noka. And we were really in deep shit, so to speak.
In our beloved Noka, we could have run on a reach under a triple-reefed main and forestays'l only, with the engine ticking over slowly and us steering from the comfort and safety of her enclosed, self-bailing wheelhouse. But not now.
Now, we were exposed and vulnerable, with an open cockpit and precious little shelter from the weather. Not that the Noka II wasn't a great little vessel, for she was. But she was a good boat, for what she was. The Noka II was never intended to be out in the kind of wind and seas we were facing.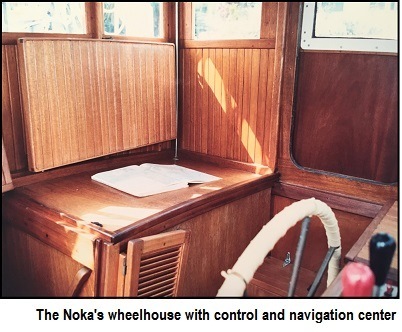 Susan and I both thought, but didn't speak about Fort Lauderdale restaurateur Chuck Muer, his wife, and two friends who had been lost at sea a couple of years prior, crossing the Gulfstream in their 40-foot sailing yacht during a storm.

If you're goin' through hell keep on going ... Don't slow down, if you're scared don't show it ... You might get out before the devil even knows you're there ...


Rodney Atkins recording

Well, since I'm here to write the story, you may have guessed the outcome.
Fortunately, neither the weather nor the seas worsened. Although the Noka II was only 28 feet long, she had good, strong diesel engines, big reduction gears, and relatively large props ― all of which combined to enable us to power through that truly nasty seaway relatively quickly and emerge safely into the quieter waters west of the Gulfstream, before time, fatigue, and the odds caught up to us.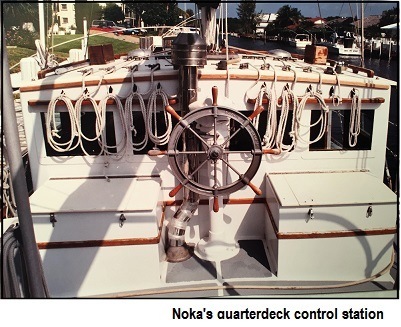 The irony of the situation was that seven years experience living and cruising aboard the Noka had actually led us into danger, not because she was inadequate for offshore work, but precisely because she had been so superbly fit for it that we did not make the adjustment to a smaller, less capable vessel without first being taught a hard lesson by the Sea. 

―  Phil Friedman
Postscript: Future installments of this series will further explore the joys and vicissitudes ―  including some more near-death experiences ―  of living and cruising aboard in Florida, Bahamian, and Caribbean waters. Here's hoping you will join me.

Fair winds and safe harbors. ―  PLF

Author's Notes:  If you found this post interesting and worthwhile and would like to receive notifications of my writings on a regular basis, click the [FOLLOW] button on my beBee profile. Better yet, elect there to follow my blog by email. As a writer-friend of mine says, you can always change your mind later.
Should you be curious about some of my other writings, you might want to take a look at the following:
"Vending Machines Are People Too"
Please feel free to "like" and "share" this post and my other articles — whether on beBee, LinkedIn, Twitter, Facebook, or Google+, provided only that you credit me properly as the author, and include a live link to my original post.

About me, Phil Friedman:  With 30 some years background in the marine industry, I've worn numerous hats — as a yacht designer, boat builder, marine operations and business manager, marine industry consultant, marine marketing and communications specialist, yachting magazine writer and editor, yacht surveyor, and marine industry educator. I am also trained and experienced in interest-based negotiation and mediation.

In a previous life, I was formally trained as an academic philosopher and taught logic and philosophy at university.
Before writing comes thinking (the optional-to-read pitch):  

As a professional writer, editor, university educator, and speaker, with more than 1,000 print and digital publications, I've recently launched an online program for enhancing your expository writing: learn2engage — With Confidence. My mission is to help writers and would-be writers improve their thought and writing, master the logic of discussion, and strengthen their ability to deal with disagreement.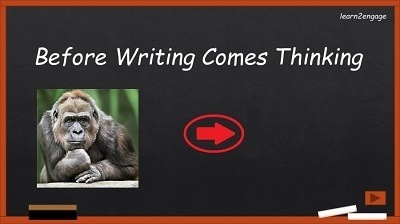 For more information, click on the image immediately above. Or to schedule an appointment for a free 1/2-hour consult or to sit in on one of our online group sessions, email: info@learn2engage.org. I look forward to speaking with you soon.

Text Copyright 2017 by Phil Friedman  —  All Rights Reserved  


#SAILING #YACHT #CRUISING #LIVEABOARD #SAILBOAT #BOATBUILDING #TRAVEL #BAHAMAS #GULFSTREAM

"""""""
You may be interested in these jobs
---

Prism Health Care Services

Schaumburg, United States

Health, Dental, Life Insurance, 401k and generous Personal Time Off benefits are available for full-time employees. · This is a full time day position. At least 1 year of previous experience required ...

---

Nomad Health

Monroeville, United States

Job Description · Nomad Health seeks an experienced CT Scan radiology tech for a travel assignment in PA. · Take the next step in your healthcare career and join Nomad Health as a travel radiologic te ...

---

Sonic Reference Laboratory, Inc

Bastrop, TX, United States

Full time

Job Functions, Duties, Responsibilities and · Position Qualifications: · Position Summary: · Responsible for maintaining the buildings and grounds. Responsible for warehouse inventory orders, office ...