4 years ago · 2 min. reading time · ~10 ·
Let the Audience Decide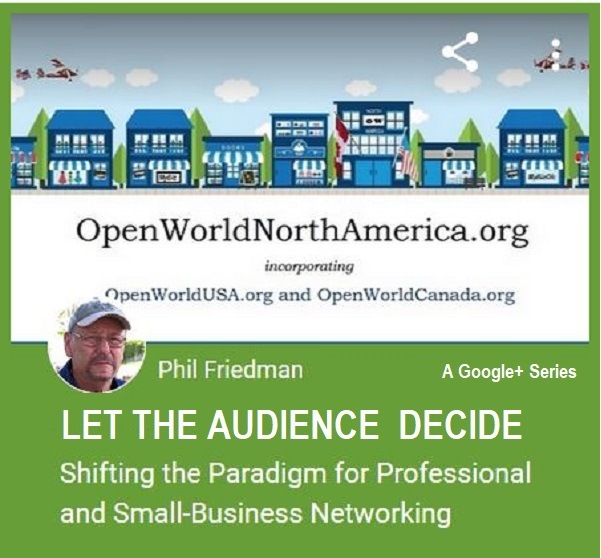 IF YOU'RE CONTINUING TO GET THE SAME RESULTS, CONSIDER DOING SOMETHING DIFFERENT FOR A CHANGE...
OpenWorldNorthAmerica.org is an open-source collaborative professional and small-business networking platform whose time has come. 

We are dedicated to re-creating social networking in a form that is user-centric, transparently managed, and free of gamesmanship.

OW is committed to enabling and supporting 100% organic online networking, transparent operation, and collaborative development and management.
OW speaks to those who are tired of having their networking efforts canceled out by arbitrary algorithmic controls that are shaped by private, undisclosed objectives.
OW does not seek to compete with other social media platforms, professionally-oriented or otherwise, but instead is working to establish portals for content native to other platforms to be shared on and distributed via OW's developing broad-based network.
OW members and users will be able to share posts created on other platforms or on their own blog or websites into the OW networks, where distribution within its network will be controlled by the personal elections made by its members and users.
OW is being structured as a decentralized loose confederation of Regional Nodes. The Regional Nodes also serve as the communications portals for members and users, who can connect with one another worldwide across the platform.

Each Regional Node (RN) also serves as a portal to a Local Enterprise Center (LEC), which is effectively a networking space for authorized private, for-profit providers of consulting and other expert services and some types of goods and the potential consumers for those services and goods.

OW will also be home to a Digital Content Distribution Network (DCDN).

OW will not incorporate a native publishing facility. Rather, OW will share content created on other platforms via its own network to OW members and users, according to the preferences set respectively by each member or user.
OW will also serve as an aggregator for RSS or like feeds, to gather and distribute notices and links to members and users, again, according to the preferences set respectively by each recipient.
OW will also host profession- and industry-specific groups, which will be owned and managed by members at their own election. The groups will be equipped with the tools necessary to effectively grow and manage themselves in accord respectively with each group's statement of mission and self-created rules.
OW is basically a non-profit organization. It is being developed and launched collaboratively by an international group of dedicated and expert Anchor Stakeholders.
OW will not monetize member data or information, neither by selling nor by selling access to that data or by selling lead generation. Because membership data will not be monetized, there will not be a need to restrict access to the platform, nor to game members to keep them solely on the OW platform. Therefore, links to external sites and platforms will be developed and their use encouraged in the spirit of open collaboration.
Are you looking for true affinity networking? Genuine organic reach for your writings and postings? Opportunities to brand and market your B2B or even B2C services and goods? Syndication of your blogging to a broad audience, while retaining full control of your content? Are you selling a B2C product or products? Publishing and hosting a STEM forum or chat space?
We invite you to Investigate the OW initiative and the concrete steps we're taking to create an international collaborative platform for open and transparent, member-centric professional networking.
During this formative period, you have the opportunity potentially to affect the direction of development. So sign up to follow our progress and provide suggestions and feedback by email. We thank you for your interest and will appreciate your input.
Go to OpenWorldNorthAmerica.org for more information ...
Then read the Google+ series at https://plus.google.com/u/0/collection/AGGMYE
And then join the conversation.  
— The OpenWorld Stakeholder Steering Group

Copyright © 2018 by OpenWorldUSA and OpenWorldNorthAmerica — All Rights Reserved

"
You may be interested in these jobs
Found in: beBee S2 US - 6 days ago

---

HUT American

Belleville

Full time

Want to be a Delivery Driver? Your Gig, Your Schedule, Great Benefits, Fast Pay - Pizza Hut® $15-$20 · That's right, we will pay you to drive around in your car - listen to your own music while delivering great pizza, pasta, wings... · What more could you want? Independence, good ...

Found in: Jooble US - 2 days ago

---

There is an immediate need for Caregivers helping seniors in your area. · We value our caregivers so we make sure that our compensation rates are competitive with wages that are currently being offered in this area. · Apply for open caregiver positions today · Make sure to ask ab ...

Found in: Jooble US - 6 days ago

---

RNnetwork is seeking a travel nurse RN ED - Emergency Department for a travel nursing job in Bethesda, Maryland. · Job Description & Requirements · Specialty: ED - Emergency Department · Discipline: RN · Start Date: 12/19/2022 · Duration: 13 weeks · 40 hours per week · Sh ...