1 year ago · 3 min. reading time · ~10 ·
Lead Generation Strategies for Video Software Products and Services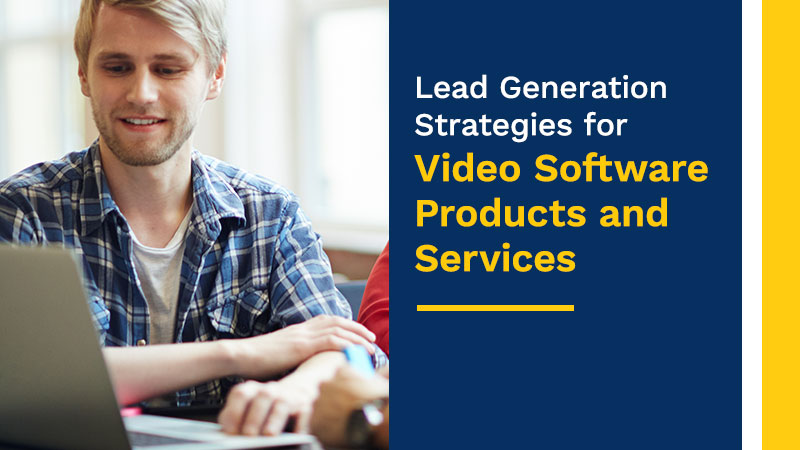 As technology continues to advance, there are countless opportunities for aspiring entrepreneurs. This is great news if you're the owner or marketer of a tech company, specifically the video software industry as it is the go-to marketing tool nowadays. But this also means that your potential customers have a lot of options and an ever wider range of options. 
They're going to look carefully at all of the options available before reaching out for more information, and if you want them to choose yours, you need to have a strategy in place for attracting qualified leads. Your company can get more of these contacts with a reliable lead generation strategy.
For companies working in video software, lead generation is an essential part of the marketing process. Put some of these strategies in place to get the most out of your audience. Here are the best lead generation strategies if you want to successfully market your video software services and/or products. 
Offer Free Trials
No one wants to buy a product without knowing it will work for them. That's why car dealerships offer test drives, clothing stores offer changing rooms, and tech companies offer free trial periods. It's also a terrific way to generate leads for your business.
Consider making a free demo the primary offer on a landing page, or offer it directly on your homepage. Simple products such as video games are better offered over short trial periods, an hour or so, while more complex products could either be offered in full for shorter periods or indefinitely but with limited features. Once potential customers know what the products will do for them, they'll consider buying.
Working with Influencers
No matter how great your products and services are, a marketing campaign only goes so far in assuring potential customers of their worth. At some point, you need someone else to advocate for them. Turn to reviewers and key influencers in your industry to provide this.
Send out the product to key influencers before launching, along with links to landing pages. If they like it, their reviews and opinions alone could create demand for it and boost the effectiveness of other lead generation efforts.
Related: How to Reach Influencers and Grow Your Content Audience
Customer Referral
No one wants to buy a product without knowing it will work for them. That's why car dealerships offer test drives, clothing stores offer changing rooms, and tech companies offer free trial periods. It's also a terrific way to generate leads for your business.
Build Interactive Landing Pages
One of the goals of any ad or campaign, whether online or off, is to motivate people to take action. When a viewer or follower clicks a link to your site, do they know what they're supposed to do? Landing pages built specifically for your different campaigns will let them know—and bring in more leads in the process.
Put a simple design together that highlights your company, the video software product you're promoting, and the call to action. This could be a request for more information, a downloadable document, or a free trial. Whatever it is, make sure it includes an interactive form on which visitors submit their names, email addresses, and other key information that allows you to follow up.
Related: How to Optimize your Landing Pages for your Multi-channel Campaigns
Send out Surveys
What do tech buyers want? What are they looking for when they investigate a new software platform? Are they looking to save time and money or improve service delivery? Market research could tell you, but so could a survey that asks respondents to tell you.
Avoid questions about a particular product or about your company. Instead, ask what respondents are dealing with at home or in their organizations. Ask them what they look for in a software platform. Ask them what they would pay for a particular solution.
Put this survey on your website, and share the link across multiple channels. These surveys will not only bring in new names but also give you an idea of what types of offers to make in the future.
Multichannel marketing
Using multichannel marketing is the best tool you can have in your lead generation toolkit. We all know how increasingly difficult it is for modern marketers to stay ahead of the game and if your company doesn't take advantage of multichannel marketing strategies today, the struggles of your journey to the top are going to be very tough. 
The important part of utilizing a multichannel strategy is that it makes you present across different platforms other than your existing one which most likely is your website. Have a mix of inbound and outbound marketing in place in order to build trust and establish a two-way conversation with your prospects and clients. Don't neglect your cold call and email marketing as well as those that still ring in leads to this day, and most importantly, take advantage of utilizing different social media platforms (depending on where your audience usually hangs out at), be active there, and interact with your potential prospects.
Read the full article here: Callbox - The Savvy Marketer
You may be interested in these jobs
Found in: Indeed US - 14 hours ago

---

Gordon Health & Rehab

Calhoun

We are a COVID-19 vaccinated workforce. New Associates must provide proof of vaccination prior to hire date. · Join us at · Gordon Health & Rehab– a place where you'll be valued, recognized and rewarded for the vital work you do each day. · We'll surround you with a strong team a ...

Found in: beBee S2 US - 4 days ago

---

GREAT WOLF LODGE

Highwood

Part time

The Food and Beverage Attendant is responsible for positive guest interactions while taking orders, serving, and handling transactions in a friendly and efficient manner at various food outlets, including the Pizza Shop, Coffee Shop, Grab 'N Go outlet and more. · Base Rate: $16.0 ...

Found in: beBee S2 US - 1 day ago

---

General Dynamics

Clovis

Full time

**Type of Requisition:** Regular · **Clearance Level Must Be Able to Obtain:** None · **Public Trust/Other Required:** NACI (T1) · **Job Family:** Data Science · We are GDIT. We take pride in providing our clients with the data they need to make important decisions that impact th ...