JOHNSON CLAIMS ANTIFA, ILLEGALS, AND ACTORS WERE BEHIND CAPITAL INVASION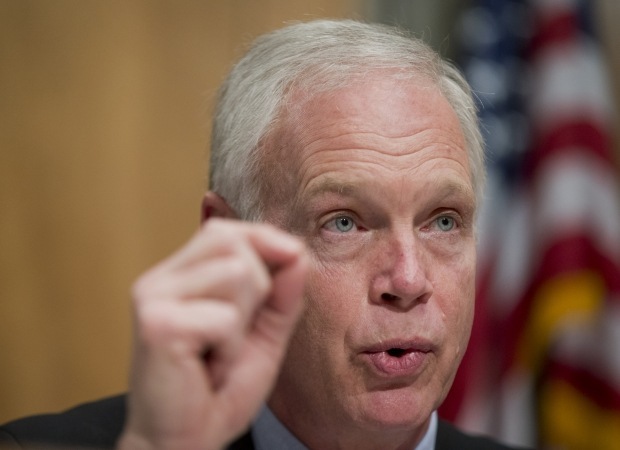 Wisconsin Republican Sen. Ron Johnson should not be around sharp objects. He could hurt himself.
The unhinged looney spun his ridiculous conspiracy theories yesterday at the first public Senate hearing about the Capitol attack on January 6.
"I'm sick and tired of people blaming supporters of President Trump," Johnson told The Lint Screen. "I wanted to set the record straight that almost no one in that mob was a genuine Trump supporter."
Johnson told the hearing audience the entire spectacle was "played for the benefit of the fake news liberal media." He then launched into his incredible narrative.
"The few Trumpers who were there were peaceful, calm, and collected," Johnson claimed. "The true Trumpers were reading the Constitution. All the agitators were atheist thugs from Antifa, illegal immigrants from the caravan that invaded America, and hundreds of Hollywood actors."
Johnson referred to numerous papers scattered in front of him, many marked with crayon drawings.
"I have it on good authority the director Rob Reiner, who is a well-known commie agitator, was behind the whole hulabaloo. The event was staged with liberal Hollywood actors dressed in MAGA hats and outfits using prop Trump flags and other items to look like they were actual supporters of the president. I heard they had wardrobe, make up people, script people, even craft services for the actors. It was a major production designed to disgrace our president. I think these kind of leftist shenanigans are outrageous and unAmerican."
Johnson's baby blues teared up.
"The few Trump people there were respecting the police," Johnson declared. "For gosh sakes, President Trump has said many times that he is the law and order president! Why would they disobey him."
The Wisconsin cheese-for-brains began pounding the table.
"The worst thing is all the Antifa people dressed like MAGA folks attacking the brave cops and chanting they wanted to kill Mike Pence and Nancy Pelosi." Johnson took a deep breath. "I wouldn't be a bit surprised if Pelosi wasn't behind the whole affair. Democrats have done everything in their power to disgrace President Trump, who everyone agrees is the greatest leader this country has ever had!"
Johnson believes patriots like himself are the only ones left to save America.
"It's going to take people like me, Kevin McCarthy, Mike Lee, Marjorie Taylor Greene, Ted Cruz, Lindsey Graham, Josh Hawley, Jim Jordan, Devin Nunes, and every good Republican who refuses to play politics and only wants what's best for our nation," Johnson declared. "We all know that the only thing that will save America is to do God's will and get Donald J. Trump, The Chosen One, back in office because Joe Biden stole the election."
Johnson continued babbling his nonsense after his microphone was shut off and was eventually removed by a team of animal trainers (from Hollywood).
———————————————————————————————-
Enjoy PD Scullin's debut novel "SAWDUST: Love is wilder than a circus," a humorous romp across America with a circus in the early '80s. You're a click away from a helluva fun ride. Buckle up and go.
You may be interested in these jobs
Found in: Jooble US - 4 days ago

---

PAI Inc.

Tracy, CA

Full time

About this Position · Professional Analysis, Inc. (PAI) is seeking Distribution Process Advocates to provide a variety of logistics and Distribution Management Support Services (DMSS), to include direct and indirect support to employed Marines at various locations in CONUS and OC ...

Found in: Jooble US - 5 days ago

---

QATESTCSB19Pd

South San Francisco, CA

Job Description · Job Responsibilities: · Collaborate with Machine Learning (ML) business development colleagues to identify and model new and change requests from clients · Identify opportunities to embed ML capabilities into solutions · Implement most recent algorithms and ...

Found in: beBee S2 US - 3 days ago

---

Wellstar Health System

Marietta

Full time

Overview · How would you like to work in a place where your contributions and ideas are valued? A place where you can serve with compassion, pursue excellence and honor every voice? At Wellstar, our mission is simple, yet powerful: to enhance the health and well-being of every pe ...