Investing Factors That Define Success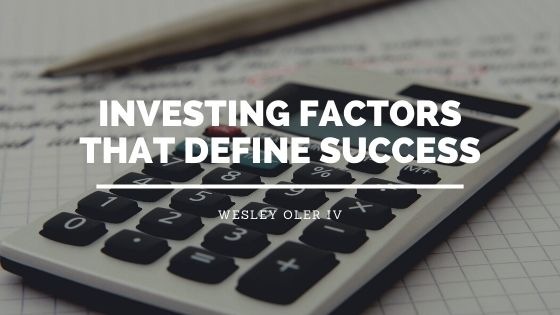 Good investments lead to more wealth. Unfortunately, investing sounds like a big word to most people, and it scares them. Hence the reason most people are not financially independent. This article eliminates the myths surrounding investment and provides tips that anyone can use to grow their money.
Diversification
The smartest investors spread their risk on multiple investments. The market is unpredictable; one day, stocks could be up, and the next day, they can go down. That's especially true for stock investments. Therefore, investors should invest part of their money in stocks, the remaining in either bonds or real estate.
Diversification protects the investor from total loss. If one sector collapses, the other one remains afloat, helping the investor to retain their wealth.
Costs
Contrary to what one might think, the best investments are affordable. It takes a lot of patience and wisdom to find a good investment. Some of the things that investors look out for are the fees charged by brokers. If they're too high, they may limit the returns.
Savings
It's a fact that the first few years of investing won't be very profitable. That's because an individual is learning the market. Therefore, a new investor should focus on building their savings so that they can cushion themselves from financial ruin when things go wrong. As a rule of thumb, a new investor should try to save at least 50% of what they earn and invest the rest.
Type of Investment
Not every investment idea is good. A new investor should be careful not to fall for 'get rich quick' scams. In investing, returns cannot be 100% guaranteed. That's why a person should be careful when they're promised returns.
The investment with the highest return is the stock market, while government bonds have the lowest risk. An investor should consider these investments when creating their portfolio.
Don't Get Greedy
Before investing, an investor should come up with a plan. At what price are they going to sell? How often will they buy new stocks? Sometimes the market can go up beyond investor expectations. In that case, it may be tempting for the investor to keep holding their stock until the price goes even higher.
This move is risky because the investor can lose all their money in a split second. That's why it's always advisable for new investors to stick to their original plan.
You may be interested in these jobs
Found in: beBee S2 US - 4 days ago

---

Enterprise Medical Recruiting

Fort Walton Beach, United States

Full time

This 45+ physician multi-specialty group in Fort Walton Beach, Florida is adding an additional Family Medicine physician to its team. The group is dedicated to providing comprehensive healthcare services to its community and whose vision is to be the community?s choice for physic ...

Found in: Jooble US - 1 day ago

---

East Cooper Medical Center

Mount Pleasant, SC, United States

Full time

Surgical Tech Full Time Days Position Summary · Under the direction of the Nurse, performs sub-professional duties including utilizing sterile technique to assist physicians during surgery. Assists licensed staff and physicians as directed within approved standards. Performs oth ...

Found in: Jooble US - 2 hours ago

---

Winnemucca Chrysler Dodge Jeep RAM

Winnemucca, NV, United States

Chrysler Certified Technician Dealership located in Winnemucca, NV · Thinking of leaving the city life for country living? Come to Winnemucca and make the "friendliest town in Nevada" your home where you'll enjoy paying NO state taxes · **Up to $100,000 per year depending on e ...