11 months ago · 1 min. reading time · visibility 0 ·
IN TWIST, TURKEY PARDONS TRUMP FROM ALL CRIMES, AWARDS HIM SECOND TERM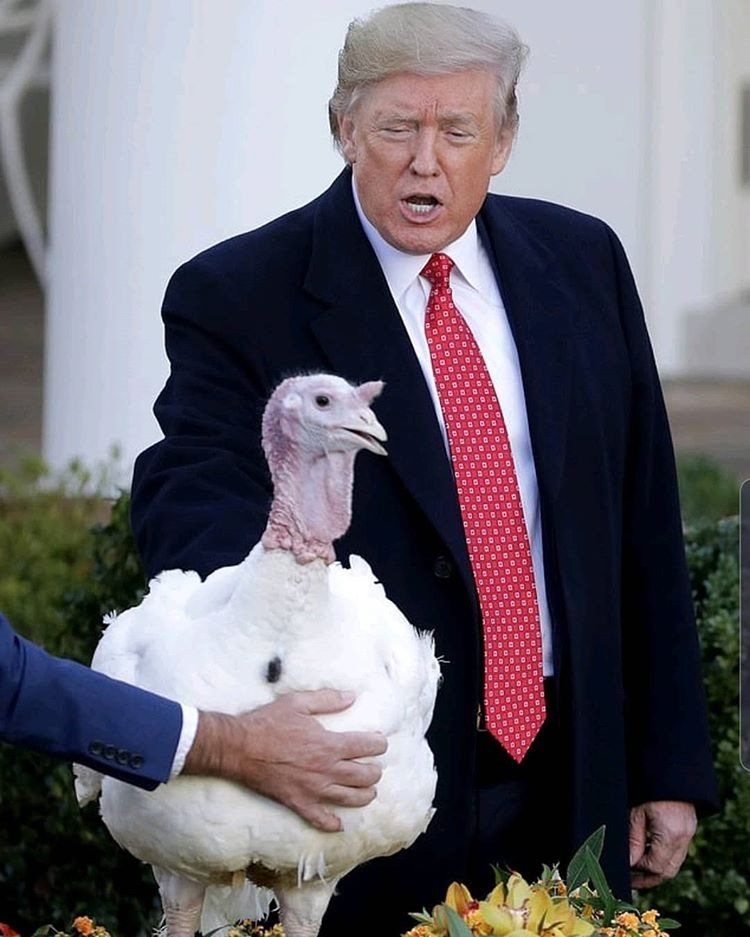 Donald J. Trump has one again shatters presidential norms!
Every U.S. president since George H.W. Bush had issued a presidential pardon to a Tom Turkey in honor of Thanksgiving (but their gooses were cooked when Christmas came and their heads hit the chopping block).
Not so with President Trump.
The loser of his re-election bid was prepared to make his turkey pardon when a miracle happened–– the president cupped his hand to his ear and said, "What's that Tom? Say it again? Oh, you want to pardon ME of all past crimes, present crimes, and future crimes. And pardon all my family members and loyal friends. Are you sure? You are—an absolute 100% ironclad pardon. Okay, then, I'll sign an executive order pardoning myself and the people I like. Thanks, Tom Turkey, you're a tremendous judge of character."
Trump's attorney Rudy Giuliani spoke to The Lint Screen following the ceremony.
"It was a miracle," Rudy said. "God made that turkey talk, and he absolved President Trump of any criminal behavior." Giuliani began mopping his brow and continued his foolish gibberish. "A talking turkey pardon is admissible in any court of law. Johnny Law can't touch the president or anyone he gives pardon protection to. They've got what we in the legal trade call turkey protection. That carries more weight than a Papal dispensation."
Trump later said the turkey told him the election was rigged, and he won the presidency with a thorough thrashing of Joe Biden.
"There you have it," Rudy said, wiping brown streaks from his face. "Trump has won a second term. I knew I'd win this case. I am a great lawyer!"
Rudy Giuliani danced a celebratory jig.
———————————————————————————————-
Enjoy PD Scullin's debut novel "SAWDUST: Love is wilder than a circus," a humorous romp across America with a circus in the early '80s. You're a click away from a helluva fun ride. Buckle up and go.
You have no groups that fit your search