1 year ago · 2 min. reading time · ~100 ·
Blogging
>
Patrick blog
>
"I WASN'T AFRAID ON JANUARY 6– THE PATRIOTS WERE WHITE, NOT BLACK," JOHNSON SAYS
"I WASN'T AFRAID ON JANUARY 6– THE PATRIOTS WERE WHITE, NOT BLACK," JOHNSON SAYS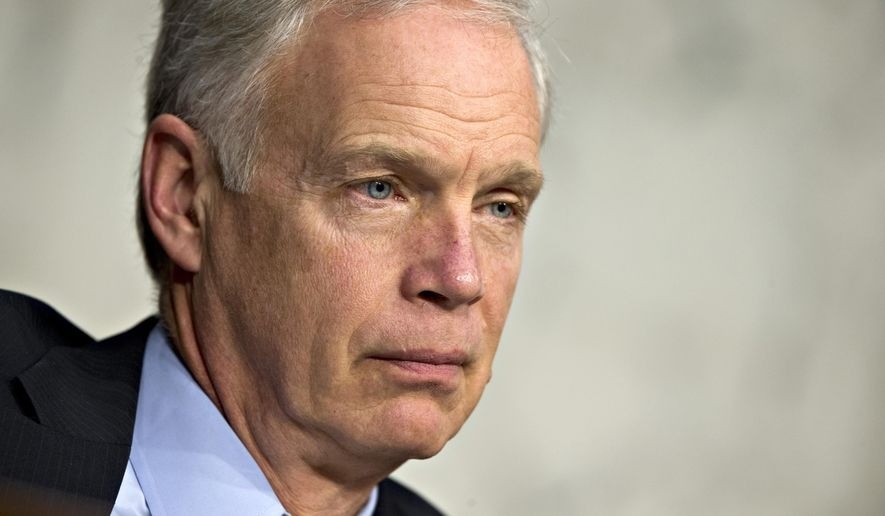 Sen. Ron Johnson thinks fear is a black or white issue.
The Wisconsin senator removed his hood and spoke on conservative radio host Joe Pag's show Thursday. "There was outrage by the fake news liberal media," according to Johnson so dropped in to The Lint Screen offices to clarify his position.
"I wasn't afraid at all on January sixth," the Republican senator said. "The people who went to the Capitol were patriots who were angry about President Trump getting cheated out of his second term. I'm angry as a badger too! But those protesters were white. Very white. And everyone knows all white people are law abiding good citizens. They love the police and authority figures. So there was absolutely nothing to fear. I'm just glad those people in the Capitol weren't black."
Johnson stopped.
"I don't want to sound like I'm prejudiced, because I'm not," John clarified. "I don't have a racist bone in my body. Heck, the couple who cleans our house is black. They're good workers. And our landscapers are Mexicans I found at a Home Depot parking lot. That proves I'm a job creator who always supports people of color."
Satisfied he has staked his moral high ground, the toadying Trump-jock-sniffer resumed his inane patter.
"Had the people invading the Capitol been members of Black Lives Matter or Antifa, well, that would have been cause for great concern," Johnson clarified. "I might have been pretty afraid then. Those thugs don't respect the rule of law. And that's not being racist, it's just fact. Look at all the TV shows and movies with dangerous criminals. What do they have in common? They're black or hispanic!"
Johnson thinks it's important that the Republican Party cut down on the amount of crime committed by minorities on election day.
"Too many people of color are sneaking into voting booths and casting ballots," Johnson explains. "All these illegal votes are upsetting the legitimacy of American elections. Most of these people are not voting for the Republican candidates, who love America and want to protect our Constitution. They're voting for liberal socialists, atheist Democrats hellbent on the ruination of our country. Obviously, we've got to solve these criminal acts. That's why 43 states have over 250 minorities voting restriction laws in the works. If we don't solve the problem of minorities voting, we'll be seeing more white patriots invading the Capitol."
Johnson shakes his head.
"Look, this issue isn't complicated," the senator said. "We just need the right kind of people voting. White folks who are registered Republicans who believe Donald Trump is the Chosen One. If we do that, we'll save our democracy and give the corporate tax cuts that will trickle down and lift everybody up. I got to run now, I got a meeting to attend."
And with that, Ron Johnson put his white hood over her head and left The Lint Screen offices.
——————————————————————–
Read PD Scullin's debut novel "SAWDUST: Love is wilder than a circus," a humorous ride across America with a circus in the early '80s. This book has earned 100% 5-Star reviews on Amazon. Act now and save during pandemic pricing. You're a click away from a fun, unforgettable ride. Buckle up and go.
You may be interested in these jobs
Found in: beBee S2 US - 1 week ago

---

Aya healthcare

Bloomington

CONTRACTOR

Access Exclusive RRT-NICU Jobs at Top-Rated Facilities Across the Country Now We have immediate nationwide openings for RRT-NICUs. Make up to $6,231/week (depending on the location, housing and benefits options you choose). · Here's what you need to know: Flexible start dates · L ...

Found in: Jooble US - 2 days ago

---

Dunn Tire

Buffalo, NY

Full-time

Dunn Tire is looking for qualified Assistant Managers. The Assistant Manager is responsible for providing daily support to the Manager or Managers of our Retail Tire and Service organization . The Assistant Manager will perform and execute tasks as directed, and supervise, hire ...

Found in: Jooble US - 3 days ago

---

UNAVAILABLE

Bakersfield, CA

Overview PURPOSE: · Implement, coordinate, troubleshoot and administer network security for the organization. · ESSENTIAL JOB FUNCTIONS: · Implement, maintain and monitor network security in a Microsoft Windows network environment; develop and manage security operations based ...