1 year ago · 2 min. reading time · ~10 ·
"I Wanted To Bring Mexican Heat To Texas," Cruz Explains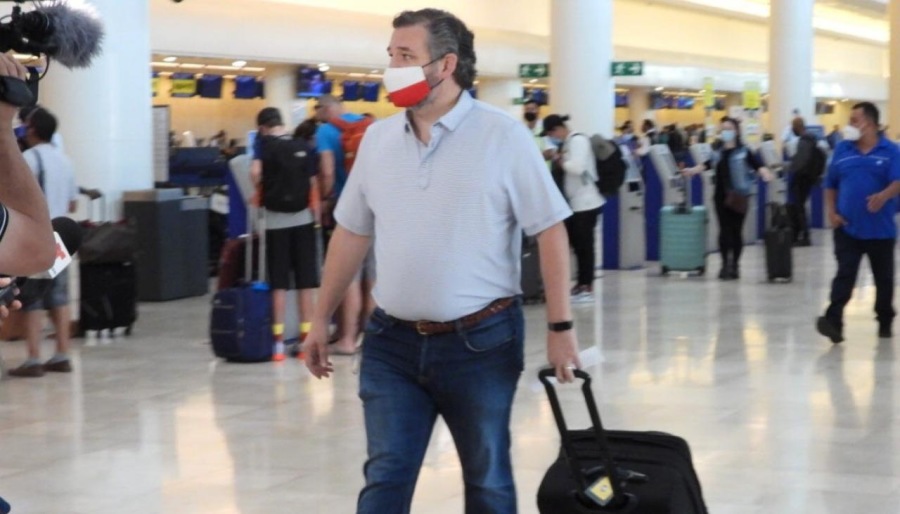 Ted Cruz is the kind of Texan that would make Sam Houston's eyes teary.
The svelte senator leaped into action when Texas experienced massive power outages statewide this week.
"I saw my people suffering," Cruz told The Lint Screen. "And that sight was too much for this cowboy. So I saddled up my family and headed south to Cancun, a place known for its endless sunshine and warmth. I brought some extra large luggage to bring some of that heat back to Texas. Heat for my people, who I love so very much."
Cruz said the "liberal media" was determined "to do a hit job" and criticized him for leaving on vacation in a time of crisis.
"I'm like Rush Limbaugh," the Republican politician said. "Rush was a great man who recently passed to his reward. Like him, I'm a man with endless love, compassion, and generosity of spirit. I always give people the benefit of the doubt. I look for bipartisan cooperation in Washington. But some people want to attack me for no good reason. It's this horrible liberal cancel culture. Just like they attacked our greatest leader, Donald J. Trump. And that's very unfair. It's not right, or very Christian."
Cruz said he rushed home after his flight to Mexico because he was concerned for his fellow Texans. "But because the media tried to lynch me, I wasn't able to pack the Mexican heat and bring it back to Texas. I could have saved the state. But, I'm afraid we'll have to suffer another day or so, thanks to the lame stream media! I hope they're happy."
Cruz wants all Texans to know he always has their best interests in his heart.
"I am a man with absolutely no ego," he said. "I live to serve. And if my fellow Texans are cold, then, by gum, I'm going to do something about it. Even if that means going to a land of murderers and rapists, like President Trump said. A place where they send deadly caravans to invade us. But I took my life into my own hands and went deep into Mexico to find the warmth my people needed. But because the media crucified me, I wasn't able to deliver, and I feel awful about that. I hope the liberal media is happy. They ruin everything."
Cruz said it was a very dangerous mission to the south he attempted.
"The only sunblock I could find at the CVS was a lousy SPF-15," Cruz said, batting his eyelashes, battling tears. "I could have died down in Cancun. Burnt to a crisp. I'm sure I would have been a Texas martyr."
———————————————————————————————-
Enjoy PD Scullin's debut novel "SAWDUST: Love is wilder than a circus," a humorous romp across America with a circus in the early '80s. You're a click away from a helluva fun ride. Buckle up and go.
You may be interested in these jobs
Found in: Linkedin WW - 2 days ago

---

If you are a REMOTE Golang Developer with experience, please read on · Job Title: 100% REMOTE Golang Developer role · Job Location: REMOTE · Requirements: Experience working with Golang. · We are a cutting edge company that creates data management and storage solutions to address ...

Found in: Talent US± - 4 days ago

---

Williamson Medical Center

Birmingham

Summary · LOOKING TO FURTHER YOUR NURSING CAREER IN A VIBRANT COMMUNITY? · BRING YOUR EXPERTISE & CARE TO WILLIAMSON MEDICAL CENTER. · THE ORGANIZATION: · Williamson Medical Center has been a pillar of our region for over 60 years, with an impressive tradition and commitment to ...

Found in: Jooble US - 21 hours ago

---

Quantum Health

Dublin, OH

Description Location: This position is located at our Dublin, OH campus with hybrid flexibility. We're on a mission to make healthcare simpler and more effective. We fight to ensure our members get the care they need, when they need it, at the most affordable cost - that's why we ...