"I'M A VICTIM OF CANCEL CULTURE," LOU DOBBS CLAIMS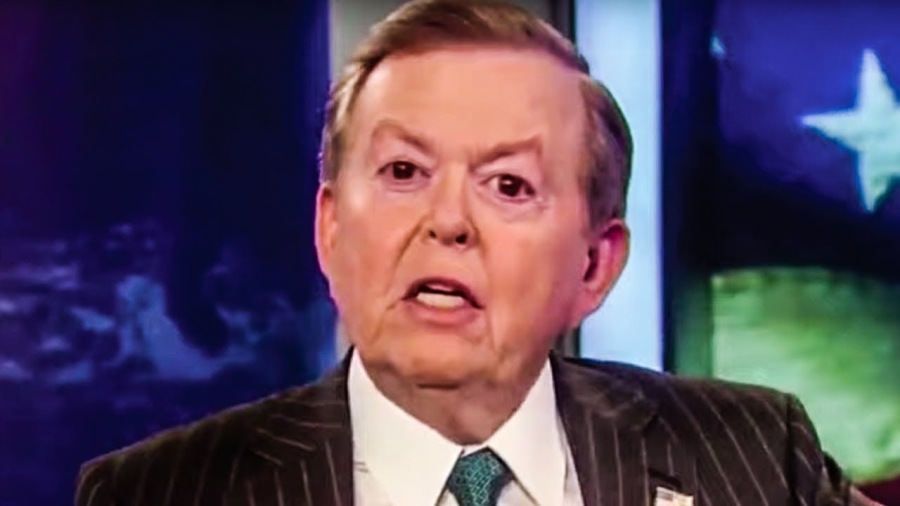 Anchorman Lou Dobbs would take a bullet for disgraced former President Donald J. Trump, but that obedient loyalty couldn't save him from being fired by Fox Business Channel.
"Fox gave me my walking papers," an upset Dobbs told The Lint Screen. "That's the thanks I get for giving them the best years of my life. I'm only 75, for Pete's sake. I could have given Fox another 25 or 30 more good years. Instead, they make me a victim of cancel culture for telling the truth. Thank God we have QAnon and Marjorie Taylor Greene not afraid to tell it like it is. And we blessed to have patriots like The Proud Boys to storm the Capitol and hunt down traitors!"
Many industry insiders suspect the firing came as a result of Dobbs being named a defendant in a $2.7 billion lawsuit filed by election technology company Smartmatic. Hyperbolic Fox anchors, Maria Bartiromo and Jeanine Pirro were also named in the lawsuit.
"I guess that election company is upset because I wouldn't lie," Dobbs says. "I told America the truth–– Donald Trump was cheated of his second term by these voting machine companies. Trump told us he won in a landslide. He won all 50 states! But somehow, magically, four days later they add all the votes and say Biden won. We go from a Trump landslide to a loss in four days! How crazy is that? Kevin McCarthy better do something about this!"
Dobbs face bloats and turns bright red. He takes a deep breath and continues.
"Something was definitely hinky. I mean, why would Donald Trump lie about a landslide victory? He's our president for crying out loud. If America can't believe its president, who can we believe? Biden is to blame for this! Check Hunter Biden's laptop. Hillary's emails. What about Benghazi? We need to stop the steal. Now!!!"
Dobbs begins hyperventilating. An assistant helps him by holding a paper bag over his pie hole. When the anchorman calms and catches his breath, he elaborates.
"The voting machine technology was invented by Hugo Chavez (who died in 2013)," Dobb rants. "Chavez was a socialist. The Democrats want Americans to become socialists. They want to take our guns and bibles and force us to have sex with animals then have abortions. Trump is the chosen one! Only he can save us from Biden, AOC, and the mob of Democrat desperadoes. Wake up America! The caravan is coming, the caravan is coming! Build the wall! Cage the children! Benghazi, Benghazi, Benghazi!!!"
The assistant quickly runs to the corner, grabs a rifle, aims, and tags Dobbs with a tranquilizer dart. The bug-eyed looney stumbles around like he's downed a bottle of Chivas. Dobbs topples over a coffee table, and falls face first to the ground.
"Only Trump can protect us," he whispers, before going off to slumberland.
———————————————————————————————-
Enjoy PD Scullin's debut novel "SAWDUST: Love is wilder than a circus," a humorous romp across America with a circus in the early '80s. You're a click away from a helluva fun ride. Buckle up and go.
You may be interested in these jobs
Found in: Jooble US - 4 days ago

---

ABM

Los Angeles, CA

Part time

Job Description · Pay Rate- $19.67 hr · Part-time Cleaner · Benefit Information: · ABM offers a comprehensive benefits package. For information about ABM's benefits, visit ABM 2023 Employee Benefits | Front Line Team Members (Programa de beneficios de) · Responsibilities · Cleans ...

Found in: beBee S2 US - 4 days ago

---

Domino's

West Park, Broward County

Full time

Job DescriptionDelivery Drivers are responsible for delivering food to customers with excellent customer service and a positive attitude. · Why deliver for us: · Great pay - Our drivers receive a competitive hourly wage (No tip Credit) + Tips Cash Daily + Mileage = GREAT HOURLY R ...

Found in: beBee S2 US - 4 days ago

---

Arbys

Wyomissing

Part time

Team MemberWe're glad you're here. Think about it – you and us? Sounds like it could be a match made in the meat heavens. If you're here for: · Discounted Curly Fries (and all our menu items for that matter) · Flexible Schedule · Free Shift Meals* · Best in Class Training & ...