I'll Show You Mine, Then You Show Me Yours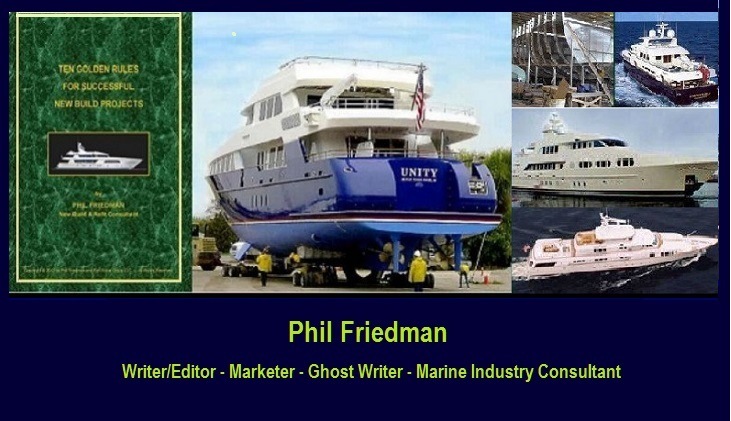 A PORTFOLIO OF THE AUTHOR'S PUBLISHED WRITING...

Introduction:   I'm a professional writer and editor, with more than 1,000 articles and several books published in both print and digital media. I've written more than a million words, and worked both on-staff and freelance.
I've also written marketing and advertising materials for a broad range of products companies, as well as press releases, white papers, eBooks, reports, and other collateral materials, for agencies, manufacturers and distributors. Mostly in the marine industry, but sometimes outside of it.
A while back, someone challenged my claim to experience, saying he could not find substantiation for it. Which was, to some extent, understandable because not all print media were retroactively digitized, following the dawning of the digital publishing era.

The challenge he made was not, of course, in good faith, and so should not have troubled me. But it did. And it caused me to reflect upon the realities of making such claims to extensive experience in a field and then needing to provide some form of substantiation for those claims.
I pondered the issue for a long time and eventually concluded it was necessary to prepare a retrospective professional portfolio of publications

Fortunately, through the years, I've kept tear sheets of a good percentage of my print media publications. Which collection proved quite useful as the basis for assembling the following portfolio. The effort, by the way, turned out serendipitously to be a quite enjoyable trek down memory lane.
So without further ado, for what it's worth, I present the portfolio to you here. And to the doubting-Thomas, I say, "Okay, I'll show you mine, then you show me yours."  —  Phil Friedman


REGULAR COLUMNS:
Canadian Yachting


Monthly Column 7 years running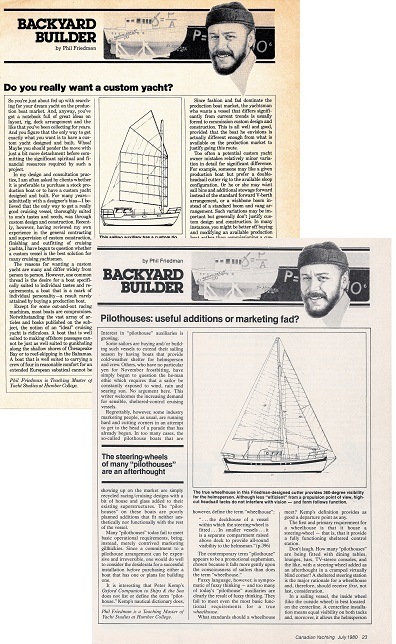 Pacific Yachting


Monthly column 10 years running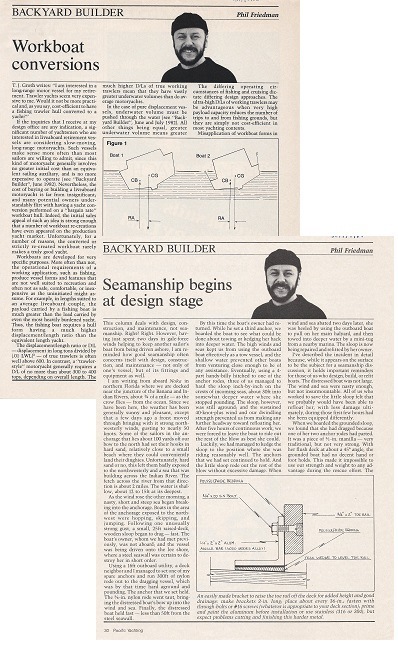 Power & Motoryacht
Monthly column on Maintenance 5 years running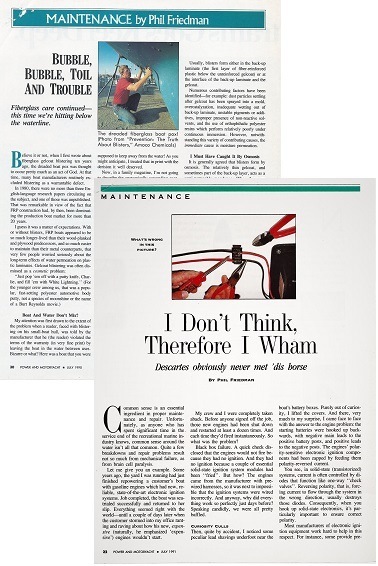 Power & Motoryacht


Monthly column on Design 5 years running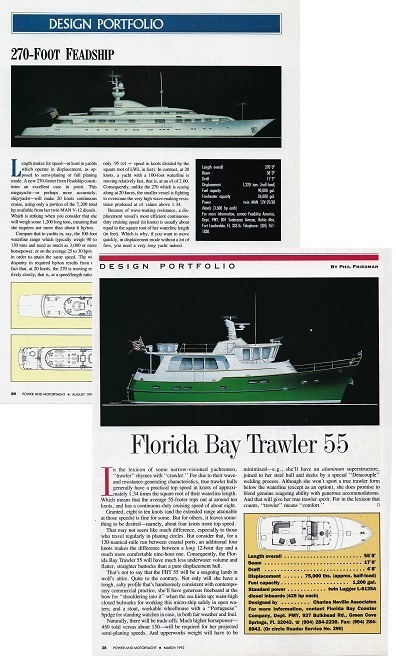 FEATURE ARTICLES:


Power & Motoryacht


More than 200 Features over 5 years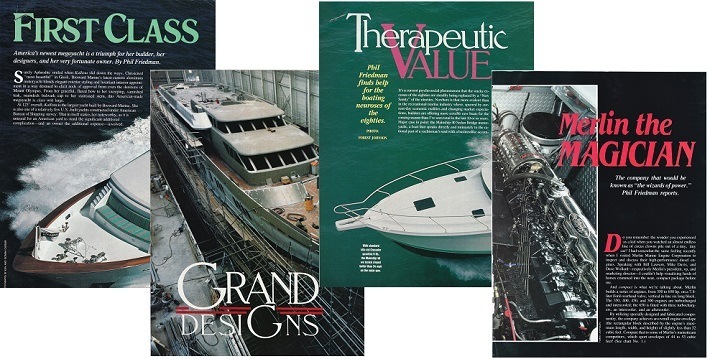 Freelance Print Features


In more than two dozen  major yachting and boating magazines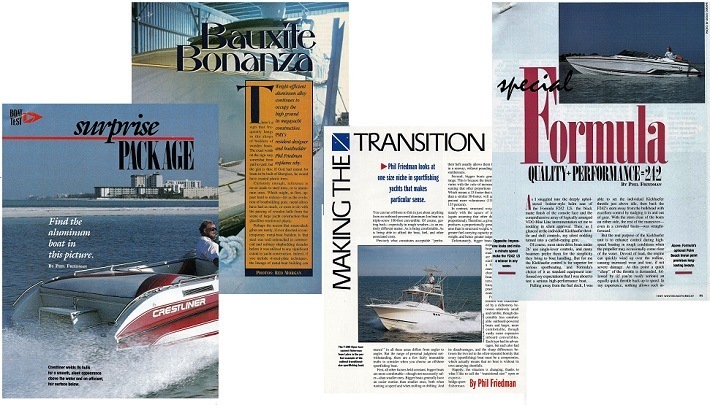 Boatbuilder  •  Boating  •  Boating World  •  Canadian Power Illustrated  •  Canadian Yachting

International Boatbuilding Plans and Kits Directory  •  Marlin  •  Motor Boating & Sailing  •  Motorboat
Motoryacht International  •  Pacific Yachting  •  Passage Maker  •  Professional Boatbuilder  •  Sail
Sailing Canada  •  Showboats International  •  Small Boat Journal  •  Soundings  •  Soundings Trade Only
Yachting  •  Yachts International  •  Yachts International USA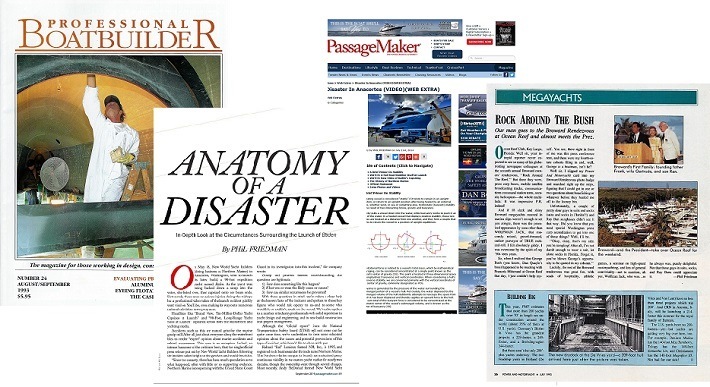 BOOKS AND EBOOKS: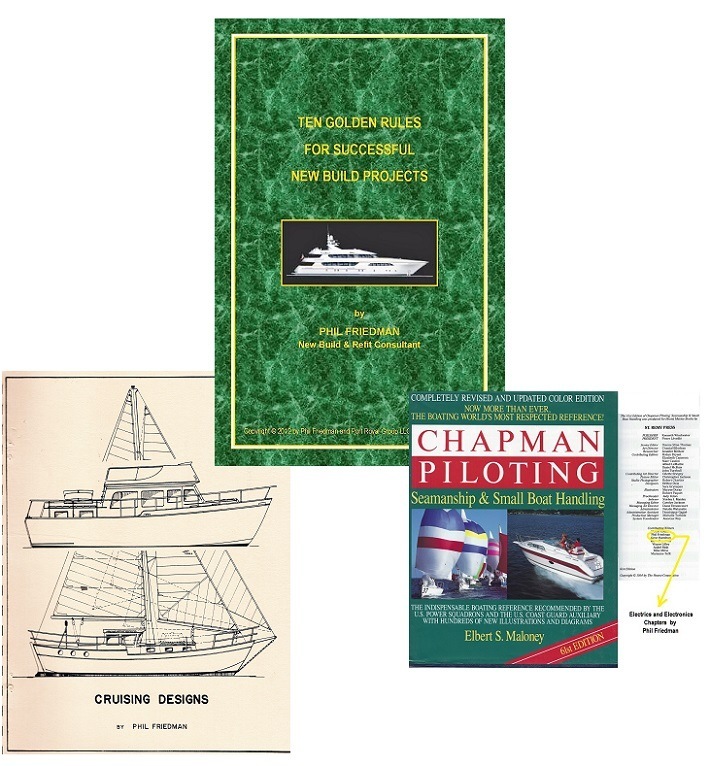 BLOGS AND WEBSITE CONTENT:

beBee Publisher


more than 100 original blog posts  (click image to view)

 LinkedIn Publisher


More than 200 blogs and other posts (click image to view)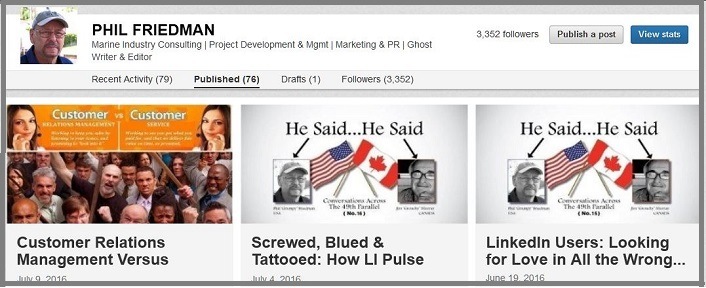 Other blogs and website content


Sites self-owned and owned by others

Author's Notes:   Well, that's mine. Except for the writing work I've done in marketing, which includes marketing collateral, white papers, press releases, and eBooks, both under my byline and on a ghosted basis.

If you're interested in discussing marketing, ghost writing, content creation, or other internet-based writing and editing, please contact me. And I will supply you with relevant additional samples of prior work.

If you would like to discuss marketing or other issues you face in your efforts to join the ranks of small-business, email or message me to arrange for a free, no-obligation, 1/2-hour initial consult.
To receive notifications of my writings on a regular basis, click the [FOLLOW] button on my beBee profile. As a writer-friend of mine says, you can always change your mind later.


About me, Phil Friedman:    With 30 some years background in the marine industry, I've worn numerous hats — as a yacht designer, boat builder, marine operations and business manager, marine industry consultant, marine marketing and communications specialist, yachting magazine writer and editor, yacht surveyor, and marine industry educator. Including a several years stint as the CEO and president of a world-class luxury yacht builder and refit shipyard, employing 600 people at two locations in the U.S. I am also trained and experienced in interest-based negotiation and mediation. And in a previous life, I taught logic and philosophy at university.
As a professional writer and editor with more than 1,000 publications in print and digital media, I've recently launched an online writing improvement course, www.learn2engage.org.
At learn2engage we help writers and would-be writers improve their reasoning skills and thinking abilities, and as a matter of course, thereby help them improve the quality of their writing. Instruction is handled directly by yours truly, over the internet and as required in person, both one-on-one and in small supportive groups.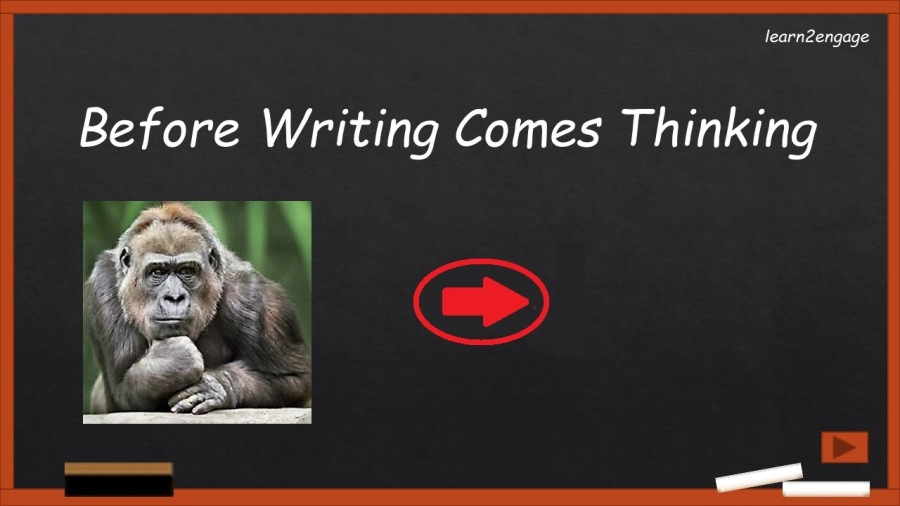 For more information
and to arrange for a free 1/2-hour consult, call or email
info@learn2engage.org
.
Thank you for reading. I'd be pleased to hear from you. Fair winds and safe harbors  ― Phil Friedman
""""""""""""""
You may be interested in these jobs
Found in: Jooble US - 1 day ago

---

Full Time Registered Nurse - Up to $30k Sign On Bonus - Days and Nights - Flexible Schedule This Jobot Job is hosted by: Paul Sotolongo · Are you a fit? Easy Apply now by clicking the "Apply Now" button and sending us your resume. · Salary: $40 - $55 per hour A bit about us: ...

Found in: Jooble US - 5 days ago

---

FUJIFILM Corporation

Bothell, WA

Cybersecurity Engineering Summer Intern (3-4 months) - Bothell, Washington · FUJIFILM Sonosite, Inc. · If you are looking for work that matters, you'll find it at FUJIFILM Sonosite. As the creator of point of care ultrasound, we dedicate every day to the innovation and developme ...

Found in: beBee S2 US - 3 days ago

---

Ameris Bank

Ocala

Regular, Full time

Ameris Bank is a purpose-driven company, dedicated to bringing financial peace of mind to communities, one person at a time. Whether a customer wants to grow their business, buy a home, or feel confident in their retirement plan, they have a partner in Ameris Bank. We serve custo ...