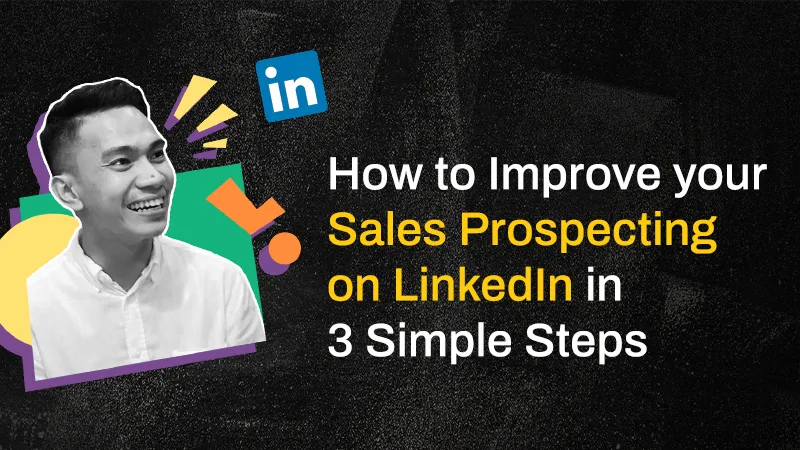 There are so many social media platforms that you can use to find leads for your business. Data shows that as of July 2021, there are about 4.8 billion social media users worldwide. That's about 57% of the world's population which suggests that more than 9 in 10 internet users are actively using social media each month. The use of social media has tremendously grown over the past twelve months with about 520 million new users as of July 2021. 
For many decision-makers, digital marketers, or B2B business owners, social media is a great tool to build brand awareness, increase community engagement, and generate leads for higher conversions.
While Facebook is the most popular social media platform, we should not take for granted the many benefits LinkedIn can offer. Whether you are looking for employees to work for your company, or simply trying to expand your professional network, LinkedIn is your social media place to be. But, how many people really use LinkedIn? As a business owner, how would you benefit from it?
LinkedIn User Statistics in 2021
Since LinkedIn was founded in 2002, its members have already passed the half-billion mark with over 722+ million and counting. LinkedIn is the social media platform where Fortune 500 executives and decision-makers like to spend their spare time. This is definitely the kind of market you want to infiltrate if you want to generate leads for your business. These high-ranking professionals are not there to simply browse through wedding photos, answer some Buzzfeed quizzes, or laugh at some memes — they are there actively looking for valuable content that can impact their business, which is very much what B2B marketers love to hear. 
Study shows that 97% of B2B marketers use LinkedIn for content marketing, as well as for prospecting. Most B2B leads — about 80% come from LinkedIn — compared to only 13% from Twitter and 7% from Facebook. 80% may be considered quite low for some, but if you think about it, the majority of B2B marketers can confidently say that LinkedIn is a great source to generate quality leads.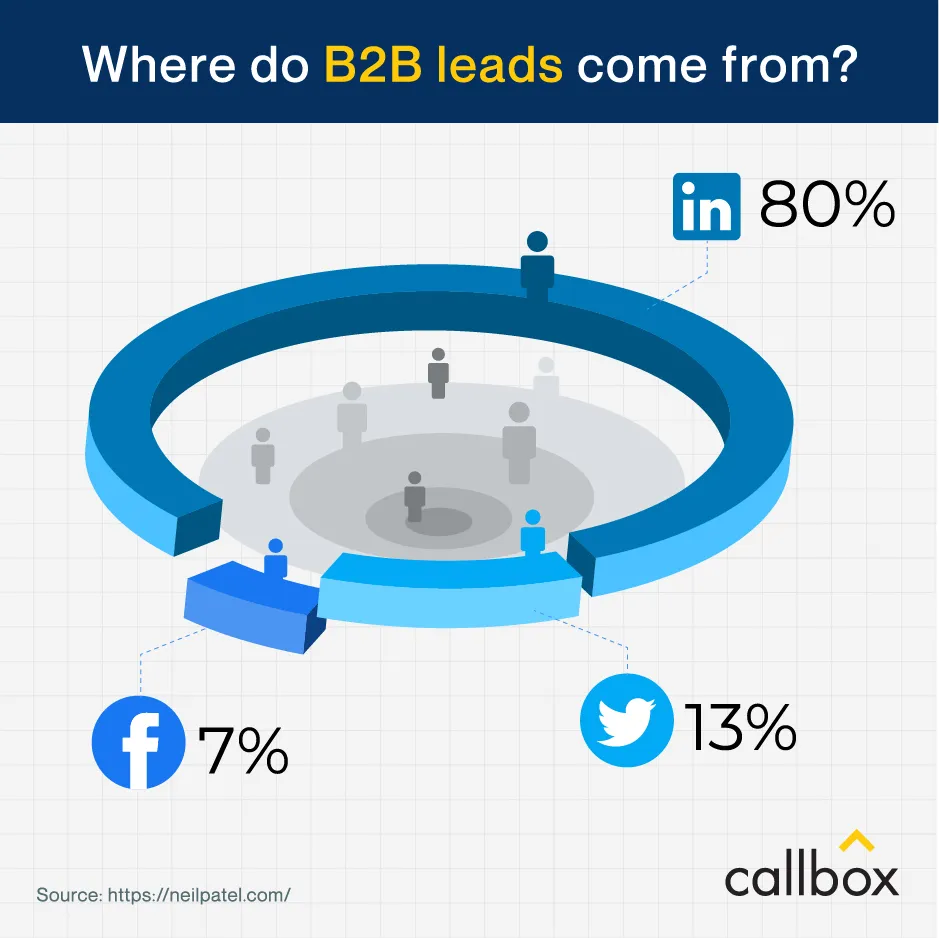 Data Source:
When it comes to connecting B2B sellers and buyers, LinkedIn is at the forefront, and one of the most critical sales techniques is to understand how your prospects behave. With 50% of B2B buyers using LinkedIn as the main source for their purchasing decision, sales prospecting on LinkedIn becomes a lot easier and more successful.
So, how are you going to leverage LinkedIn as part of your marketing and sales strategy? How are you going to profile your LinkedIn account to attract prospects that will convert to leads, ultimately generating a higher return on investment?
What is Sales Prospecting
Considered as one of the most important parts of the whole sales process, sales prospecting for some B2B marketers is still considered a big challenge for a lot of salespeople. Sales prospecting is what it sounds like: going through hundreds or even thousands of businesses and individuals to look for quality prospects or leads who are most likely to convert into paying customers. Often likened to mining, sales prospecting like mining for gold takes a lot of time, as well as knowing where to find these prospects. 
Gone are the days when sales prospecting only includes cold calling, daily meetings, or networking over a cup of coffee or lunch. In today's digital world, roughly two-thirds of B2B buyers use online content for their decision-making.
Related: 7 LinkedIn Lead Generation and Sales Prospecting Rules To Follow
3 Simple Ways for Better Sales Prospecting on LinkedIn
We now know that LinkedIn is a huge market for lead generation and sales prospecting. Here are some ways how you can make your LinkedIn profile stand for prospects to easily find you: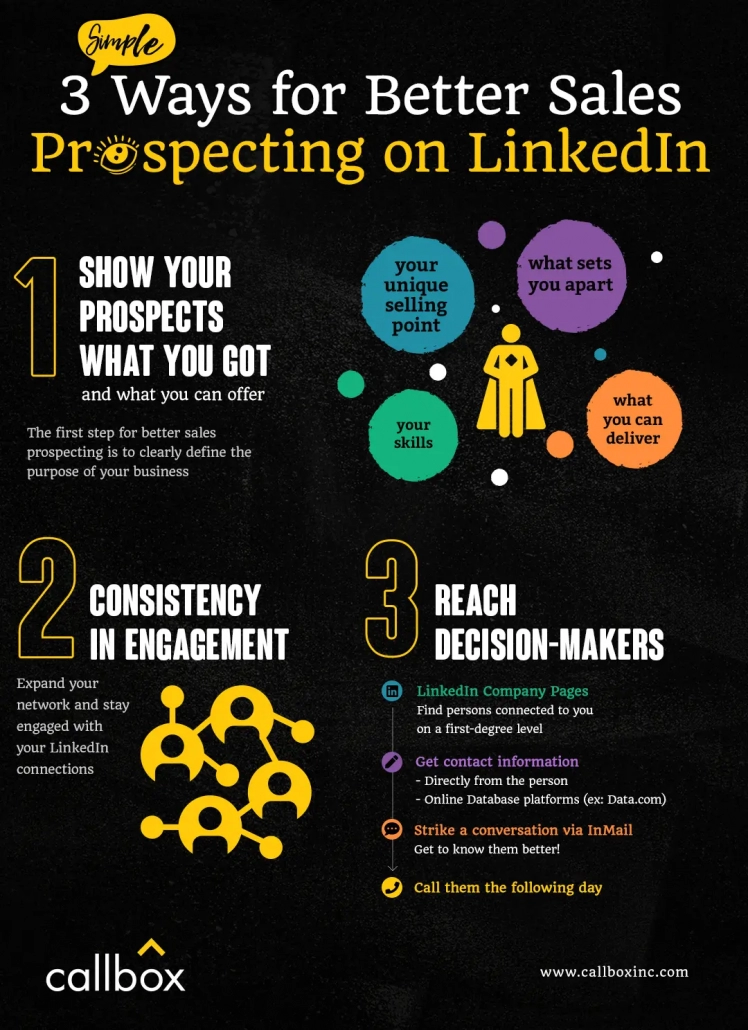 See original post for reference: 👉Callbox-The Savvy Marketer