How to Find Clothing Manufacturers for Your Business
So you're ready to start your very first clothing business! You've got the most innovative designs available in the market and have even decided a name for your brand. Now all you need to do is find a custom clothing manufacturers that will help create your unique pieces. However, considering how complex and competitive the clothing industry has become over the past few decades, finding one that is just right for you may seem like trying to find a needle in a haystack. Where do you even start?
The uncertainty involved in finding custom clothing manufacturers for a new brand is one of the main reasons why many upcoming entrepreneurs decide to throw in the towel. As the owner of a creative business, factors such as logistics, supply chain and production may seem like almost alien concepts and hence, extremely daunting. However, getting hold of custom clothing manufacturers for your brand need not be too difficult. With the right guidance and resources, you can be well on your way towards establishing your first ever fashion label selling high-quality, trendy clothing! 
Before you dive into the process of finding custom clothing manufacturers for your business, however, there are some things you will have to keep in mind. While there are multiple benefits to choosing custom clothing manufacturers for your upcoming brand (control over the design process, pricing as well as marketing), there are also certain risks involved such as making a significant investment upfront, buying items in bulk (some of which may not sell) as well as greater legal obligations. 
Many aspiring entrepreneurs make the mistake of either choosing a clothing manufacturer or supplier that some of the biggest brands work with (thus resulting in their orders being pushed to the very end of the pile) or choosing one that are themselves start-up based and hence, may outsource half their work. In addition, they can also be very expensive and not very specialized, thus resulting in new brands drowning under the pressure of having to pay off their debts without even getting their business off the ground.
For these reasons, it is always a good idea to evaluate your selection of custom clothing manufacturers against a specific set of criteria so that you are able to minimize the level of risk as well as get maximum return on your investment.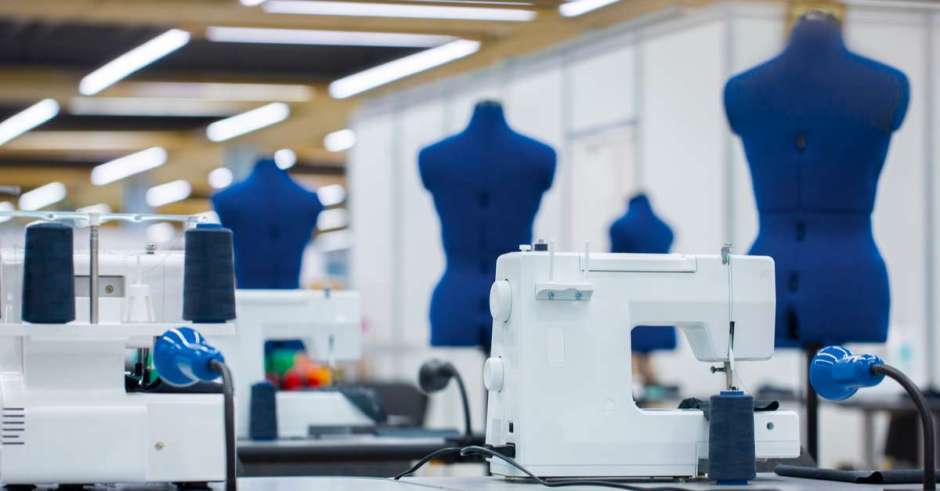 Can they make my product? 
This may seem like an extremely obvious question, however, it is important to consider. Many custom clothing manufacturers specialize in only certain types of fabrics or materials. This helps them stay efficient and thereby be able to take multiple orders from a variety of different fashion brands. For your brand to be successful, you will have to figure out which custom clothing manufacturer specializes in your kind of design. 
Domestic or overseas?
Another factor you may have to consider when choosing a custom clothing manufacturer is whether you want to opt for one that is local or one that is based overseas. Opting for a local custom clothing manufacturer has numerous advantages such as being able to visit their factories and communicate your preferences with no language barrier. In addition, you will get to benefit from faster shipping times which in turn will result in satisfied customers. On the other hand, opting for a custom clothing manufacturer overseas can prove to be a lot cheaper as a result of low labor costs. 
Minimum Order Quantity (MOQ)
Most custom clothing manufacturers require a minimum level of items to constitute an order. This is known as the Minimum Order Quantity (MOQ). It is important to discuss the MOQ beforehand so that you know how much to spend for your first order. 
Product Samples
When you're investing so much into making sure your fashion label is a success, you will definitely want to make sure that it is made up to standard. In such cases, it is always a good idea to ask for a batch of samples of your design from your custom clothing manufacturer before placing your first order. This way, you will be able to make certain changes if need be before it goes out to market. 
Additional Fees
These tend to slip under the radar more often than not, hence it is always a good idea to be aware of them. Many custom clothing manufacturers charge certain fees or expenses for tasks like shipping. Asking questions related to these in the beginning of the agreement ensures less stress later on. 
Production Capacity
Although this may not be something that you would think about when you're starting out, once your business takes off, it will become an important factor in your relationship with your custom clothing manufacturer. They must have the space, equipment and manpower required to produce sufficient amounts of design pieces whenever needed. Only then will you be able to fully satisfy your growing customer base. 
Experience
Sometimes the best way you can gauge the ability of a custom clothing manufacturer is by asking them the various brands that they have worked with. By figuring out whether these brands have been able to attain success and whether they have given positive feedback regarding their experience with your chosen clothing custom manufacturer, you will be able to determine whether they are the right fit for you. 
Once you have taken the aforementioned factors into consideration, it is then time for you to seek out clothing manufacturers for your business. Contrary to what you might believe, there is an abundance of avenues and resources through which you can locate reliable custom clothing manufacturers.
Trade Shows 
Trade shows or exhibitions are events where manufacturers gather to display their services and connect with potential buyers. These places are the perfect venues to meet up with a custom clothing manufacturer and let them know exactly what you need. 
Online Marketplaces
Nowadays with a majority of business being conducted online, many custom clothing manufacturers can be found on various popular online marketplaces. Online supplier databases such Maker's Row can provide valuable information on custom clothing manufacturers in the USA. These include reviews, where the manufacturer is based as well as what brands it works for. Another supplier database is the SaleHoo Wholesale Directory which comprises of more than 8,000 low-cost suppliers and 1.6 million products. Each manufacturer is vetted by SaleHoo staff who make sure valuable information such as the manufacturer's contact information, product range and quality and customer service information is made available on the site. 
Facebook Groups
Contrary to what most believe, Facebook is an abundant resource for aspiring entrepreneurs looking to connect with custom clothing manufacturers. Various groups geared towards e-commerce entrepreneurs provide a variety of information related to the different types of custom clothing manufacturers that you could opt for. 
So there you have it! With these tips, you should be in a better position to navigate the world of fashion and clothing. While it is indeed a highly competitive market, there are a variety of opportunities and trends to capitalize and take advantage of. As long as you stay true to what you want, you should be able to make an impact and carve your own niche. 
You may be interested in these jobs
Found in: beBee S2 US - 6 days ago

---

We help the world run better · Our company culture is focused on helping our employees enable innovation by building breakthroughs together. How? We focus every day on building the foundation for tomorrow and creating a workplace that embraces differences, values flexibility, and ...

Found in: beBee S2 US - 1 week ago

---

Netskope Inc

Missouri

Full time

About Netskope · Today, there's more data and users outside the enterprise than inside, causing the network perimeter as we know it to dissolve. We realized a new perimeter was needed, one that is built in the cloud and follows and protects data wherever it goes, so we started Ne ...

Found in: Jooble US - 5 days ago

---

Darden Concepts, Inc.

Oxnard, CA

$15.50 per hour - $15.50 per hour plus tips. Our Winning Family Starts With You Check out these great benefits · Flexible schedules to help you balance other life commitments (school, childcare, family care, etc.) · Free Employee Meal · Weekly pay · Anniversary pay · Paid Si ...