How to Develop Your Ideas as an Artist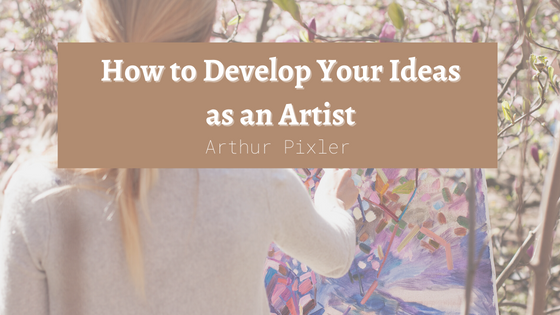 Artists and creative people in general can have the ideas flowing at times. But those ideas are just that -ideas. It takes a certain ability to develop those ideas into something more fully formed.
If you are an artist with a lot of ideas but aren't sure how to develop them, there are more than a few ways to do so.
Finding a Theme
Part of the battle is in finding and selecting a theme. With the right original, visually complex, personally relevant theme, it can mean holding yours and your viewers' attention for up to a year depending on the topic.
Having a theme that really plays to that level of creativity can be a great way to not only provide inspiration but also a level of focus that would not have been there otherwise. That focus is crucial when it comes to developing those ideas.
Sketch it Out
When the theme is apparent, there are still a variety of mediums to choose from. Finding the right medium can feel uncertain, so take the time to grab your sketchbook and complete anywhere from 4 to 10 drawings.
Experiment with different mediums like colored pencils, black and white ink, acrylic, watercolor, oils, and more. By trying out a variety of different colors and tones, it can help bring the vision that you have for your idea into greater clarity. The sketches can be as complete as you want them to be, the goal is just to explore the topic through visual research.
Pick an Artist Related to the Subject
Sometimes the best way to flesh out those ideas is to find someone who has already done something similar. Going with an artist who inspires you and has works related to the subject matter is a great way to not only draw inspiration, but to focus on that idea.
Creative ideas can be fringe at best. Bringing it into clarity takes time and focus. The latter can be almost honed with time to create a more effective method.
You may be interested in these jobs
---

Instacart Shoppers Careers

Cleveland, United States

Permanent, Part time

$40,000 - $60,000 per year

FULL-SERVICE SHOPPER · Start earning quickly with a flexible schedule · Shopping with Instacart is more than grocery delivery. Shoppers help make our world go round. They make money, make moves, and m ...

---

Sam's Club

Lake St Louis, United States

Position Summary... · Do you have a knack for helping people, following recipes, and organization? Our prepared meal and rotisserie chicken associates prepare fresh food items daily for our members t ...

---

Keystone Freight Corp. / National Retail Transport

Keyport, NJ, United States

$40,000 - $60,000 per year

National Retail Transportation, Inc. is now hiring Seasonal part-time Yard Switchers Locations: North Bergen, Secaucus, and Jersey City, N.J. Responsibilities include safely moving trailers to and fro ...